We already decided to short the Dow this morning (/YM in the Futures) at the 15,100 line and I sent out not one, but two tweets on the matter after sending out an early morning alert to our members at 5:26am. We're watching oil on the $97 line (also a short below the line on /CL) as well as the Nikkei under 12,900 (too crazy to short), S&P below 1,630 (SPY 164 on Dave Fry's chart) and the Dollar over 81.10 to confirm (see tweets for more details).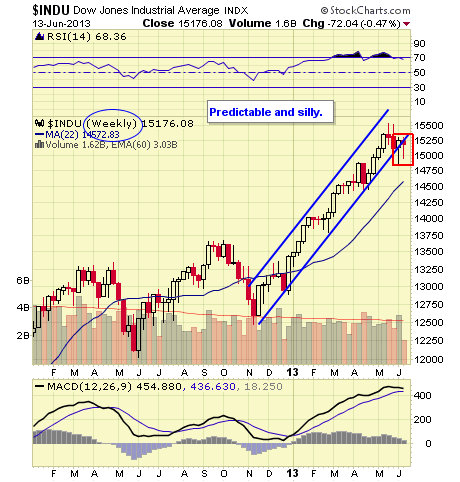 That call wasn't based on technical but fundamental weakness we're seeing in the news, including (but certainly not limited to):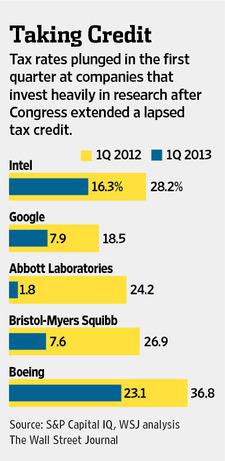 There's plenty more (see our Pre-Market News Review) but the one item that convinced me to get more bearish was this item from the WSJ that wasn't intended to be bearish but, to me, the conclusion is obvious. The article is titled "Behind the Big Profits: A Research Tax Break" and points out that, of the 6.7% gain in Corporate Profits that have the markets so excited in 2013, 5.6% of the gains are coming from these 1-time tax breaks that are VERY unlikely to be renewed at the end of this year.
With first-quarter results nearly complete, 465 participants in the Standard & Poor's 500-stock index cumulatively reported that revenue increased 2.1% from the same period a year earlier. Expenses grew slightly faster, so pretax profit rose only 0.9%, according to the Journal's analysis.
According to the Journal, Google (NASDAQ:GOOG), for example reported spending $6.8 billion on research and development in 2012, making it one of the nation's biggest corporate research spenders. The company set aside less than half as much money for first quarter taxes as it did a year earlier even as its pretax income increased 2%, to $3.6 billion. Its effective tax rate fell to 7.9% from 18.5%. In a securities filing, Google said the drop was "primarily" due to the extension of the tax credit. If Google's profit had been taxed at the same rate as last year, the company would have had to set aside an additional $380 million for income taxes, knocking more than 10% off their quarterly net income (over $1 per share).
Intel (NASDAQ:INTC) reported $10.1Bn in R&D and saved $290M, 15% of reported income. Boeing (NYSE:BA) got $145M, Caterpillar (NYSE:CAT) $65M, EMC (EMC) $75M, Abbott (NYSE:ABT) $103M, Corning (NYSE:GLW) $54M... This is all in addition to the Fed racking up $3.5Tn on their Balance Sheet in order to keep feeding these guys money at insanely low interest rates to invest in gigantic R&D projects, where they save more on taxes than they pay in interest. Kudos for the government for finally figuring out a way to encourage R&D (turning it cash-flow positive) but shame on analysts for believing these artificial profits can be extrapolated past this year's bonus.
We've already got shorts in place on the Dow Futures (/YM) below the 15,100 line and oil has gotten silly pre-market at the NYMEX open (9 am), pumped up to $97.50 so a great line to short there on the /CL Futures. We can add to our USO $34.60 short position and maybe even the SCO ($35.60) long positions once trading begins in our Short-Term Portfolio and I'm going to be liking DIA ($151.76) shorts, perhaps taking advantage of the low premium of the next week (June expiration) $153.50 puts that should be about $2 with just ,25 of premium.
The advantage of selling the puts is, of course, that it limits our losses (to the price of the put) and, since they have a delta of .70 - we only lose 70 cents for each 100 points the Dow gains so, if we stop out at Dow 15,150, we should only be down .35 so we can buy 10 of those for $2,000 and hopefully keep the risk down to $350 while a visit back to 14,900 (yesterday's low), should make us $1,400.
Disclosure: I am short DIA, IWM, SPY, TSLA, SODA, USO. I wrote this article myself, and it expresses my own opinions. I am not receiving compensation for it (other than from Seeking Alpha). I have no business relationship with any company whose stock is mentioned in this article.
Additional disclosure: Positions as indicated but subject to change (fairly bearish mix of long and short positions - see previous posts for other trade ideas). Positions mentioned here have been previously discussed at philstockworld.com - a Membership site teaching winning stock, options & futures trading, portfolio management skills and income-producing strategies to investors like you.