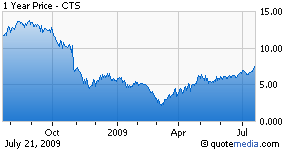 CTS Corp (NYSE:CTS) is a global manufacturer of electronic components and sensors and a supplier of electronics manufacturing services. CTS operates manufacturing facilities located throughout North America, Asia and Europe, and serves major markets globally. We believe that this share offers investors an extraordinary long term opportunity based on the company's record of sustained organic growth, in addition to being an attractive takeover target. We recommend building positions in the share for the following reasons:
1) The shares are attractively priced, still over 50% below their price one year ago. After many years of steady earnings growth, CTS stumbled badly in the second half of 2008 as the global financial crisis had manufacturers rushing to cancel or postpone orders at a frantic pace. Confronting this severe slowdown, CST management reacted quickly with cost cutting measures, reducing headcount by 22% and discretionary spending by 60%, while preserving a very well run R&D program which is a proven incubator of new products. As a result of these actions, the company has rapidly returned to profitability with earnings per share projected to recover strongly in the coming years. Additionally, CTS has maintained its dividend of 12 cents per share, which demonstrates management´s confidence in the firm´s continuing profitability in the coming quarters.
2) There is substantial and sustained insider buying of CTS shares on the open market, with no insider selling at all. This is a very significant indicator of management´s perception of the potential appreciation of the shares in the coming years.
3) CTS is a "Platform Company", as described by the consulting firm Gavekal. These are companies with a global network of suppliers, manufacturing facilities and customers, allowing management great flexibility in securing the lowest cost inputs at all times. Only design and marketing are conducted at the corporate headquarters in Elkhart, IN. Over 70% of the 4500 CTS employees are outside the US. This is truly a global company with an enviable position in the fast growing emerging markets. Manufacturing will always be an essential component of the global economy, and CTS is focused on the highest value added areas within manufacturing.
4) Finally, at current prices CTS has a market capitalization of less than $250 million, though this company boasts a global portfolio Blue Chip companies among its customers, including dozens of the world's leading manufacturing companies. No single customer accounts for more than 10% of sales, and American car manufacturers account for less than 5% of sales. In our opinion, the current share price does not reflect the tremendous intangible value of these long term relationships which CTS has built with hundreds of suppliers and customers during decades since first going public in 1962, as well as their very successful R&D program. Even in the midst of the global economic crisis, CTS has continued to win important new contracts and increase its market penetration in many key business segments. In short, we believe that this firm is an attractive takeover candidate, particularly for a Asian company conglomerate looking for an American manufacturing base within NAFTA.
CTS is expected to release 2nd quarter 2009 earnings on July 27th. Though 83% owned by institutions, the firm is only followed by a single analyst. Potential investors should review the excellent investor presentation available at the CTS website, as well as a very useful article on this company by Tom Armistead in Seeking Alpha on Nov 30th, 2008.
Disclosure: The author holds a long position in CTS common shares.