September natural gas futures are lower by 13.1% in the last 3 weeks and lower by 15.9% from their highs made on 5/1. As it stands, futures are just under their 61.8% Fibonacci level (lower white jagged line), and attempting to trade back above the 8-day MA (orange line). Stochastics indicate an oversold market and though timing a reversal can be difficult, aggressive traders can probe bullish trade, in my opinion.
Clients are gaining bullish exposure via September futures and selling out of the money calls 1:1 in case prices work lower before we see a rebound. My suggestion is to collect 15-20 cents on your hedge, which presently would dictate you're selling $3.80/3.90 strikes in September. The delta is approximately 50%, which means you have a slight cushion and will make on the upside (if my assessment is correct) a nickel for every dime advance net/net. A return to the 38.2% Fib level lifts this contract to $4.07, or 28 cents from current trade... that is my objective in the coming weeks.
So why natural gas, and why now?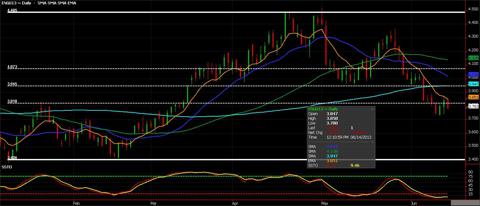 Click to enlarge
1.) The idea is to buy low and sell high and after the correction in the past 60 days, we are getting long near four-month lows.
2.) Natural gas appears to be the bastard child in the energy complex of late as traders are focusing on Crude oil and the products. Being a contrarian, I want to buy when a commodity is not in the spotlight -- identifying out of favor commodities is my MO.
3.) Supply/demand: Based on the most recent EIA natural gas storage report, inventories are 2.4% below their 5-year average.
4.) The price consolidation in recent sessions has been on increased volume/buying interest, which leads me to conclude that on confirmation of an interim low, we could experience short covering just above current trade.
Risk Disclaimer: This information is not to be construed as an offer to sell or a solicitation or an offer to buy the financial products herein named. Trading futures, options, and Forex involves substantial risk of loss and is not suitable for all investors. Past performance is not necessarily indicative of future results. This report contains research as defined in applicable CFTC regulations. Both RCM Asset Management and the research analyst may have positions in the financial products discussed.
Disclosure: I have no positions in any stocks mentioned, and no plans to initiate any positions within the next 72 hours. I wrote this article myself, and it expresses my own opinions. I am not receiving compensation for it. I have no business relationship with any company whose stock is mentioned in this article.