By Minyi Chen
The S&P 500 Index rose 2.10% in May, its seventh consecutive monthly gain. While "sell in May and go away" has not worked well so far this year, what should investors expect for June? We do not try to do short-term market timing at TrimTabs, but historical data helps put the situation into perspective. Since 1950, the S&P 500 Index has risen in seven consecutive months 14 times, or roughly once every 4.5 years. Eight-month rallies occurred eight times (the last ended in January 2007). On the other hand, declines in consecutive months are far rarer. Since 1950, the S&P 500 Index fell for seven straight months only once.
Although the S&P 500 Index is up 14.34% so far this year (as of May 31, 2013), investors have reasons to remain positive on stocks. Inflows into equity mutual funds and ETFs reached $154.4 billion in the past five months, the strongest buying since 2007. Corporate balance sheets are in much better shape than they were in 2007, as companies are sitting on record amounts of cash. In addition, inflation remains minimal. Consumer price inflation in the U.S., Europe, and Japan trended lower in recent months.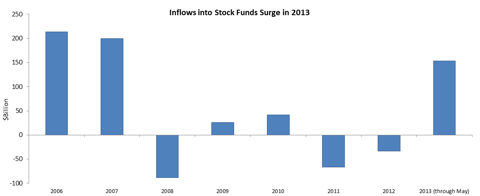 Source: TrimTabs Investment Research.
Equity investors should pay attention to a few changes to the investment landscape. First, the volatility of low volatility stock strategies is now higher than for the benchmark (the 30-day volatility of the S&P 500 Low Volatility Index was 10.59% in May vs. 9.22% for the S&P 500 Index). Low volatility strategies attracted huge inflows in the past few years. In a correction, investors who piled into these strategies may be unpleasantly surprised. These strategies typically assume volatility is stable, but in reality, a low volatility strategy's volatility relative to that of a benchmark is almost certain to change.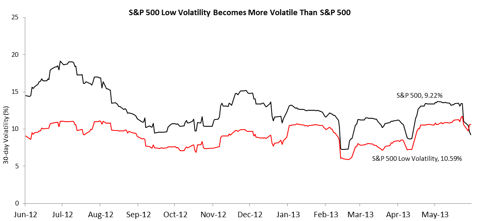 Source: Bloomberg.
Second, dividend-paying stocks have fallen out of favor. Several major dividend stock indices sold off hard in May. Investors have been fleeing stocks with higher yields as bond yields back up.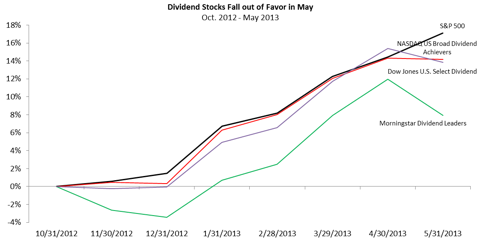 Source: Bloomberg.
Third, the tradable equity float (measured using the float of the Russell 3000 Index) expanded 0.54% year on year in May, up from 0.17% year over year in April. The equity float is increasing for the first time in two years. All else being equal, if the same amount of money chases fewer shares, the share price increases. New share issuance ultimately dilutes the value of existing shares, and companies and insiders are taking advantage of current stock prices level to sell. Since 2009, the float has expanded only 2.23%, down from 19.68% from 2003 to 2007. Limited float growth is vital to the current bull market. Investors should turn more cautious if float expansion accelerates.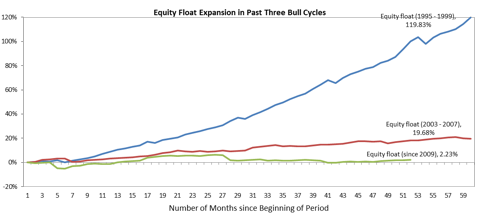 Source: TrimTabs Investment Research.
Dividend yields have lost much of their allure as a predictor of equity returns because companies have changed their payout practices. For example, S&P 500 companies distribute only 40% of their total payout as dividends. The rest is paid out through share buybacks.
Since corporate America is sitting on a record amount of cash, a "total payout" approach makes more sense than a dividend-only focus.
Disclaimer: Past performance is not indicative of future results.