Diversified energy utility DPL Inc. (NYSE:DPL) is slated to report its second quarter of fiscal 2009 earnings on Wednesday, Jul 29, after the market closes.
Dayton, Ohio-based DPL Inc. sells electricity through its principal subsidiary, Dayton Power and Light Company (DP&L). DPL owns approximately 900MW of natural gas and diesel peaking generation capacity, and 2,800MW of coal-fired generation capacity. DP&L is an electric utility with more than 500,000 residential, commercial, industrial and governmental customers in its 6,000 square-mile service area in west-central Ohio.
The other subsidiaries of DPL Inc. are DPL Energy, LLC (DPLE) and DPL Energy Resources, Inc. (DPLER). DPLE engages in the operation of merchant peaking generation facilities and DPLER markets wholesale power generated by the DPL power plants. In fiscal 2009, the company was nominated by Forbes to be among the 100 most trustworthy companies based on accounting and governance practices.
For the quarter, we expect DPL Inc. to report EPS of 36 cents, lower than the year-ago EPS of 41 cents. The deviation comes from lower rates and non-deferral of fuel and certain fuel-related O&M costs.
The situation will improve from the third quarter since the Public Utilities Commission of Ohio (PUCO) has approved DP&L's electric security plan (ESP) in June 2009. The ESP has stipulated rates till the end of fiscal 2012.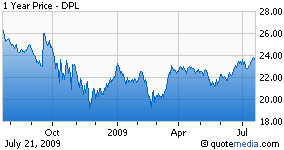 The ESP will increase the bill of an average residential customer with monthly consumption of 750kwh by approximately 1.8% in 2009 and by 2.7% in 2010. Higher rates come at an opportune moment for the company, which is planning to invest $475 million to upgrade its infrastructure during the period of 2009 - 2011.
Apart from this, PUCO has also approved a fuel recovery mechanism from 2010, which will enable DPL Inc. to recover its fuel costs, primarily coal. This is a welcome relief for the company, since its fuel costs rose 32% to $19.5 million in the first quarter of 2009 over the year-ago quarter.
As a result, subsequent to the third quarter of fiscal 2009, we expect EPS to move northward to 50 cents. Overall, DPL expects earnings to range between $2.00 and $2.30 per share in fiscal 2009, in line with our expectations of $2.14 per share. With a stable earnings base, the recent PUCO approval for its ESP, and absence of any share buyback since August 2006, we expect the company to report in line with these expectations. We currently maintain a Buy rating on DPL.