Institutional Ownership information erroneously posted Wednesday on CNBC suggested that Atl Capital, a Spanish investment bank, had acquired 44.2 million shares in BlackBerry (NASDAQ:BBRY) to propel them from nowhere to becoming the second largest shareholder.
BlackBerry share price should have exploded on the news, but the market seemed to just yawn and in the end BlackBerry closed down on the day. My hypothesis is that investors dismissed the news as it was not confirmed by a more reliable source, such as SEDAR, Nasdaq or BlackBerry.
However, when I looked into SEC regulations, and examined market activity over the past few months, the conclusion I came to was that a significant investor could have established a sizable holding and traditional 'reliable' sources may not necessarily have reported it.
Corporate Reporting of Shareholder Activity
The SEC does not require that publicly traded corporations release shareholder information except under two very specific situations. These being proxy solicitations and tender offers.
Under SEC rules, a company must provide shareholders with a process for contacting other shareholders in two limited situations. The first occurs during proxy solicitations - when shareholders solicit proxies in opposition to a company proposal or for a vote on a proposal they favor. The second occurs in connection with a tender offer where persons seek to acquire the company's securities from existing shareholders. In both cases, the company may choose to either give the list to the person who requested it or mail the shareholder's soliciting or tender offer materials to other shareholders at the requesting shareholder's expense. [Source]
SEC 13D Major Shareholder Acquisitions Report
The SEC does require that changes in ownership by major investors (defined as anyone controlling more than a 5% stake) be reported to the SEC within 10 days. The intent of the filing is to ensure that companies remain informed as to those individuals who are in a position to influence corporate direction. However, contrary to what some investors seem to believe, the SEC does not make this information immediately public.
Schedule 13D reports the acquisition and other information within ten days after the purchase. The schedule is filed with the SEC and is provided to the company that issued the securities and each exchange where the security is traded. [Source]
SEC 13F - Institutional Investment Filing
In addition to 13D filings, investment firms managing over $100 million in assets must file an Institutional Investment Report (SEC 13F). This report identifies current holdings as well as any changes in position over the reporting period. As part of the intent of these filings is to keep investors aware as to the investment activities of firms they have invested in, these reports are made public.
However, the SEC does not require companies 'not otherwise doing business in the United States' to file this form. Thus, a foreign investor, such as Atl Capital, may be exempt.
An institutional investment manager that uses the U.S. mail (or other means or instrumentality of interstate commerce) in the course of its business, and exercises investment discretion over $100 million or more in Section 13(f) securities (explained below) must report its holdings on Form 13F with the Securities and Exchange Commission. [Source]
Even in the case of new US investment, there is a significant period of time between when stock is purchased and when the activity is reported. Changes in position between March 31st and June 30th, may be reported as late as August 14th.
Form 13F is required to be filed within 45 days of the end of a calendar quarter. The Form 13F report requires disclosure of the name of the institutional investment manager that files the report, and, with respect to each section 13(f) security over which it exercises investment discretion, the name and class, the CUSIP number, the number of shares as of the end of the calendar quarter for which the report is filed, and the total market value. [Source]
I checked with various sites which report Institutional Ownership. In every case I could confirm, the data was based on SEC 13F data as published on SEDAR. Knowing this, in the case of the information posted on CNBC, investors could have been asking themselves 'What is the source for this information since obviously it isn't SEC fillings?'
Share Volume and Price
If we examine share activity over the past couple of months, a number of oddities stand out. Consider the large volume of shares which traded in mid April. This would have provided an ideal opportunity for a large investor to pick up a significant number of shares without detection. Not only that, but as a bear raid was ongoing, shares could have been purchased at a discount.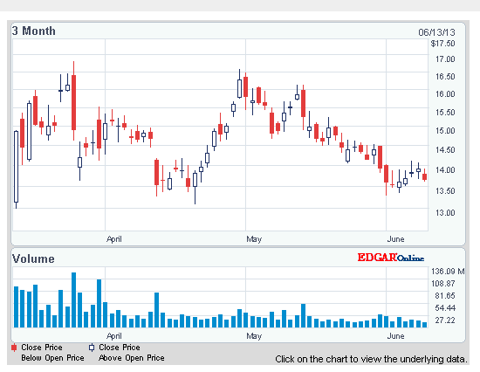 Large investors usually don't want to be seen entering (or leaving) the market to avoid driving share price. To avoid letting the market know they are taking up a position, all types of tactics are used. Typically they purchase random modest sized blocks, both at market and at specific price points, with the trades randomly spaced over a number of days.
Considering this, it is interesting that recently there have been an unusual number of days where the stock has been less volatile than usual. On these dates the stock greeted higher than expected price resistance at specific levels. On May 24th for example, the price kept bouncing off $14.39 at which level nearly a million shares changed hands. This pattern is typical of a concealed buy order being in place.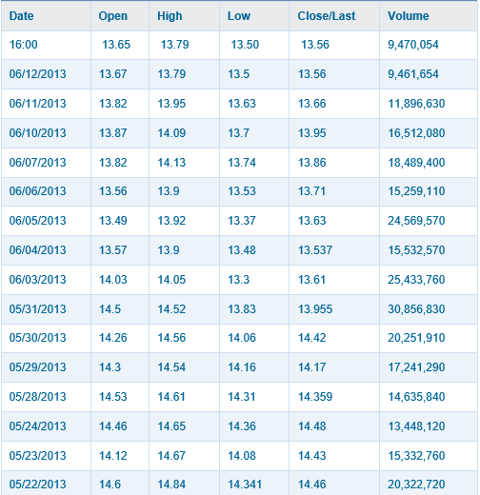 Major New Investor
Although CNBC has updated their website and no longer show Atl Capital as the second largest investor in Blackberry, the fact remains that a major investor could well have taken up a position without being detected. Not only that, but trade activity shows signs that one or more investors have been picking up significant numbers of shares recently.
Rumors persist that Carl Icahn and others are interested in BlackBerry as a short squeeze candidate. These investors know how to maximize returns and that is by taking a position without letting it be known. This ensures they are able to purchase the shares at rock bottom prices. Once a position is in place, to maximize return, it makes sense to sit quietly and wait for another catalyst to kick start the stock. By leaking news about their investment as momentum is building, the news will further ratchet the squeeze play propelling the stock even higher. This was the case with Netflix, the leak that Icahn had invested was timed perfectly to coincide with positive news in their quarterly report which lead to a significant squeeze.
It is not just large investors like the short squeeze players who may be in the market for a significant stake in BlackBerry, don't underestimate the possibility with the company showing signs of a turnaround that one of the large Canadian Pension Funds might not also be interested. Together these funds manage well over $750 billion in assets.
Short Squeeze
It is worth considering the implications on shorts if a major investor picked up a sizeable holding in BlackBerry.
With holdings by known long term investors sitting close to 60% and the short position sitting close to 40% (once you include shares shorted on the TSX) ask yourself the following questions.
What would the implication be if it turns out that another major long term investor took up a position in BlackBerry?
What would happen if the price of the stock started climbing rapidly and shorts started to cover in mass?
While searching through SEC documents to prepare this article, I found confirmation that the source for many of the shorted shares are institutional investors. One in particular caught my attention - PrimeCap - who, as of March 31st, appears to have loaned out as many as 20.2 million shares.
Imagine the implication on the market should these large investors recall shares in mass. This would be the case if a shareholder vote was called on a prospective take over offer. Institutional investors who see Blackberry as a possible takeover prospect may see this leverage on stock price to be a useful tool. Consider the effect that a rapid increase in share value would have on the offer that a prospective buyer would be willing to make?
Disclosure: I am long BBRY. I wrote this article myself, and it expresses my own opinions. I am not receiving compensation for it (other than from Seeking Alpha). I have no business relationship with any company whose stock is mentioned in this article.