Heartland Financial (NASDAQ:HTLF) is in a solid financial position. Couple the solid financial position with a dividend and solid growth potential, and it is easy to see why Heartland Financial has the potential to provide a significant return on investment. A recent acquisition announcement will only further Heartland's growth prospects and will help to allow for long-term growth.
Acquisition
Heartland recently announced a merger agreement with Morrill Bancshares. This acquisition will help to increase Heartland's reach geographically as well as it will eventually help Heartland's earnings. However, the earnings impact is not expected to be immediate, according to the CEO:
We anticipate this transaction will be accretive to Heartland earnings per share within the first year following the systems integration through the implementation of operating efficiencies and synergies already identified.
While this acquisition will not immediately help earnings per share, it will help shareholders who are focused on the long-term growth prospects at Heartland. Furthermore, it appears as though Heartland did rather well in terms of a price for the bank. According to the press release Morill Bancshares stock holders will receive a combination of stock and cash, which are valued at $61.5 million.
This acquisition should also help Heartland's efficiency ratio, which went up in the first quarter of 2013 versus the first quarter of 2012.
Financial Position
The Financial position of a company is very important to look at before deciding whether or not to take a long position on the stock. Obviously, no shareholder likes to be diluted without a good reason, and shareholders want to make sure that the company is still going to be around in a few years.
It is not yet clear how much cash Heartland spent in order to make the acquisition happen. Keep in mind as more information continues to come out of the company that it will affect Heartland's cash balance once the deal actually closes. At the end of the most recent quarter, Heartland had cash and cash equivalents of $78.19 million.
Heartland's earnings so far look quite solid. For the most recent quarter, Heartland had a net income of $12.6 million. Unfortunately, this was just short of the company record $12.8 million set in Q1 of 2012. While net income dropped, on the positive side Nonperforming assets have dropped to a nearly five-year low at Heartland. This is significant because it means that Heartland is helping to take bad loans off of its books, which should help to strengthen shareholder value long term even if it reduces net income in the short term.
Management is also very clearly committed to driving long-term shareholder growth. It intends to increase the number of high-quality loans on the books over the next few quarters saying that:
However, in April, loan outstandings rebounded close to 2012 year end levels and our current pipelines look very strong. Year-over-year loan growth is slightly in excess of 10% and represents a combination of acquired and organic growth. With security still representing over 30% of total assets, our No. 1 priority is to aggressively seek out new borrowing relationships moving dollars out of securities and harvesting unrealized security gains as we book quality loans.
Loan growth will help to drive long-term shareholder growth and taking money out of security and towards loans will allow for higher growth opportunities for shareholders. Also, as the money transitions into loans it should help short-term revenue and net income as Heartland will be able to realize the security gains.
As a bonus for shareholders Heartland also decided to continue to pay out its $0.10 per share dividend last quarter. This dividend while not incredibly substantial given Heartland's share price, over the long term should help to prop up stock gains even more.
Keeping with the long-term theme of this article, another factor, which would also suggest that Heartland is undervalued given its long-term potential. Looking at the future Price to Earnings Growth value, it appears as though Heartland is substantially undervalued relative to its earnings growth over the long term.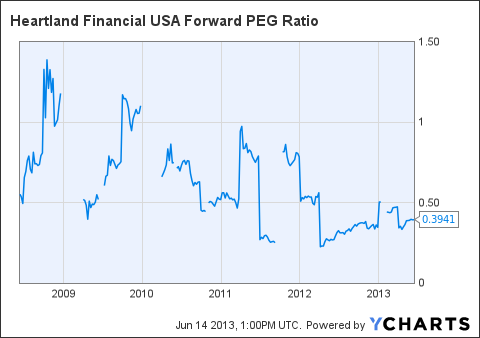 HTLF Forward PEG Ratio data by YCharts
The low .3941 Future PEG suggests that Heartland is undervalued when looking at the long-term potential for the stock.
I am not overly concerned about the fact that Heartland's Price to Book looks rather high. Over the long term as earnings grow, the price-to-book ratio should fall back into line.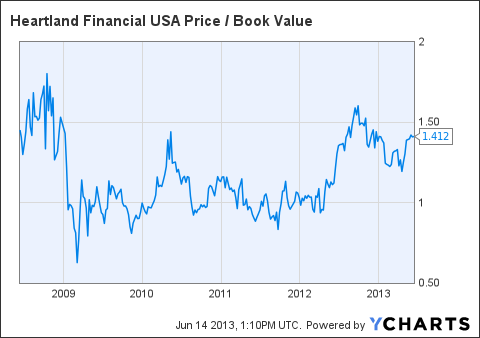 HTLF Price / Book Value data by YCharts
The long-term future for Heartland does look bright, and the dividend should be an added bonus. For the long term it appears as though Heartland is set up for growth and that Heartland's management has its priorities in line for long-term growth.
Conclusion
Heartland's recent acquisition is a piece of positive news for long-term oriented shareholders. The acquisition should help Heartland to get earnings growth and should help it to beat longer-term estimates. Heartland appears to be in a solid financial position, and the dividend should be an added bonus for shareholders. Heartland appears to be a small-cap stock with a large amount of long-term potential.
Disclosure: I have no positions in any stocks mentioned, and no plans to initiate any positions within the next 72 hours. I wrote this article myself, and it expresses my own opinions. I am not receiving compensation for it (other than from Seeking Alpha). I have no business relationship with any company whose stock is mentioned in this article.