"Recession to End in 2014"
Bloomberg has published an article about Spain's economy, which has the timing of the latest postponement of economic recovery as its subject. The article is entitled, "Spain Recession Seen Ending by 2014 as Austerity Eases."
From this title, we conclude that the authors mistakenly believe that the recession is the result of "austerity," i.e., the fact that the markets have forced Spain's government to rein in its deficit spending ever so slightly. Therefore, they appear to believe that as soon as the government will be in a position to spend more money it doesn't have, everything will be fine again.
This is a misconception on several levels. For one thing, the recession is the result of the previous unsustainable inflationary boom, which expressed itself in one of the biggest housing and credit bubbles ever. Few comparable examples exist, although housing bubbles have become a global phenomenon due to the vast money-printing orgy that has been raging worldwide since the year 2000. Capital malinvestment in Spain reached such gargantuan proportions that the workout is especially painful. Moreover, the bust has struck just as Spain's demographic picture is worsening markedly, as pointed out by economist Edward Hugh, who lives in Spain.
The idea that things will improve if only the government were to spend more is based on an erroneous view of what government spending actually represents. Granted, government's consumptive and wasteful spending is added to "GDP" and therefore appears to contribute to "economic growth." However, many people seem to be laboring under the illusion that government possesses a secret stash of resources that it only needs to "activate." That is not the case. Every cent the government spends must be taken from the private sector in some shape or form. The government does not produce any wealth, it merely confiscates and redistributes already existing wealth. Whether the funds spent are borrowed, obtained by taxation or still worse, by inflation, doesn't matter: unless the resources concerned have first been produced by the private sector, they cannot be spent by the government. In short, the private sector's spending power will decrease to an extent that is exactly corresponding to the increase in government spending.
The idea that "ending austerity" will lead to "economic growth" is therefore a myth. It may give a boost to certain aggregate statistics, but no additional wealth will be produced – in fact, the exact opposite is likely to happen: even more wealth will be squandered.
"The Spanish economy will shake off its recession and growth will accelerate through 2015 as European Union officials ease demands for budget cuts, economists said.

Economic output in Spain will increase for the first time since 2011 in the first quarter of 2014 and expand by 0.5 percent over the year, according to the median of 32 forecasts in the Bloomberg monthly survey. That compares with a previous estimate for a 0.3 percent expansion next year. The economy will grow by 0.9 percent in 2015, the survey showed.

"There is an expectation that the fiscal consolidation will be less of a drag than before," Luigi Speranza, an economist at BNP Paribas SA in London, said in a telephone interview yesterday.

Prime Minister Mariano Rajoy last month persuaded the European Commission to push back the deadline for bringing the Spanish budget deficit into line with EU limits by two years to 2016 to help support demand. European policy makers have reined in their deficit-cutting vigor and the International Monetary Fund issued a mea culpa for its role in policy measures that helped knock 17 percent off Greek output since 2008.

Spain's budget deficit will narrow to 5.6 percent of gross domestic product next year from 6.5 percent this year, according to the survey. Last month's poll showed a 5.2 percent deficit for next year.

Economy Minister Luis de Guindos said June 9 he expects Spain's economy to surpass consensus forecasts this quarter and renewed the government's pledge to reverse income tax hikes before 2015 when the next election is due. The government will begin cutting income tax next year, Industry Minister Jose Manuel Soria said in a radio interview today.

House prices in Spain fell at the fastest pace on record in the first quarter. Home values dropped 6.6 percent from the previous three months, data showed today.

Last week de Guindos rejected calls by European Central Bank President Mario Draghi for the government to cut "unproductive" spending to increase the room for tax cuts to spur growth. De Guindos said Spain's decision to deliver about 30 percent of its deficit reduction through tax increases was endorsed by the European Commission and the ECB.

"What matters is what the ECB thinks as an institution," he said on June 7 when asked about Draghi's comments."
(emphasis added)
As you can see, the fallacy that government spending can create wealth continues to be widely accepted as a kind of truism. In this case, we have to side with Mr. Draghi: the idea to cut unproductive government spending in order to make room for tax cuts is eminently sound. It is by far the best idea pronounced by a eurocrat in the past decade. In fact, it should become the motto guiding economic policy across the euro area. Naturally, the Spanish government is against it.
The Housing Bust
As the Bloomberg article notes en passant, the housing bust in Spain is intensifying rather noticeably. Below are charts from a recent report by Spain's statistical office on the decrease in house prices over the past two years; prices have fallen off the proverbial cliff last quarter.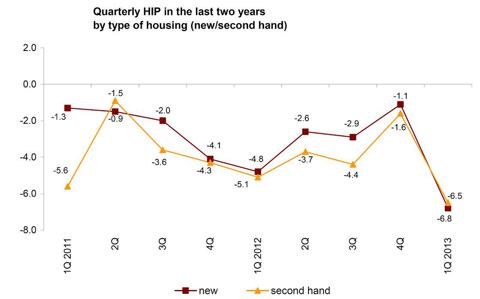 Click to enlarge
Spain, quarterly change in the house price index over the past two years: falling off a cliff.
Here is a chart of the annual rate of change of the house price index over the past two years: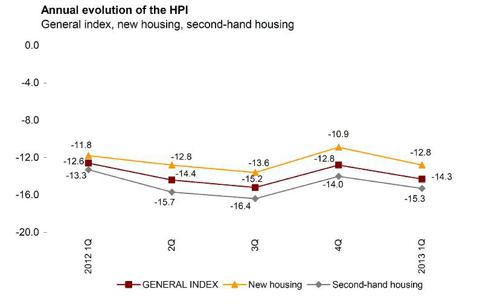 Click to enlarge
Annual rate of change of Spain's house price index.
The entire report can be accessed here (pdf). Keep in mind that the "official" house price indexes are based on a lot of non-market inputs. Spain's banks are trading houses between their own subsidiaries in order to extend and pretend and make things look better than they are. They are also extremely reluctant to foreclose on residential mortgages, preferring to bend over backwards to make them appear current.
As one of our friends and correspondents from Spain remarked, at current prices of approximately €1000 per square meter, "the entire Spanish residential mortgage book is in negative equity."
Moreover, as another correspondent noted, if one employs the probably more realistic estimate of Tecnocasa, namely a decline of house prices by 60 percent from the peak to date, then the average price per square meter is already down to about €800 – putting the residential mortgage book even further into the red.
There are approximately €600 billion in outstanding mortgages in Spain and more than €3 trillion in private debt overall. Evidently, Spain's banking system is not likely to go on a credit expansion spree anytime soon, although it has been quite active in playing the carry trade in Spanish government debt. It also means that the recent overoptimistic estimates of how much more capital will be required by the Spanish banking system are likely to turn out to be far too low. The banking systems' provisioning for losses stemming from the decline in collateral values is in all likelihood woefully insufficient.
As Fitch reports here, the first round of sales by "bad bank" Sareb underscores the weakness of Spain's property market.
It was also noted that a great many young couples that find themselves underwater in the post bubble era effectively face a "no future" situation, given that mortgages are full recourse loans in Spain. Digging out of this financial hole is extremely difficult, and the mobility of young couples is now significantly impaired. As many correctly argue, house prices are likely to decline even further if they are to return to the price/income ratios that prevailed in the pre-bubble era, so this problem is likely to intensify.
There is also a growing inter-generational social conflict. Older Spaniards are more likely to have paid off much of their mortgage loans already, so the proportion of underwater mortgages is skewed toward younger people. As Spain's society ages, more and more voting power will move into the hands of the elderly, who will vote for policies that are held to be advantageous for them, but may be quite detrimental to the younger age cohorts.
Unemployment in Spain is at nearly 27%, also as a result of the housing bubble, which provided work for the owners of a whole range of skills that are no longer in demand.
Edward Hugh calls the current situation in Spain a "geyser waiting to blow." We think he is right. The hopes that Spain's economy will magically recover if only the government comes into a position that allows it to increase its spending will prove to be vain.

Click to enlargeUsed construction equipment for sale in Spain: the remnants of giant capital malinvestment
(Photo via rbauction.de)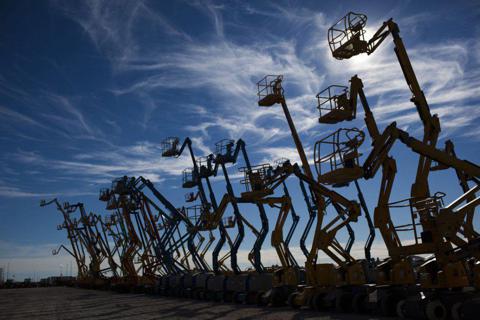 Click to enlargeA Haunting picture of more used construction equipment for sale in Spain
(Photo credit: Angel Navarrete/Bloomberg)
Charts by: Instituto Nacional de Estadistica