Peter Lynch once said, "The key to making money in stocks is not to get scared out of them." He could have been speaking to the bulls or the bears this week as last week's spike in volatility carried over to this week and seems to be gaining steam. Regardless of if you were long or short this week provided plenty of moments to sweat out the trade. The U.S. dollar, the yen, the S&P 500, the Dow Jones, and the Nikkei all had unusual levels of volatility and from the looks of it the volatility is here to stay. The U.S. dollar is trading at its lowest level since February 20, off 4.2% from the Bernanke taper moment on May 22. The Nikkei is now in a bear market, off 22% from the May 23 high with the dollar/ yen hitting fresh new lows at 94, off 9%. This week's yen surge was the highest since 2008 and this week saw the largest pip-based drop for the dollar against the yen since May of 2010.
Why so much talk about the dollar/yen in an article about Global Macro Econ Data? From the following charts you will see that every major market on the planet and several major fixed income markets are becoming more and more correlated with the dollar/yen. Meaning if the yen continues to gain strength that the global financial system will continue to see increases in volatility and downside momentum, something we have been talking about for weeks in our issues of the calendar. Take a look: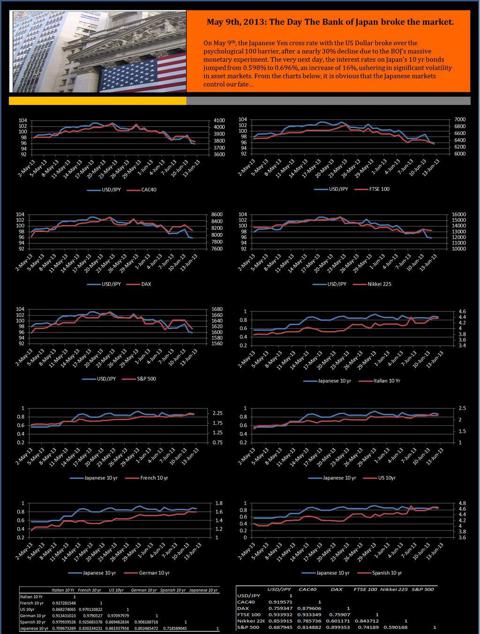 Click to enlarge
A more focused look at the S&P 500: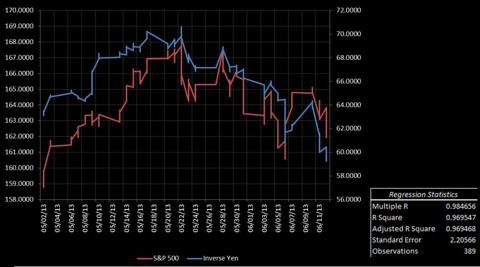 Click to enlarge
I will continue to pay attention to this relationship as the correlations grow closer and closer, although at this point I think there is little room to argue that the markets aren't reacting to the daily movements of the yen. It's clear that we see shor-term divergences between each market and the yen but overall the trend is strong. This is a major concern for financial markets and should be something that is considered when taking a position going forward.
Monday is essentially a non event day as there is little data coming out that will move markets. Tuesday we get CPI, PPI, and sentiment data from Europe and the U.S. I'm expecting negative readings across the board with the lone positive print coming from U.S. housing starts. I don't expect this number to knock the expectation's socks off, but I do expect better than the forecast.
Wednesday is definitely the marquee day of the week as we hear from the Fed and Ben Bernanke on a full slate of issues. We also get some key econ info from Japan and hear from the Bank of England. While I'm not expecting anything from the day that will be breaking news, I find myself glued to my monitor and TV anytime Bernanke has the chance to speak. Be careful Wednesday.
Thursday we get PMI numbers out of the eurozone and China, U.S. initial jobless claims and existing home sales, and eurozone consumer confidence. I think we see good prints from China, Germany, and the UK, negative prints on everything else. Of all the days this week I think Thursday has the highest chance of being a deep red day. The week ends with Friday being a semi non-event day with only BOJ Governor Kuroda giving a statement on how great its "plan" to weaken the yen is going and how it will lead Japan into a future of economic prosperity, though all the charts coming out of Japan would beg to differ.
I come into the week with no position in the SPY but I am NET SHORT the SPY's beta by way of being levered short a basket of Natural Gas E&P companies. This basket that I am short tends to do between 3-400% what the SPY does on a daily basis, give or take any wild swings in the underlying commodity of natural gas. It is by being levered short this basket that I plan to capitalize on what I think will be the continuation of the SPY's downward trend.
I would like to finish by offering a sincere thanks to Ronnie Spence (@RonnieSpence) for his help with building the charts on the yen's correlation with global markets.
Good luck to everybody. See you next week.
The following tables will outline any medium to high importance events, their currency, a previous number, and my take as to whether the number will beat expectations (+), meet expectations (=), or miss expectations (-). Doing due diligence on these events and taking a position based on the opinion derived from that research is a way for traders to play the markets using beta movements from these events. My calendar is in no way entirely inclusive of all data events globally, simply the events I will be watching that I feel will impact my trading strategy of being either beta neutral or beta levered. The events in the tables are events that, in my opinion, will have a significant impact on the S&P 500 Index, which can be most closely be followed by watching the SPDR S&P 500 ETF Trust (SPY), the Dow Jones Industrial Index, which can most closely be followed by watching the SPDR Dow Jones Industrial Average ETF (DIA), and the US Dollar, which can most closely be followed by watching the PowerShares DB US Dollar Index Bullish Fund (UUP).

Click to enlarge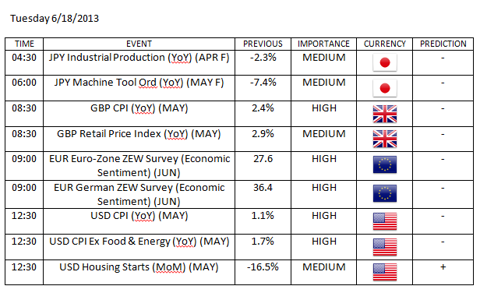 Click to enlarge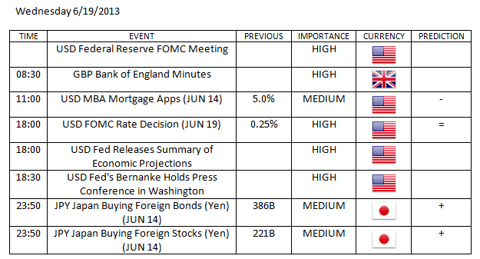 Click to enlarge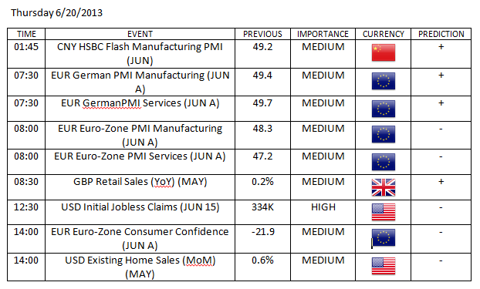 Click to enlarge

Click to enlarge
Disclosure: I have no positions in any stocks mentioned, and no plans to initiate any positions within the next 72 hours. I wrote this article myself, and it expresses my own opinions. I am not receiving compensation for it (other than from Seeking Alpha). I have no business relationship with any company whose stock is mentioned in this article.