Dividend payouts are becoming more commonplace with information technology stocks according to S&P Capital. There has been an 18.9% increase in the amount of dividend-paying companies within the particular sector, making a case for investing in technology exchange traded funds for income.
"Part of the attraction to technology names in general is the cyclicality of the companies. If the economy is in the early stages of an upswing, these names will likely benefit. Now that many of these stocks are paired with attractive (or reasonably attractive) dividend yields, it makes them worth consideration by a wider group of the investing population. This increased interest has led to the creation of technology focused, dividend seeking ETFs," S&P Capital wrote in a recent note.
The First Trust NASDAQ Technology Dividend Index Fund (NASDAQ:TDIV) is up 16.8% year-to-date through early June, compared to the heavyweight PowerShares QQQ Trust (NASDAQ:QQQ) which has given back 12.9% through the same time period. The second-largest IT ETF in our universe, Technology Select Sector SPDR Fund (NYSEARCA:XLK), lagged both over that span, returning 10.4%.
The fact that TDIV focuses heavily on semiconductors has helped performance as well as yield, since this sub-sector tends to pay out yield. In fact, the top 10 holdings in TDIV pay out healthy dividends. The total yield for TDIV was 2.62%, which is a bit under the index it is tracking, totaling a 3.3% yield.
Also, according to S&P Dow Jones Indices research, the yield for technology stocks within the S&P 500 Index has increased over the past few years. The yield for tech stocks has increased while it has dropped for classic income producing sectors such as utilities and telecom.
First Trust NASDAQ Technology Dividend Index Fund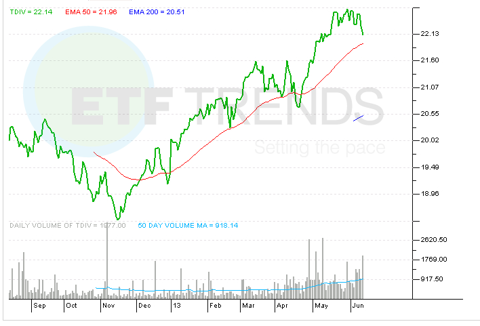 Tisha Guerrero contributed to this article.
Disclosure: I have no positions in any stocks mentioned, and no plans to initiate any positions within the next 72 hours. I wrote this article myself, and it expresses my own opinions. I am not receiving compensation for it. I have no business relationship with any company whose stock is mentioned in this article.