Country risk is evaluated and rated by numerous organizations catering to government entities, financial organizations or other parties. These ratings serve a variety of purposes and are compiled using a host of different methods.
Precious metal miners operate in a large variety of countries and our interest in these mining companies on the one hand and country risk exposure on the other led us to compile a comprehensive list of jurisdictions of concern to precious metal investors. We scoured the Market Vectors Gold Miners ETF (NYSEARCA:GDX) and analyzed each precious metal mining company represented in this ETF for a list of countries with operating mines, reserves or resources. And then we repeated the process for the Market iShares MSCI Global Gold Miners ETF (NYSEARCA:RING), the Global X Pure Gold Miners ETF (NYSEARCA:GGGG), and the Global X Silver Miners ETF (NYSEARCA:SIL).
As it turned out companies held by these ETFs are mining precious metals, or control reserves or resources in 47 countries. Does that sound a lot? Considering that there are 196 countries in the world our list indicates that precious metals are mined in less than a quarter of jurisdictions worldwide.
In an article published earlier this year, we reported on sources that provide country risk ratings free of charge. We used these sources to evaluate the risk associated with the precious metal mining destinations on our list. Definitions for country risk include factors such as political risk, exchange rate risk, economic risk, sovereign risk, transfer risk, socio-economic risk and others. Depending on the source, various contributing factors of country risk are weighted differently. Readers interested in the specific definitions are encouraged to follow the links to our sources documented as follows:
The countries which we identified as precious metal destinations along with all ratings from our eight sources are collated in the table below. We averaged the available ratings for each country into one compounded rating and ranked the countries according to this compounded rating which can be found in the second column from the right of the table. Our compounded country risk ratings range from 0 to 100 with low numbers indicating low risk and high numbers indicating high risk. The right-most column gives a verbal classification, which admittedly was defined by your humble scribe using common sense. The diagram below the table visualizes the ranking.
Not all countries are considered by all the listed sources. The following countries only receive ratings from five sources: Suriname, Senegal, Mauritania, Burkina Faso, Niger, Guinea, Mali. Data from four sources was recorded for Ethiopia and the Kyrgyz Republic; three sources gave ratings for Eritrea; and only two sources provided data for Fiji. For obvious reasons the compounded rating loses in quality for countries with fewer sources to serve as input.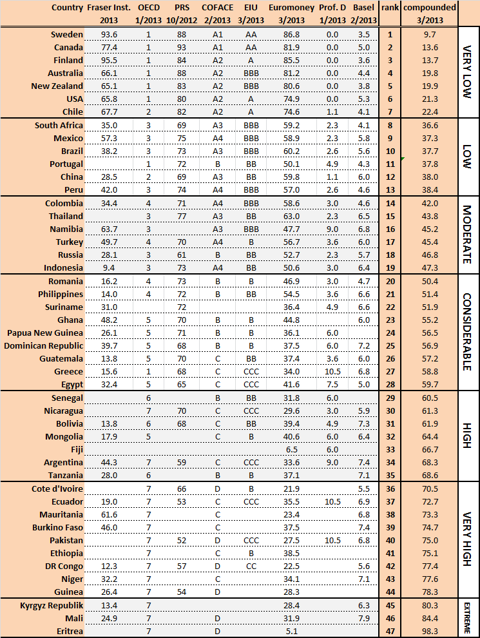 Disclosure: I have no positions in any stocks mentioned, and no plans to initiate any positions within the next 72 hours. I wrote this article myself, and it expresses my own opinions. I am not receiving compensation for it (other than from Seeking Alpha). I have no business relationship with any company whose stock is mentioned in this article.