Armour Residential REIT (NYSE:ARR) has been under extreme selling pressure since early May. It has lost 25% of its value year to date. It is not alone. My favorite mREIT American Capital Agency (NASDAQ:AGNC) was trading over $30.00 to start May and was recently under $25.00. The analysis presented here is relevant to most of the stocks in the mREIT sector. So, the first question to ask is what started this fear selling? Well, every mREIT (mortgage real estate investment trust) has been shellacked in the last month. ARR has seen some selling pressure as it had recently reduced its monthly dividend from 8 cents per share to 7 cents per share. Then, it was hit hard by the belief that the Federal Reserve will be slowing its bond buying program. Though not entirely, I think the Fed's action is somewhat irrelevant, because when it announced purchasing, these mREIT stocks got crushed, and now that the buying may end, they again are getting crushed.
The primary driver of the selling action for now was rising interest rates, which is interesting because the interest spread is widening. But it wasn't just the rising interest rates, but the pain felt in the mortgage backed security (MBS) values. ARR invests primarily in hybrid adjustable rate, adjustable rate and fixed rate residential mortgage backed securities (RMBS) that are issued by government sponsored entities. ARR buys mortgage bonds with borrowed money, thus, as interest rates rise, it can lend at higher rates. If the long-term rates don't exceed the rate of growth in shorter-term yields, we will have a widening of the interest rate spread due to a steepening of the yield curve. In fact this yield spread is key to mREIT profits, because these companies borrow capital at very low short-term rates, and then invest in potentially higher-yielding real estate mortgage assets. If the short-term borrowing rates rise at a rate faster than long-term rates, we will have a narrowing of the spread. One of the positives for ARR has been that the long-term interest rate has expanded at a greater pace than the short-term rates. This means that companies like ARR could make more money as it likely costs less to borrow. While I have warned of a flattening of the yield curve in the past, it seems the curve is actually widening right now. However, the pressure in MBS prices has hurt ARR tremendously (figure 1).
Figure 1. Price of the FNMA 3.5 Mortgage Backed Securities in the Last Month.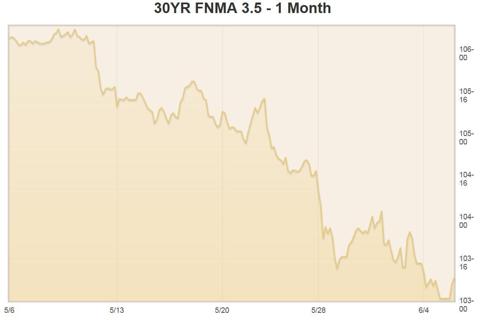 The Announced Dividend Helps Boost the mREIT Sector
ARR recently unveiled its dividend payments for the next three months. To many investors' surprise, ARR has declared monthly distributions for its Q3, which are going to be $0.07 per share of its common stock. It was widely expected there would be another cut announced to $0.06 or $0.065 per common share. On top of the common stock dividend, ARR announced monthly distributions of $0.171875 per share of its series A preferred stock and $0.1640625 per share of its series B preferred stock. The common stock distribution will be paid on July 30 to shareholders of record July 15, August 29 to holders of record August 15, and September 27 to holders of record as of September 16. The dates for the preferred stock dividends are nearly similar, except for slightly different payment dates of July 29 and August 27 for the first two disbursements. Since there has not been a cut, the ARR common stock dividends annualize to $0.84 per share, which means it yields 17% at its current price of $4.90.
Impact of the Dividend
The announcement of the dividend being maintained was a key piece of news (among others such as AGNC trading well below book value) that sparked a huge amount of buying in the mREITs yesterday (June 13th). ARR soared from $4.59 to $4.92, or 8% in one day. AGNC rose 6.15% (and is still trading below its stated book value). The entire sector was up 4%. As ARR was considered to be vulnerable to the negative effects of MBS declines, its dividend news suggests that other stocks in the sector should be able to maintain their dividends or cut them far less than expected. This belief has led to additional buying of the mREITs. In my opinion, this dividend announcement along with others we have seen bodes extremely well for the upcoming dividend announcements for other mREITs going forward.
My Take
ARR offers a 17% yield. There are other names that I prefer, including AGNC. However, the maintenance of the dividend was a sign of strength, for now. With the strong sell-off, I think the stock is a buy under $5.00. Reinvesting dividends on a monthly basis could be a good long-term strategy combined with adding to the position on 5% dips. I would further suggest to keep the mREIT portion of your portfolio under 10% and mix in some master limited partnerships, business development companies and telecoms to fulfill the high yield portion of your holdings, which can be anywhere from 20% to 30% of your portfolio.
Disclosure: I am long AGNC, WMC, NLY, MTGE. I wrote this article myself, and it expresses my own opinions. I am not receiving compensation for it (other than from Seeking Alpha). I have no business relationship with any company whose stock is mentioned in this article.