Shares of Nvidia (NASDAQ:NVDA) have performed quite well, sporting 17.5% gains year-to-date. While I am certainly bullish on the name, particularly as we go into the 2H 2013 selling season in which Tegra 4 based tablets should start ramping in full force, the real story - in my view - is the release of the integrated LTE + apps processor known as the "Tegra 4i" which should see widespread availability by 1Q 2014. Hot off the heels of this YTD gain, the short interest has risen dramatically in the name, nearly doubling over the two week interval between the last short interest data. Can this dramatic increase in short interest be explained, and should longs be worried?
10% Of The Float Is Shorted
Here's the latest short interest data: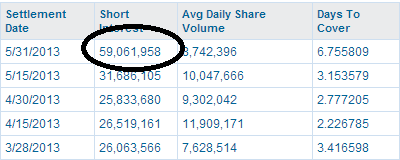 With a float of roughly 590M shares (and decreasing thanks to a monster buyback program), this means that ~10% of the float is shorted, which is substantially higher than any point in the last 52 weeks. Typically speaking, the short interest in Nvidia has been mostly noise that fluctuated, but the rather dramatic increase in the short interest (which is now a substantial part of the share count) is something that investors and short sellers alike cannot ignore. So, what could be giving the short sellers this newfound zeal?
Looking At Peers
The first diagnostic to run is to see the trend in the short interest in Nvidia's peers. It is a very different thing to have broad short interest increases across the board in a given sub-sector than it is to have a company-specific short interest increase. The nearest competitors to Nvidia are Advanced Micro Devices (NYSE:AMD), Qualcomm (NASDAQ:QCOM), and Intel (NASDAQ:INTC), so let us examine what the trend in short interest is in these names:
AMD
AMD's short interest has been relatively stable over the last several months following the squeeze from the beginning of the year:

Qualcomm
Qualcomm's short interest is slightly elevated relative to the most recent few periods, but it is certainly not abnormally high, nor is it even at a 52-week high of 23.4M shares shorted: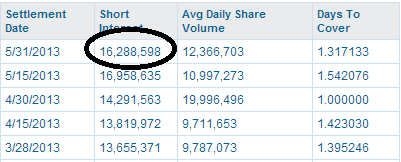 Intel
Intel's short interest has actually been declining steadily over the last several months. I believe that this is the best clue yet for what could be going on with Nvidia:

A Hypothesis
It seems that this is not a sector-wide phenomenon - neither the nearest mobile chip competitor nor the nearest PC graphics competitor have seen a short interest increase similar to Nvidia's. This strongly suggests that the short sellers are betting on company-specific problems. My best guess is that the large short interest is due to a couple of things:
Shorts Expected Apple To Announce An Nvidia-Less rMBP
A near-term negative catalyst that many expected at Apple's WWDC was a switch in the Retina MacBook Pro 15" from a discrete Nvidia GT 650M to Intel's Iris Pro 5200. While I still believe that this is highly probable, it is also widely expected. That being said, the news and financial journalists would likely have played this up as some gigantic loss (in the grand scheme of things, it would not be) to drive the share price down.
Concerns About Intel's Integrated Graphics In General
The other broad market fear/short thesis is that Intel's integrated graphics will continue to marginalize Nvidia's position in notebooks. While I do not believe that this is as "clear cut" and "likely" as the bears believe, particularly as Intel's graphics will likely continue to be unsuitable to the "gamer" audience that the company's consumer GPUs are aimed at, this is certainly a case of "show me" for Wall Street, which will be watching the sales trends in this area like a hawk.
AMD Game Console Wins/Share Gains
Advanced Micro Devices has been touting its game console APU design wins, and has further been giving away video games with its graphics cards in an attempt to win back market segment share. The pitch that AMD has apparently sold Wall Street on is that game developers will optimize their games for AMD hardware, which will leave Nvidia out in the cold on the PC gaming side of things. I do not think that the game console wins will have a material effect on the Nvidia/AMD market share war. On the PC side, the driver teams at Nvidia and AMD work closely with the game developers to make sure that the games are optimized, and any "advantage" AMD has from the game consoles can be offset by Nvidia's traditionally strong developer relations team.
Fears That Tegra Is "DOA"
Many of the Nvidia-bears/bashers typically tout the party line that "Tegra is DOA", particularly as it seems that Qualcomm won the next generation Nexus 7 from out under Nvidia. While it remains to be seen how well Nvidia's Tegra 4 sells through (which is heavily dependent on desgin wins), Nvidia has already secured a number of high profile wins, including a tablet from HP (NYSE:HPQ), the next generation ASUS Transformer Infinity, and likely plenty of others to come. It is far too early to pronounce Tegra 4 dead, and I think that management has a pretty good shot of hitting their target of flat Y/Y sales for the current fiscal year.
That being said, I believe the real growth story for Tegra happens in FY2015, when Tegra 4 is ramping and Tegra 4i begins its assault on the low to mid-range smartphones worldwide. Serious investors in Nvidia will, at the very least, wait to see how the Tegra 4i story plays out before calling it quits on Nvidia's mobile strategy. Further, the Street may be discounting the fact that Nvidia is aiming at taking Android-based all-in-ones and notebooks, a market that competitor Intel is, ironically enough, opening up with its Atom and Core processors.
Conclusion
It is clear that Wall Street does not believe Nvidia's story, and that is what creates the long-term opportunity for investors who believe that Nvidia can succeed in this space. Nvidia wisely used its cash to pick up and develop all of the pieces needed to be a world class system-on-chip developer in addition to its core businesses as a premier graphics chip developer. I believe that Nvidia's leadership team is excellent and the strategy sound, so if the company can execute well, then the short sellers will be paying to buy back these shares at much higher prices than today's $14.35 close.
Disclosure: I am long NVDA, INTC, QCOM, AMD. I wrote this article myself, and it expresses my own opinions. I am not receiving compensation for it (other than from Seeking Alpha). I have no business relationship with any company whose stock is mentioned in this article.