Micron Technology (NASDAQ:MU) is scheduled to release its 3rd quarter 2013 earnings on Wednesday, June 19th. Below I have highlighted this quarter's earnings estimates as well as provided a fundamental look at the company's financial position and valuation.
Profile and Estimates
Micron Technology has a market cap of $13.14 billion and had annual sales last year of $8.234 billion. Shares currently trade for $12.76 and are up 101.26% YTD and 147.29% above their 52-week low of $5.16 per share.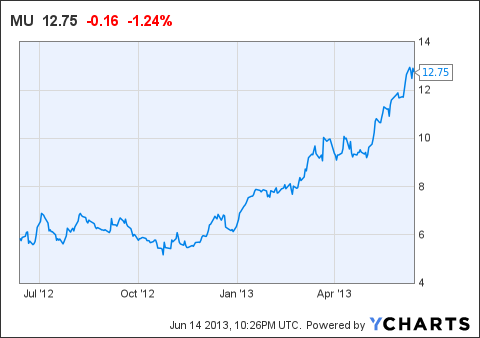 MU data by YCharts
Analysts have a mean target price of $12.22 and a median price target of $12.00 per share. This quarter, analysts on average are expecting EPS of $0.02 on revenues of $2.24 billion.
Below is a valuation metric that I have compiled based on next years EPS estimates and MU's 5YR EPS history.

Click to enlarge
From this, I would feel comfortable writing off all of the high and low estimates and averages, which leaves the average EPS and 5YR P/E that yields an estimated future share price of $13.17. This is only an estimate, but it does fall in line with the average price target in that they both suggest limited upside and a full slightly over-valued stock.
Fundamental Analysis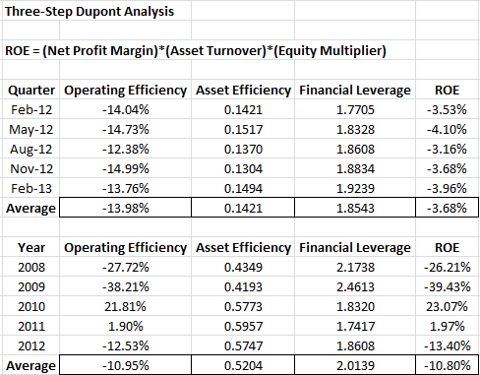 Click to enlarge
From the DuPont analysis above, you can see that the company has been struggling on the margin front as negative operating and net margins have weighed in heavily on the company's ROE. MU's negative 13.4% ROE is far from the industry averages 4.2%.
Over the past 5 years, D/E leverage has come down but at 0.5 it is still above the industry averages 0.2. Below is another look at the company's revenues and COGS as well as a look at the number of shares issued.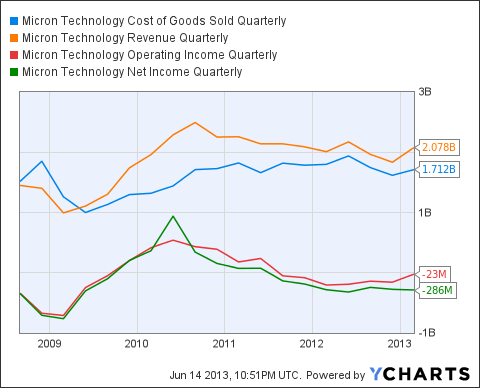 MU Cost of Goods Sold Quarterly data by YCharts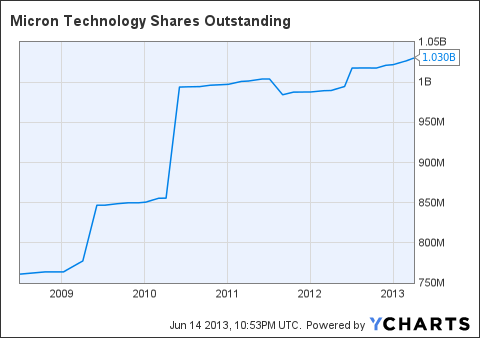 MU Shares Outstanding data by YCharts
Bottom Line
For me, the only Micron Technology trend I like is found in its rising share price, something that doesn't seem to be correlated to any significant change in its previously reported earnings/fundamentals. Again, this is a look at the numbers and is not based on any speculative or unreported financial data. Keep an eye out for new developments and updates on Wednesday.
Disclosure: I have no positions in any stocks mentioned, and no plans to initiate any positions within the next 72 hours. I wrote this article myself, and it expresses my own opinions. I am not receiving compensation for it (other than from Seeking Alpha). I have no business relationship with any company whose stock is mentioned in this article.