Alcoa (NYSE:AA) is one of the key players in the aluminum business. It produces and smelts alumina, as well as manufactures aluminum products. Its close competitors include the Aluminum Corporation of China (NYSE:ACH), Norsk Hydro (OTCQX:NHYKF), and Century Aluminum Company (NASDAQ:CENX).
At first glance, Alcoa seems like a bad investment. Its margins are razor thin: In 2012 its EBIT (operating profit) was just 1.37% of sales, while its net income was just 0.81%. As Alcoa seeks to become more cost competitive, its margins have risen slightly, its EBIT TTM is 1.79%, while its Net Margin TTM has risen to 1.05%, representing a significant improvement over the last two quarters compared to 2012. Last quarter, cost of revenue was 83.10% of sales, however, just two quarters earlier, cost of revenue was over 90%. As a result of this Alcoa is becoming more cost competitive.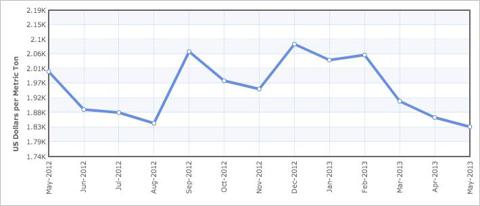 The price of aluminium has fallen since December 2012, from ~$2.08K/Metric Ton to just ~$1.8K/Metric Ton. Therefore, usually, aluminum companies would have seen decreased revenues, and subsequently profits due to the rapid price change. Some of Alcoa's competitors like Norsk Hydro have experienced this. Norsk Hydro's net income for Q2 2013 was $287 million, as opposed to $499 million. However, in this same time period Alcoa has experienced a rise in net income of $55 million to $149 million, a rise of 58.5%.
Alcoa has benefited significantly from its increased cost competitiveness but it has also seen only a slight drop in revenues due to large demand. Q2 2012 revenues were $6.006 billion, falling to $5.833 billion a year later, a decrease of just 2.88% compared to the 13.5% fall in price.
Moreover, I expect the price of Alumina to rise over the long run. The price of Alumina falling has actually benefited Alcoa in the long run. Many of Alcoa's competitors have been forced to cut back production as the price falls have caused profit margins to become loss margins. Rusal, the world's largest aluminum company, estimates that 3.9 million mt of capacity will be cut back this year. Furthermore, due to increasing demand from China and other fast growing economies, along with the cutbacks, alumina is fast becoming a deficient resource. This will lead to strong upward pricing pressure. This, combined with the continuation of the global recovery, should cause the price of alumina to rise rapidly, improving the profitability of Alcoa (Morningstar expects the price of aluminum to rise as high as $2.4k/Metric Ton over the long term).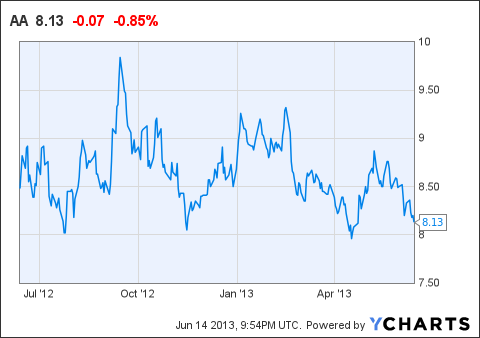 AA data by YCharts
As of close on 06/14, Alcoa has a market cap of $8.69 billion and the company is trading at a price of $8.12, just 2.7% off its 52-week low. The company's earnings TTM are $0.23, leading to a P/E ratio of 35.3. This P/E ratio seems very high as it is well above the market average of 20-25, however, when compared to the industry average of -17, it is easy to see why Alcoa is an attractive option. Also, Alcoa's EPS are expected to grow over the coming months. The company's EPS for 2013 is expected to be $0.53, a significant improvement on the TTM figure. Its consensus earnings estimates for 2014 of $0.71 are also significantly higher leading to a forward P/E ratio of just 10.1.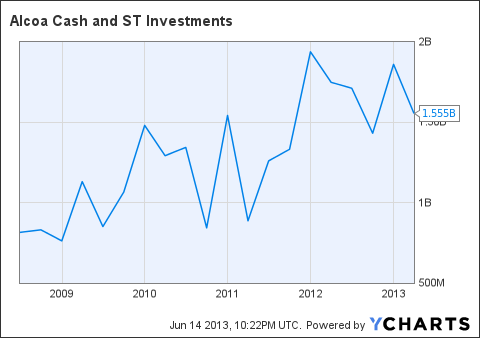 AA Cash and ST Investments data by YCharts
Alcoa also has a very strong financial situation from a debt perspective. It has just $1.18 billion of current debt (debt with a maturity of less than twelve months) and $7.745 billion of long-term debt (the latter figure has decreased over the last 8 quarters from $8.773 billion). Alcoa has positioned itself well to cope with the $1.18 billion of current debt. As indicated by the graph above, it has more than $1.555 billion available in cash and short-term investments. Its net working capital (current assets-current liabilities) is $1.268 billion, allowing the firm a great deal of operating liquidity. Consistent with this, it has a strong working capital ratio of 1.195 billion. This number is comparable to many growing companies in asset intensive sectors and indicates Alcoa is utilizing its asset base well. Two of Alcoa's competitors, the Aluminum Corporation of China and Alumina Ltd (OTCQX:AWCMF) have negative WCRs, demonstrating the difficulties in the aluminum industry and showing that they cannot cover their liabilities over the next year.
Alcoa's EBITDA TTM is $550 million. This EBITDA gives a trading multiple of 15.8x. Also, if we take our market cap of $8.69 billion + our total debt of $10.573 billion - our cash & cash equivalents of $1.555 billion and we get an enterprise value or EV of $17.708 billion. This gives us an EV/EBITDA TTM of 32.19x. If we do the same thing with the Aluminum Corporation of China, and Alumina Ltd, their respective EV/EBITDA's TTM are 86.64x (19.62 billion/266.46 million), and Alumina had negative EBITDA TTM of $19 million, so the ratio is impossible to calculate. Therefore, compared to its nearest competition, one could easily say that Alcoa is relatively well positioned and undervalued.
Alcoa has a number of other factors in its favor:
Alcoa has recently completed a new bauxite mine in Brazil, and a new factory in Russia. Both Russia and Brazil, have cost of about two thirds of the U.S. further reducing Alcoa's cost of goods sold. The company has also expanded in Suriname, another low cost area.

Lower-energy technology that is being developed will give Alcoa a competitive edge in the market. The $2.1 billion Quebec smelters project is an example of this, although it has recently been delayed.

Alcoa has a joint venture in Saudi Arabia that is expected to become operational in 2014, this will provide high profit margins due to the low cost of raw materials along with natural gas.

Half of Alcoa's competition post negative earnings, which indicates that at these price levels much of its competition might struggle to stay in business.

Although China's production has rapidly increased since 2000, it is facing limited access to bauxite which will constrain its long-term expansion. This will allow Alcoa to capture much of the future expansion of the market.
Although it will face a number of problems along the way:
Alcoa will not have an easy time expanding its upstream assets in the future. High demand and less bauxite-rich regions than in the past mean that the opportunities for expansion could be limited going forward.

The global recession hurt Alcoa, and although its margins are recovering, the company is still fragile. Consequently its demand is very dependent on the economy staying strong so consumption levels continue to recover.
Ultimately Alcoa is well positioned to capture market share over the long term. It is investing heavily in capital (spent more than $1.2 billionin the last quarter of 2012) and rapidly reducing its production costs. These choices by management will bring some pain over the short run but great benefits over the lifetime of the company. Aluminum, along with copper, is one of the metals with very robust demand due to its invaluable status in many key goods. As the price of aluminum rises over the long term, Alcoa is well positioned to undercut its competition and gain market share. The current share price of $8.12 is a gross undervaluation in my opinion. I believe over the next year, the stock price could as much as double.
Disclosure: I am long AA. I wrote this article myself, and it expresses my own opinions. I am not receiving compensation for it (other than from Seeking Alpha). I have no business relationship with any company whose stock is mentioned in this article.