American Express (NYSE:AXP) is a financial transaction and credit card company that operates in the United States as well as in many countries around the world. The company uses superior customer service and rewards to keep loyalty among users of the brand. As the world gradually shifts from a cash centered environment to a plastic centered one, American Express will benefit from an influx in new customers and increased volumes from old ones. The valued relationship between AXP and its customers is what separates them from other large credit card companies, and will continue to draw both new users and investors going forward in a more electronic world of transactions.
The main indicator of success for American Express lies in the consumer. If more people go to stores and buy products with their credit card, American Express will take in more money from the fees it charges on those transactions. Investors can keep an eye on this metric by looking at consumer spending data, which gauges how much money is changing hands throughout the nation. As the slow but certain economic recovery continues, more consumers are loosening their cautious grip on their money, and are starting to spend more and invest more, as indicated by the rising stock market and spending numbers seen over the course of several years: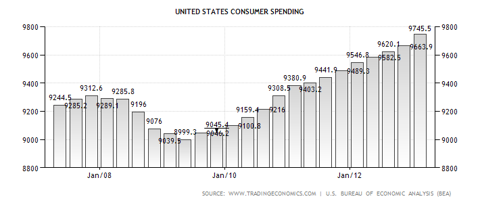 With an increase in spending, American Express should see more money flow into its coffers, a trend that should continue as consumer confidence keeps inching higher and individual investors start to make the leap back into the stock market. The next consumer spending number is set to be released on June 27th. If this turns out to be a better than expected number, look for shares of AXP to float higher.
What makes American Express even more compelling is its ability to profit from each purchase made by a customer. Current profit margins come in at more than 16%, which have grown considerably over the last five years from around 9%. American Express' ability to keep costs in check and satisfy customers has enabled it to take a larger share of each transaction, which has in turn boosted its profit and share price.
Despite this positive phenomenon for American Express, Wall Street analysts have failed to realize the company's success. This is shown by the ratings given by each firm covering the stock. Of the 17 different firms covering AXP, only 5 have a buy rating on the stock, while 12 have a hold rating or worse. The average price target for American Express is around $68, which is 7% lower than its current price. This shows that Wall Street has underestimated the growth of AXP and are now in a position where in order to try to save their reputations as correct market predictors, they will have to raise their price targets and even upgrade their ratings to catch up to the stock's performance. Barclays recently showed their conflict over the stock when they downgraded AXP to a hold from a buy, but raised their price target by $10 a share to $82.00. This confusion indicated by the firm means that they are trying to repair their situation and become more in line with the current company outlook, as other firms will do in the future to stay popular. This is bullish for shares of American Express because each upgrade by a firm will put more pressure on the other firms to do the same, which can cause a slew of upgrades in a relatively short period of time. When analysts get on board to the AXP story, investors should, too.
Another bullish sign for American Express is the large ownership by Warren Buffett, who currently owns more than 151 million shares in the company. Over 12% of Buffett's portfolio is made up of AXP, which shows that the so called 'smart money' has confidence in the future outlook of the company and the stock. If large investors such as Warren Buffett take massive positions in companies that have to be disclosed, smaller investors should consider following suit.
American Express is not only a bet on consumer spending, but more generally a bet on the health of the United States as a whole. AXP is a component of the Dow Jones Industrial Average, and has a 4% weighting in the index. This shows that American Express contributes to the overall health of the economy and the individual, since it is an indicator of purchases and spending. If AXP shares fall, the Dow is pulled down fractionally with it, which is the main indicator of overall success of national business. American Express is not only a company that stands on its own, but a representative of the financial and economic success of the nation. As the economy improves, and as consumers become more confident with their wallet, look for shares of American Express to reflect the growing enthusiasm.
Disclosure: I have no positions in any stocks mentioned, and no plans to initiate any positions within the next 72 hours. I wrote this article myself, and it expresses my own opinions. I am not receiving compensation for it (other than from Seeking Alpha). I have no business relationship with any company whose stock is mentioned in this article.