Now that we know that General Electric (NYSE:GE) is not increasing dividends this quarter, our focus has shifted to what GE is actually doing with all of the extra cash the company now has. As I previously reported, GE has definite plans of returning shareholder value. Increased share buybacks, regular dividend increases (Ok, so not this quarter but definitely sometime in 2013), and reinvestment within the business segments of the company to potentially return GE into a growth stock once again, on top of it becoming a dividend winner.
Sitting on a pile of cash will never do anything for a company or its shareholders. What GE has been embarking on has been a very aggressive path of capital expenditures within core business units. This strategy will not only strengthen those segments, but could potentially recreate the company as a growth engine. If this pans out, the stock will become a growth stock with a great dividend. In today's world, that is what I am looking for in a core portfolio stock.
GE Returns To Growth By Investing Within Itself
One of the core business segments of GE is that of healthcare and healthcare related projects and products. An integral part of this business is the software that is used to not only enhance the current business model, but also to extend the growth of the business. As this article reports, GE is pouring more than $2 billion into new software development to grow this sector:
GE Healthcare plans to invest $2 billion over the next five years to accelerate its software development. The company said it would work closely with the GE Software Center of Excellence in San Ramon, Calif. -- itself the product of a $1 billion investment --as well as other research and development hubs around the world…….In its announcement, GE Healthcare said it would focus its new development strategy on "maximizing asset performance; improving hospital operations management; improving clinical effectiveness; and optimizing care across entire populations."
The important takeaways of this investment are these key elements:
- Increase productivity through scheduling efficiencies, faster data entry, clinical decision support, and "financial gains that allow for expansion."
-- Reduce costs by optimizing workflow and eliminating waste.
-- Minimize rework and redundancies by enhancing collaboration and improving access to information.
Cost reduction and increased productivity means higher margins, higher profits, and probably increased revenue flow. All signs of a growth model.
Another core business segment of GE is the aviation unit. Due to increased demand, GE, and its partners, is expected to increase commercial aircraft engine production from an original plan of 3,600 engines to 3,800 engines. That figure is up 36% from 2010, and GE delivered 3,300 engines in 2012. The growth path is significant, and obvious, in this business segment.
A 15% increase from 2012 to 2014 will enable GE to increase revenues and profits by roughly the same percentage during that time period, and almost insures growth expansion in this business.
GE Aviation said about 13 percent of production in 2014 will be for new products, compared with 9 percent in 2013 and 2 percent in 2010. The trend shows the growing importance of the latest plane designs to suppliers.

GE Aviation is supplying the engines directly or through joint ventures CFM International and Engine Alliance.
This homegrown expansion comes directly on the heels of another major capital expenditure of roughly $4.3 billion for the purchase of Avio, an Italian aviation component manufacturer within that country. Obviously, GE sees great value for the entire European airplane market, since it is making some strong concessions to the EU to make this deal actually happen.
The European Commission said on its website it would decide on the deal by July 2, extending the deadline from June 18. It did not provide details of the concessions, sticking to its standard policy.

Companies typically offer to sell assets or modify their business practices to allay competition concerns.

Avio, which makes parts for the GE Dreamliner engine used by Boeing Co (BA.N) and also counts engine-maker Rolls-Royce Holdings (RR.L) as one of its customers, is considered one of Italy's industrial jewels and one of the most technologically advanced firms in its field.

GE is buying Avio from private equity fund Cinven and Italian state-controlled defense group Finmeccanica (SIFI.MI).
It is my opinion that GE will have little trouble acquiring this company as it seeks to expand its supply chain inwardly. By so doing, further cost reductions, and increased profits are quite easily attainable, in a very short period of time. Avio already has a pipeline of business, revenue and profits, that would be accretive to GE immediately once this deal is finalized.
Even Some "Plain Vanilla" Business Segments Are Headed Toward Growth
Not to overlook some of what I consider to be "smaller" business segments, GE is also bolstering some of its "old line" business units, such as lighting (yep, remember the light bulb?).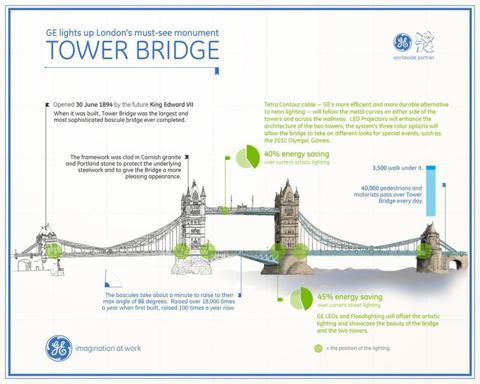 By using state of the art LED lighting projectors, GE can be seen at work at the historic Tower Bridge in London. By displaying the enormous energy (and cost) savings that can be achieved just by using the GE LED lighting system, it is no surprise that General Electric sees strong and rapid growth in this division, rather soon as well.
General Electric, which has been a leader in the global lighting market since Thomas Edison's incandescent bulb, has seen strong growth in its LED lighting business due this changing market environment. The company's LED business has also benefited from a strong emphasis on research and development as well as strategic acquisitions that have expanded its product portfolio, market share and penetration……GE Lighting is a part of GE's energy management segment, which generated $7.4 billion of the company's $147 billion revenues in 2012.
An increase of 20% in this business will add yet another $1.5 billion in revenue (as well as increased profits) for GE as well.
The Entire Company Has Embarked On A New Growth Path
One look at the slick new redesign of the General Electric Website illuminates much of the overall strategy that GE is taking. By using the company's significant resources not only to return shareholder value in terms of dividends and share buyback programs, a strategy that puts GE squarely in the middle of a new growth plan, I can envision strong capital appreciation, as well as the healthy dividend income stream that GE offers.
While the share price has not reached the heights I have projected, there are still 6 months left in 2013 for my stock pick of the year to make me look like a genius. Maybe I should extend that outlook through 2014 though?
Disclaimer: The opinions of the author is not a recommendation to either buy or sell any security. Please do your own research prior to making any business decisions.
Disclosure: I am long GE. I wrote this article myself, and it expresses my own opinions. I am not receiving compensation for it (other than from Seeking Alpha). I have no business relationship with any company whose stock is mentioned in this article.