Utilities have recently endured a most painful stretch. Following what was a remarkable +19% start to the year through the end of April, utilities completely powered down once the calendar flipped to May. Over the next 25 trading days through June 5, the normally stable sector painfully dropped -10% from its peak. With many yield thirsty investors likely new to utilities stocks, the recent move was likely a major shock to the system. But the good news is that despite the magnitude of the pullback, it has been fairly orderly thus far. In fact, the recent decline has opened up a fairly attractive entry point to either initiate or add to positions in the sector for a number of reasons.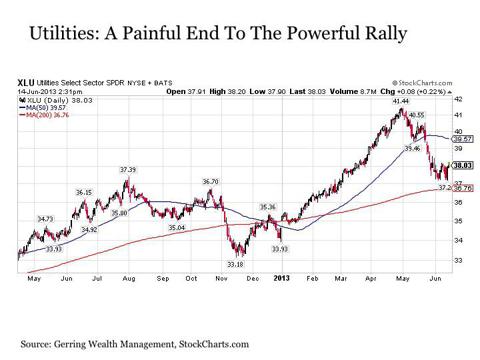 Several factors support the thesis for getting long utilities at current levels.
1. The Economy: The economic backdrop remains supportive of owning utilities within a broader stock allocation. Despite the aggressive efforts of global policy makers over the last several years to reignite the animal spirits of the worldwide economy, growth remains languid and is sliding toward-- if not already in-- recession in many parts of the world. Moreover, corporate revenue and earnings growth has ground to a halt over the last year and forward guidance continues to get revised lower. Such periods of relative economic weakness historically bode well for utilities relative to other market sectors.
2. Attractive Yields: Utilities continue to offer attractive yields relative to recent history. Although certainly not as high as the 4% to 5% range seen at the bottom of the tech bubble and once again in the aftermath of the financial crisis, the current yield on the Utilities SPDR (NYSEARCA:XLU) at 3.82% is still well above the long-term historical average of 3.48%. And in a yield starved environment such as today, relatively stable investment securities that are still yielding above their recent historical average have definite appeal.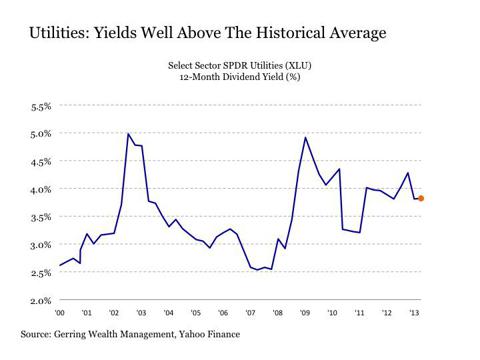 3. Interest Rates Still Steady: Recent worries about rising interest rates appear overblown. Yes, yields have spiked higher from 1.61% on 10-year U.S. Treasuries since early May. And it is also true that higher interest rates puts a squeeze on the relative attractiveness of yields provided by income stocks such as utilities. But at present, 10-year U.S. Treasury yields are only 4 basis points higher today at a 2.13% yield versus where they were at their previous peak back on March 9 at 2.09%, when utilities were still in the midst of roaring higher. Clearly, such a minimal net move in yields over the past three months is not enough alone to ignite a -10% sell-off.
4. Attractive Yield Spread: The yield offered by utilities still looks considerably more attractive versus the 10-year Treasury yield. As mentioned in a previous article on the topic, utilities stocks should not be viewed in any way as "bond equivalents", but comparing the yield spread between the two is relevant from a valuation standpoint. In a normal environment, 10-year Treasuries would typically provide a yield several percentage points in excess of the dividends provided by utilities. Of course, we are far from a normal environment at present, and one of the results of the extraordinary policy measures we have seen in the post crisis period is that the yield from utilities is now a couple of percentage points above the 10-year Treasury yield. And in the context of the post crisis period, the current spread is still at historical highs. The earnings yield for the sector at 6.25% is also not completely unreasonable in this same context.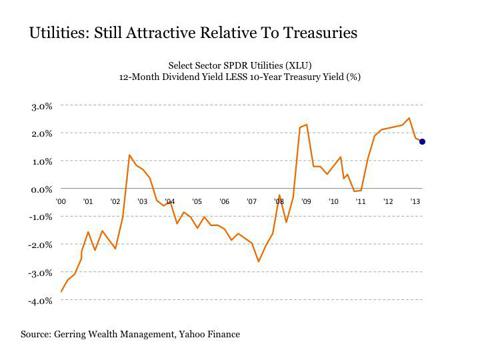 5. Fed Tapering Likely To LOWER Interest Rates: Of course, points #3 and #4 are rendered moot without evaluating future rate expectations, which leads to the next point. Concerns about higher interest rates due to the Fed potentially scaling back on Treasury purchases are potentially misguided based on post crisis history. If the Fed does announce that it plans to begin tapering its asset purchase plan, a reactive initial spike higher in yields should not be a surprise. But the last several years since the outbreak of the financial crisis has repeatedly shown that interest rates almost immediately go LOWER once the Fed stops buying Treasuries as part of a QE program. This is due to the fact that not all else is held equal when the Fed scales back or even stops buying $45 billion in Treasuries each month. After all, the New York Stock Exchange alone has a market capitalization of $16 trillion, and if the stock market enters into correction the same way it has in the past when the Fed began working toward ending a QE stimulus program, even a -5% decline in stocks would have upwards of $800 billion coming out of the NYSE alone immediately looking for a safe haven. And U.S. Treasuries are often among the leading destinations during times of stock market distress. The only hiccup on this point is if it turns out that the Fed has completely lost control of the bond market, but this does not appear to be the case at present. With that being said, such risks should be monitored closely moving forward.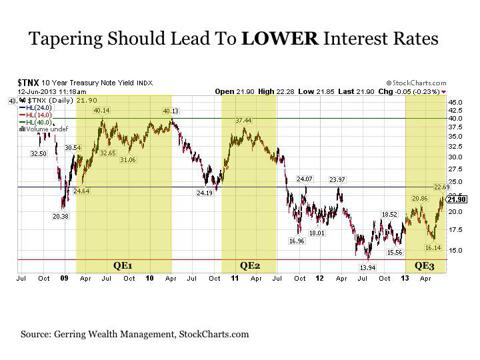 6. The Froth Has Been Skimmed Off: The recent -10% correction has helped skim a good deal of the froth off of the utilities sector. Not long ago, utilities were trading at relatively high premiums to their 50-day and 200-day moving averages, which suggested that a short-term pullback might be overdue. Now that such a pullback has taken place, utilities have moved from overbought to oversold conditions including what is now a reasonably attractive discount to its 50-day moving average and a below average premium to its 200-day moving average.
7. An Abundance Of Technical Support: Utilities stocks set up particularly well at present from a technical perspective, as the sector enjoys a strong netting of support at its current level at $38 per share on the XLU. The first support level resides at the previous dividend adjusted high of $37.39 from early August 2012. The second level of support that is currently helping to bolster this previous high is the 150-day moving average, which is currently at $37.13 and served as an intraday bouncing point on three different occasions over the last eight trading days. The third support level is the 200-day moving average, which is currently at $36.76 and has served as reliable support on a number of occasions over the last four years when the 150-day moving average has failed to hold up. And the last major line of defense for utilities is the 400-day moving average, currently at $35.45. During the most severe declines either for the sector in particular or the market as a whole, the 400-day moving average has provided critical support on three separate instances since early 2010. Thus, the XLU enjoys four major levels of support standing between its current price and a modest -6.7% decline, suggesting fairly limited and controlled downside risk.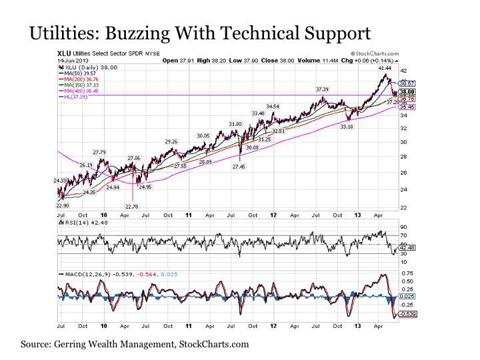 For all of these reasons, I recently reinstated a maximum allocation to utilities via the XLU that I had previously exited back in mid April. And barring any unexpected developments, which are entirely possible given the persistent and widespread instability overhanging the market at the moment, this allocation will likely be maintained at least for the near-term unless the 400-day moving average is decisively breached.
Of course, for those interested in initiating or adding to their utilities exposure, the Utilities SPDR is just one of many ways to accomplish this objective, as a variety of high quality individual names in the sector may also merit consideration. For example, Duke Energy (NYSE:DUK), American Electric Power (NYSE:AEP), PPL Corporation (NYSE:PPL) and Public Service Enterprise (NYSE:PEG) are all utilities that declined more than the XLU during the recent pullback since early May, still set up generally well from a technical perspective following the recent decline and offer steadily increasing dividends with yields ranging from 4.3% to 5.2% that are well in excess of the current 3.8% yield on the XLU. Edison International (NYSE:EIX) is also a solid candidate in this regard although the yield is lower at 2.9%. And for those that are more intrepid and contrarian, names such as Exelon (NYSE:EXC) and FirstEnergy (NYSE:FE) that more significantly underperformed during the recent sector correction may be worth at least a look.
Disclosure: I am long XLU. I wrote this article myself, and it expresses my own opinions. I am not receiving compensation for it (other than from Seeking Alpha). I have no business relationship with any company whose stock is mentioned in this article.
This post is for information purposes only. There are risks involved with investing including loss of principal. Gerring Wealth Management makes no explicit or implicit guarantee with respect to performance or the outcome of any investment or projections made by GWM. There is no guarantee that the goals of the strategies discussed by GWM will be met.