FTI Consulting, Inc (NYSE:FCN) is a global business advisory firm dedicated to helping organizations enhance their enterprise value in difficult and complex economic, legal and regulatory environments throughout the world. The company has been a growth story for years, and as shown by these stats on the Morningstar site, has been driving EPS up by an annual average of 15.62% over the last 10 years.
Over 2012 the company posted EPS of negative $0.92, which scared the market. When reviewing the funds that invest in the stock, there is a visible trend of growth funds selling out, and value funds buying into the stock. Although the company hit a roadblock, there are legitimate reasons for earnings to swing, this is not a bad thing, but actually creates an opportunity. A growth stock can now be acquired at a reasonable price, although it has bounced back from when it was a true bargain.
Business Description
The company operates through five operating segments:
Corporate Finance / Restructuring
Forensic and Litigation Consulting
Economic Consulting
Technology
Strategic Communications
The firm operates globally in four distinct geographic regions:
The North America region, which is comprised of our 43 U.S. offices located in 19 states and three offices located in Calgary, Toronto and Vancouver Canada.
The Latin America region, which is comprised of eight offices located in five countries -Argentina, Brazil, Colombia, Panama and Mexico.
The Asia-Pacific region, which is comprised of 17 offices located in seven countries - Australia, China (including Hong Kong), India, Indonesia, Japan, Philippines and Singapore.
The Europe, Middle East and Africa (EMEA) region, which is comprised of 22 offices located in 10 countries - Belgium, France, Germany, Ireland, Qatar, Russia, South Africa, Spain, UAE and the United Kingdom.
Strengths Of FTI Consulting
The company has a few very attractive features, which in the past have served it well to grow its business fast.
High Level of Repeat Business and Attractive, Financial Model
The company derives a substantial portion of its revenues from referrals or repeat clients (80+%). Many of its client relationships are long-standing and include multiple contact points within an organization, increasing the depth and continuity of these relationships.
In addition, the company's Strategic Communications segment has a financial model that includes recurring retainer based engagements. Clients of this segment are typically billed on a fixed-fee basis that reflects the value added by the business rather than on a time-and-expense basis. The technology segment also bills on a unit basis or derives revenues from license fees
Strong Cash Flow And Capital Light Business Model
The consulting business model has several characteristics that produce consistent cash flows and a relatively low level of capital expenditures. This strong cash flow supports business operations, capital expenditures, research and development efforts in the technology segment, and the ability to service debt and fuel growth through acquisition. As much as I hate companies growing through acquisition, in the consulting business it might be the way to do it.
The chart below shows the companies ROE over the last 10 years and revenue development.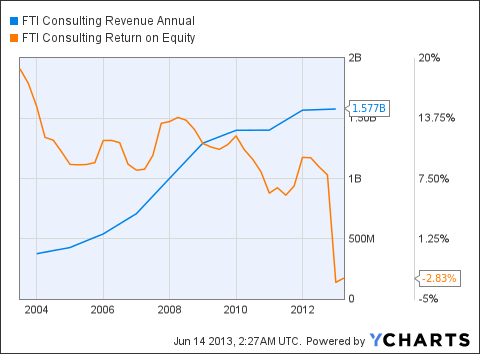 FCN Revenue Annual data by YCharts
Reasonably Diversified
From December 31, 2011 through December 31, 2012, no single client accounted for more than 10% of FTI Consulting's consolidated revenues. There is still room for improvement but it's a good thing, the firm does not live or die by one large corporate client.
Risks
These are some more, but not all, the risks FTI consulting encounters:
Governmental focus on data security could increase costs of operations
Many non-U.S. jurisdictions have data privacy laws applicable to personal information. Continued governmental focus on data security may lead to additional legislative and regulatory action. The increased emphasis on information security and the requirements to comply with applicable U.S. and foreign data privacy laws and regulations increases costs of doing business and negatively impacts results of operations if these costs can't be billed on clients.
Acquisitions can go wrong
In general, serial acquirers don't do very well. FTI consulting is a notorious acquirer. Judging by the company's financial results over the past ten years, their track record with these, is pretty good. Past results are no guarantee for the future and the company may suffer when it accidentally swallows a rotten apple.
Debt Levels
FTI has quite a large amount of debt. In total, it amounts to $723 million. FTI Consulting could fail to generate sufficient cash to service its debt, including notes, and could be forced to take other actions to satisfy payment obligations, which may not be successful. If cash flows and capital resources are insufficient to fund debt service obligations, that could result in the company being forced to reduce or delay investments and capital expenditures, or to sell assets, seek additional capital or restructure or refinance indebtedness, including the Notes. That could fail as well, and the company could fail to meet scheduled debt service obligations.
Further Deteriorating Operating Results
Operating results below current levels or other adverse factors, including a significant increase in interest rates, could result in the company being unable to comply with certain debt covenants. If the company violates these covenants and is unable to obtain waivers, it is in default, and the lenders can foreclose on assets. If results take a big dive, the company quickly gets into an unpleasant situation.
EBIT Covers Interest
It is of some consolation that currently EBIT covers interest payments almost four times. That's not great, but it appears to be a manageable level. The company's Altman Z-score is at 2.25, which is a little lower than the 2.6+ which is considered the safe zone. Debt levels are certainly something to worry about for FTI consulting.
FCN EBIT to Interest Expense data by YCharts
Insiders Buying
Legendary investor Peter Lynch wrote in one of his books, One Up on Wall Street: "When insiders are buying, I'd bet there aren't three companies in history that have gone bankrupt near term." Insiders are buying, although they own only 2.29% of all shares together. Over the last twelve months they increased their ownership by 13.34%. A large number of different employees are buying, which is another good sign. This sign alleviates some of the debt concern.
So What's Up With The Earnings?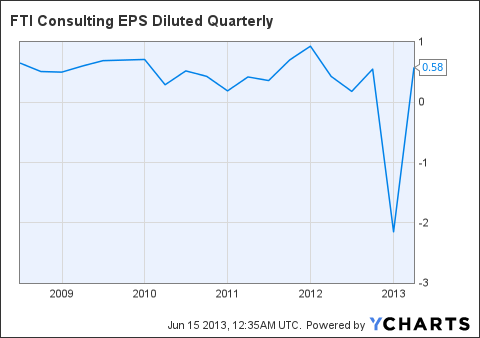 FCN EPS Diluted Quarterly data by YCharts
The million dollar question regarding FTI Consulting right now is what is happening to its earnings. There are a few things that weigh on the earnings and make the stock look weaker than it really is.
1) A Recovering Economy: Although this is a good thing from the perspective that clients will be able to pay higher prices, FTI has substantial bankruptcy and restructuring business. A great economy is not necessarily great for FTI.
2) Goodwill Impairment Charge: For the year ended December 31, 2012, the company recorded a $110.4 million non-deductible goodwill impairment charge related to the Strategic Communications segment. The impairment charge was non-cash in nature and did not affect the Company's current liquidity. Basically they wrote down an expensive asset they overpaid for in retrospect.
3) Special Charges: During the year ended December 31, 2012, FTI consulting recorded special charges of $29.6 million, of which $5.0 million was non-cash. The charges were the result of reducing excess real estate capacity and releasing 116 employees from the workforce.
4) Natural Variance: It might be somewhat of a weak explanation and perhaps every variation can be explained, but it is natural for a company's earnings to have some volatility within them, especially if the company involved isn't a Dow Jones Index Behemoth.
If you review its EPS on a long term basis, there are quite a few tumbles in earnings to be observed. Admittedly, none of them quite as bad as this one.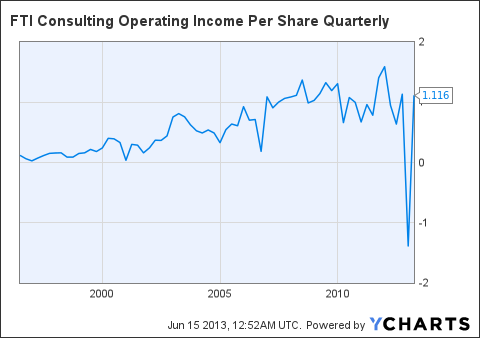 FCN Operating Income Per Share Quarterly data by YCharts
Only one of these charges is a structural "problem" (which is the recovering economy) and could be considered a cyclical influence on the stock. It appears likely that results will remain weak for the short to intermediate term, but I see no reason for the company not to return to its former rate of healthy EPS and growth.
Valuation
It's hard to value a company that is experiencing what you consider a temporary setback, but let's start with comparing FTI to companies that are somewhat comparable: Huron Consulting Group (NASDAQ:HURN) and Navigant Consulting (NYSE:NCI). I chose to use EV / Free Cash Flow because it takes into account the debt burden of FTI but doesn't hold all the temporary charges against it.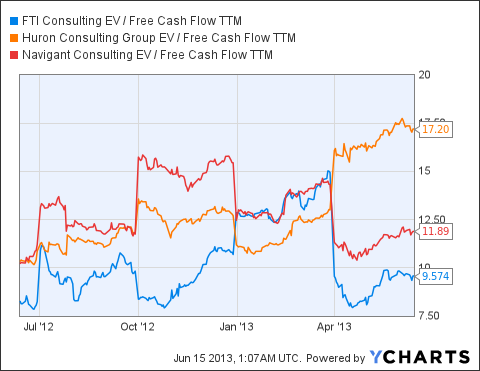 FCN EV / Free Cash Flow TTM data by YCharts
Although the peer comparison shows the company is sidelined by the market at the moment, I performed a DCF calculation to come to a more exact number of what a share is worth.
This calculation can be very unreliable, especially in situations where you have to guess where earnings will bounce back to. After coming up with numbers I thought were realistic, my calculation showed shares are 36% undervalued. I assumed a return to more "normal" EPS levels of around $3 and the company will continue growing at a healthy pace, like it did historically.
Conclusion
FTI Consulting is suffering through a particularly bad period. This has created an opportunity to buy the stock at attractive prices relative to its intrinsic value. The company might struggle with earnings for some time, but once a few quarters of healthy cash flows have come rolling in, the market will realize the company is quite profitable, can manage debt and has solid growth prospects.
If the share price were to appreciate on the short term to $50, I'd be more than satisfied and look for better prospects.
Disclosure: I have no positions in any stocks mentioned, and no plans to initiate any positions within the next 72 hours. I wrote this article myself, and it expresses my own opinions. I am not receiving compensation for it (other than from Seeking Alpha). I have no business relationship with any company whose stock is mentioned in this article.