Kongzhong Corp. (KONG) keeps on climbing. I finds these valuation heights somewhat dizzying, but I'm sure enjoying the ride. Like exciting fair ground rides, the trick is get off before you're sick.
I thought KONG had climbed high when it was at $8; at $10 I almost headed for the emergency exit. Yesterday KONG closed at $12.04. For the record that's a 100% gain in three months, a triple in four months and a five bagger off the October 2008 lows.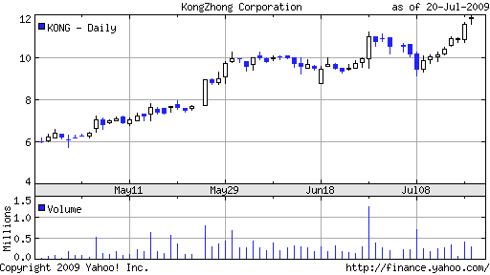 I'm not claiming any genius on this one;, all I've done is hold tight for a white knuckle ride. The hardest part of investing remains: the sale. Is KONG now at oxygen mask altitudes?
Earnings Preview
KONG is scheduled to report between 8-12th August. Analysts are expecting $0.06 on $31.4M this quarter, $0.07 on $32.1M next and $0.28 and $0.36 for 2009 and 2010 respectively.
In the Q1 press release, KONG said it expects total revenues for the second quarter of 2009 to be between $30.5 million and $31.5 million. Analysts were expecting revenue of $25.32M with a range of $22.30M-28.33M for Q2 and eps of $0.03. So it comes as no surprise that analysts have steadily been raising their estimates since then; $0.03 to $0.04 to $0.05 to $0.06, respectively 90, 60, 30 and 7 days ago. This slow re-rating confirms what I said about KONG after Q1 earnings.
Momentum studies like this [Momentum Strategies, by Louis Chan, Narasimhan Jegadeesh and Josef Lakonishok] reveal how past earnings surprises predict large drifts in future returns as analysts and the market are slow to respond. I have found this to be especially true for companies like KongZhong, who have recently disappointed many market participants and have changed their strategy.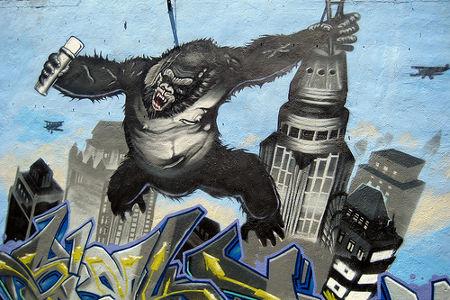 The question now is have analysts finally caught up or can KONG continue to surprise to the upside?
I'll get to the valuation in a minute, but first let's cover the big picture. KONG has always been and remains a one trick pony.
Yes, the trick is changing and they currently have a couple balls in the air, but fundamentally their strategy has been leveraging to the mobile phone use in China.
My concern was exacerbated when they recent board appointment of the founder of UTSI; the one trick PAS pony. KONG's strategy is to develop mobile games into a key growth driver for 2009 and beyond; second, transform Kong.net into a mobile based social gaming and community platform; and the third one is to manage their WVAS business for strong cash flow. OK, so maybe I was being harsh calling them a one trick pony.
Valuation
Taking the key statistics from a financial site like Yahoo! shows KONG is richly valued. With no current P/E, a forward 2010 P/E of 33, a nose bleed PEG of 2.83 and Enterprise Value/EBITDA of 83, you'd normally see me ending straight for the exits. But when I dig a little deeper the valuation appears more reasonable. At Q1, KONG had $3.86 cash per ADS on the balance sheet. If you subtract the cash you get a forward EV/E of around 29 and a 2010 forward EV/E of 23 based on analysts estimates.
Those are still high valuations, especially when analysts are estimating 15% annual growth for the next five years. While I normally prefer to discount analysts estimates, in this case I find their estimates as useful as a poke in the eye with a sharp stick.
The reality is KONG is either going to kick butt and take a good slice of the mobile games and portal businesses or implode as they fall behind the technology curve and/or fall out of favour with the Chinese authorities or telcos. An investment in KONG is speculative and no amount of valuation work could convince me that it is good value at current prices. KONG is a classic growth story stock and the best way to profit is to stay tuned in to the story and use trailing stops. There is little doubt that the growth opportunity with both mobile games and portals is huge.
The fly in the ointment here was spelt out by the new CEO, Leilei Wang in the Q1 conference call.
I think some challenges we see from the iPhone model -- it seems like they combine the Internet user and the mobile user together and the iPhone model game model is similar like an Internet game. But we see that KongZhong is focused on targeting the mobile user, which cannot access the Internet. For the Internet user, it's 200 million, 300 million, and the mobile user is over 600 million, so we focus on the non-Internet mobile users.
I'm not an expert on the Chinese mobile market, but I'd be surprised if that 3:1 advantage KONG currently has is maintained for many years. If the majority of future mobile sales are internet devices, then KONG will once again see a growth engine flame out. If low end mobiles continue to make up the bulk of sales in China, then KONG's profits should continue their exponential growth.
The Bull Story
Brean Murray initiated coverage with a buy rating on July 10, setting a target price of $12. Even they probably didn't expect KONG to get there by jumping 20% in eight trading days.
In a research note published this morning, the analysts mention that the company is poised to benefit from its 3G rollout in China. KongZhong's strategy of creating a dominant mobile portal and a community driven platform is appropriate, the analysts say. The company is expected to witness robust revenue growth in its legacy WVAS business and a better regulatory environment going forward.
Sales Growth
KONG's recent growth elicits comparisons to the great growth stocks of all time, unfortunately for every success there are hundreds of failures. (Sorry, I know this is meant to be the bull section, I just can't help myself. I'll try harder to stick to the facts.)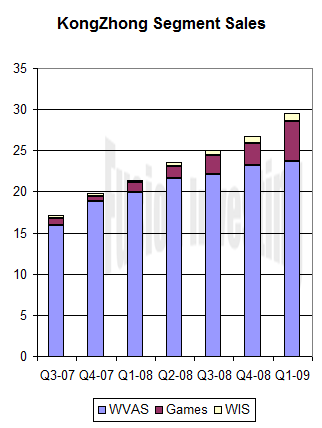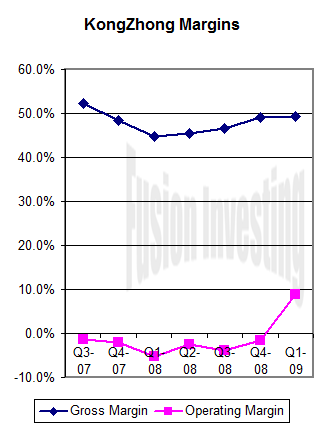 Those playing along at home may have noted that KongZhong has been profitable in all of the above quarters, if you exclude the goodwill impairment charge in Q3 2008. That's because as while the operating business has been unable to breakeven, interest has come to the rescue.
Another excellent trend over the last couple quarters has been Kong's ability to manage costs and send more to the bottom line. Revenues has grown 6.7% and 10.7% QoQ, while costs grew 4.2% in Q4 and actually fell -0.7% in Q1. If Kong can manage to keep their costs under control while the revenue grows at high rates then their current valuation will appear inexpensive.
Come on Down, You Grumpy Old Bear
Kong has been here before. While my suspiciously short term focused Ursidae friend may not recall Kong's past glory days I certainly do. Back in the early and mid nineties, Kong was a 2G and 2.5G mobile superstar growing revenue and net income quickly thanks to China Mobile (NYSE:CHL) subscribers. Then the government stepped in and spoiled the party.
Let's pull back the lens and take a longer term look at Kong.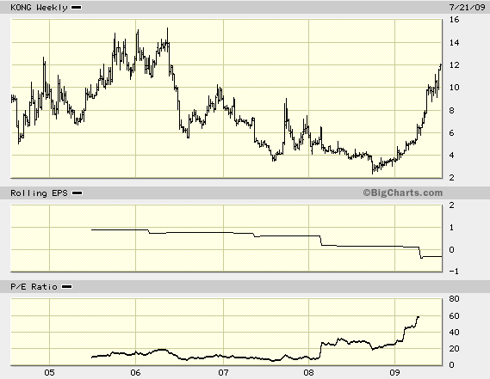 Even during the heady days of late 2005 and early 2006, the P/E ratio was a still respectable mid teens. In fact, it was so low and growth so good that value players were even known to appear on Kong's share registry. Then one little decision changed all that. This time around there won't be a low P/E to cushion the fall.
Conclusion
I'm happy to continue to keep my oxygen mask on and hold KONG. They are diversifying their revenue and the new CEO appears to have a clear focus on both growth and cost control.
I expect to see good results this quarter which beat expectations, which considering the continued surge in share price is probably the dangerously common assumption. Maybe someone needs to pinch me, to wake me up from this greed induced dream.
Disclosure: The author is long KONG.