Since I first identified in my personal blog a Himax (NASDAQ:HIMX) panel in the very early Google (NASDAQ:GOOG) Glass prototype, there has been speculation about whether or not Himax is in the current Google Glass. I later went on to prove that there was a field sequential color LCOS device in the current Google Glass and while it was likely a Himax display, there wasn't positive proof. Now I have the proof.
According to Mark Gomes's article, "Google Glass Teardown Spurs Himax Sell-off", Himax's stock was down when nobody saw a Himax logo on any of the devices in the Google Glass Teardown by Catwig.com. It turns out I had taken a picture of a number of Himax devices displayed at a Hong Kong exposition in October 2010 including the HX7309 nHD (640 by 360 pixel), which is exactly the same resolution as reported for Google Glass.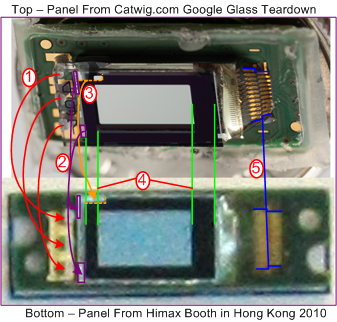 Much like a fingerprint, each LCOS microdisplay made by different companies is made differently. While the HX7309 image is cropped from a much larger picture and as a result low in resolution, I was able to clearly identify at least 5 distinctive features in common between the device in the teardown image and in the known Himax panel. I have labeled these in the comparison photo below:
There are 3 silver glue ITO connections (round silver spots in the photo) -- other companies do this differently
Metal pads from the integrated circuit showing through the glass correspond
The cutout in the upper left corner of the black shadow mask on the top of the glass
The left and right sides of the black shadow mask are the same size.
Both devices have a row of 12 bond wires and a row of 11 bond wires to staggered pads on the pc board.
I can now say with 100% certainty that there is a Himax display inside the latest Google Glass.
One curious thing I have not been able to identify in the detailed teardown photos is the Himax controller device. The Himax field sequential color device requires an external customer controller of some sort. It could be that the controller chip was blacked out, hidden, or missed in the photos, but one possibility is that the Himax controller's functionality has be integrated inside one of the other chips in the system. If Himax's controller has been integrated into other chips in the system, it would indicate that Himax's device is more integral Google Glass.
I have also been asked to comment on rumors that Google might be replacing the Himax LCOS with a Samsung (OTC:SSNLF) OLED microdisplay on future versions. At this point, I think this is speculation gone wild based on very flimsy evidence, essentially a comment at SID 2013 to the effect that someday Samsung may have an OLED on silicon device confabulated with Samsung's work on flexible OLED technology, which is very different than "OLED on Silicon" required for near eye.
OLED on silicon has been in development for well over 15 years, most notably by eMagin (NYSEMKT:EMAN), and thus far it has proven to be a very expensive technology costing well multi-$100 per display versus a Himax display that costs on the order of $10, which is required for a high volume consumer product.
Not withstanding Samsung being a much more capable company than eMagin, I would expect that if cost effective OLED on silicon was imminent, we would have seen it used in some less cost sensitive applications such as camera viewfinders first. At the same time, I would think that if Samsung is really getting serious about OLED on silicon, this will be a very serious issue for the OLED on silicon companies such as eMagin.
If there is a threat to Himax for the Google Glass socket in the next few years, it is more likely to be from other LCOS companies including Citizen Finetech Miyota, Ominvision, and JVC-Kenwood and their association with Syndiant. But I can't see Google bothering to switching to OLED on silicon anytime soon.
In conclusion, it's clear that Himax investors have been unduly rattled by a spate of negative publicity regarding its place in Google Glass. To the extent that its shares have suffered due to these factors, I believe my evidence shows that those moves have been unwarranted.
Disclosure: I am long HIMX. I wrote this article myself, and it expresses my own opinions. I am not receiving compensation for it (other than from Seeking Alpha). I have no business relationship with any company whose stock is mentioned in this article.
Additional disclosure: I am the former CTO and have stock in the privately held Syndiant, which is mentioned in the article.