"Economics is a highly sophisticated field of thought that is superb at explaining to policymakers precisely why the choices they made in the past were wrong." Ben Bernanke - Princeton speech
Sooner or later, one has to take sides. So after reading Marc Chandler's recent article "Dollar Downside Not Over?" and noticing the question mark, I conducted my own analysis. As you may have guessed from the title, I have decided to take the side of the greenback.
Despite the fact that the Fed Chairman would like me to believe that tapering the $85 billion in monthly bond purchases does not mean an end to record easing, this has been a major factor in my decision.
The yield on the 10-year Treasury note has already risen to 2.15%, an almost 14-month high, from 1.63% on May 2nd, which is good for the dollar.
However, there are wider forces at play that also point towards a firmer dollar medium term. Germany's banking system is not in good shape and many of its banks are saddled with large non-performing and non-core assets on their books.
Germany shows little sign of addressing the problem, short of transferring billions of euros worth of assets into state-owned banks. At some point, the burden of non-performing and non-core assets on these banks' books will have to be addressed.
With over a €1 trillion in non performing debt still on the books of major European banks and a possibility of a banking crisis in Germany, the euro, which contributes 57.6% to the weight of the U.S. Dollar Index (DXY), looks vulnerable medium term. Again, good news for the dollar.
Also, the prospects of another U.S. intervention in the Middle East have increased with no less than Bill Clinton himself cornering president Obama into a more aggressive stance against Syria, despite Russian protest. Geopolitical instability in an already inflamed Middle East is, ironically, good news for the dollar.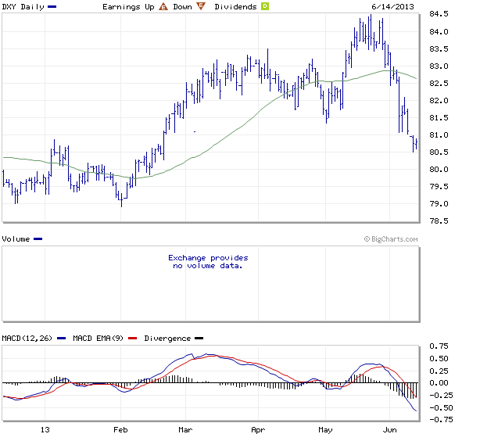 U.S. Dollar Index (DXY) - Year To Date
The dollar, which managed to make impressive gains since the beginning of the year until late May, has experienced a trend reversal amid extreme volatility and many speculators reduced their net long dollar positions ahead of the Federal Reserve meeting next week.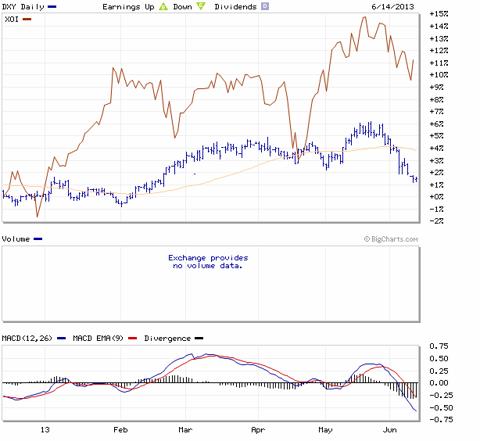 U.S. Dollar/Oil - Year to Date
Since OPEC decided to keep production levels unchanged at 30 million barrels a day until the end of the year while many analysts are predicting slowing demand from China, crude oil prices could trend lower. Add to that the recent boom in shale oil production in the U.S. and you will still be looking at a bullish dollar scenario.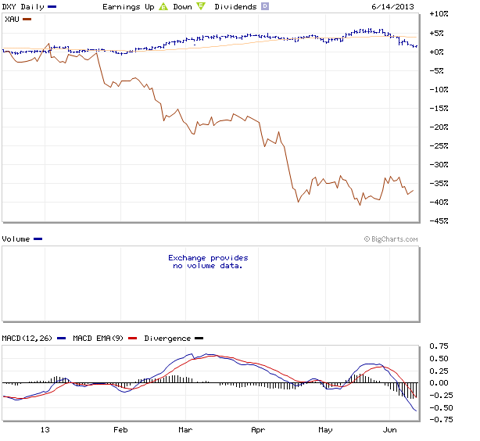 U.S. Dollar/Gold - Year to Date
Gold, which has already declined more than 35% since the beginning of the year might, according to some analysts, continue its downward trend. Add to that the prospects of an economic slowdown, coupled with higher bond yields, and you've built yourself a nice upwardly trending curve for the greenback towards the end of 2013.
Opportunity is the best captain of all endeavor. So, whether you are an investor or a speculator, there is a nice opportunity out there to bet against the herd.
However, since the Forex market does not usually follow the lines of rational thought and can swing widely due to either central banks decisions or speculators' whims, make sure that you hedge your bets.
Disclosure: I have no positions in any stocks mentioned, and no plans to initiate any positions within the next 72 hours. I wrote this article myself, and it expresses my own opinions. I am not receiving compensation for it (other than from Seeking Alpha). I have no business relationship with any company whose stock is mentioned in this article.