The first article of the series has introduced the Carbonate Triangle of the renowned Canadian oil sands. The region is the world's third largest oil reserve with its rich carbonate-hosted bitumen deposit located in the northern Alberta's deep underground. Precisely, the Carbonate Triangle is situated between three major bitumen areas, Athabasca, Cold Lake and Peace River.
After examining Peace River, the second article discussed the involvement of a small-cap producer in the area, PennWest Exploration (NYSE:PWE). The third article of the Peace River series examined the worldwide renowned oil and gas producer, Royal Dutch Shell (NYSE:RDS.A).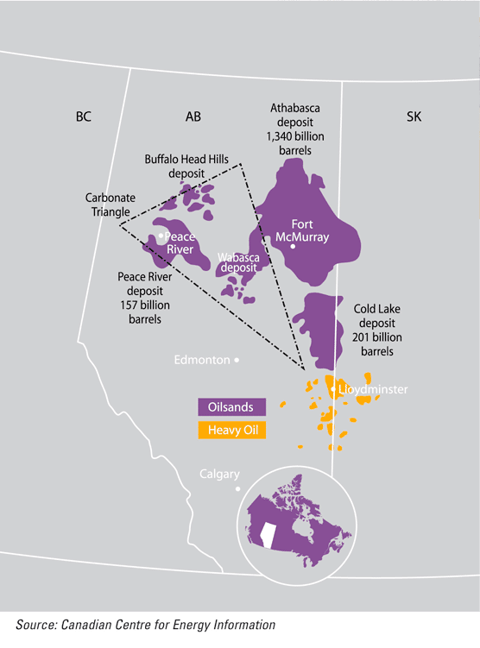 In today's investment guide on the Carbonate Triangle, I will present a quick recap of the main characteristics of the Peace River area to have a better assessment of its potential. Then, I will introduce a small-cap oil producer that has seen its growth rise significantly in the last few years. That company has the potential for more as it is well-involved in the Canadian oil sands, constantly upgrading its assets.
An analysis of the current operations of the company will be examined with the objective to give the most complete information available to the potential investors before deciding to seize the opportunity that the 54,132 square miles of the Carbonate Triangle has to offer. Let's start by introducing Peace River, the Northern's door to the vast wilderness of Alberta.
The Peace River Region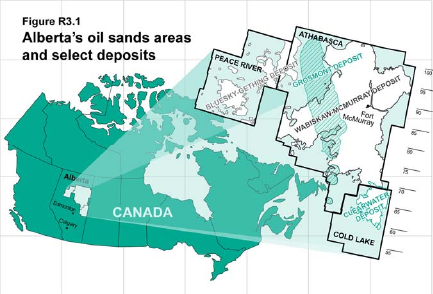 Source: ERCB
According to the September 1999 Bulletin of Canadian Petroleum Geology, exploitable bitumen reserves at Peace River are contained predominantly within the 49-65 feet thick estuarine sands of the Bluesky formation. Where combined with underlying fluviatile sands of the Ostracode Zone, net pay can reach up to 98 feet in thickness. These sands are penetrated at an average depth of 1804 feet and production of the bitumen relies on non conventional recovery methods.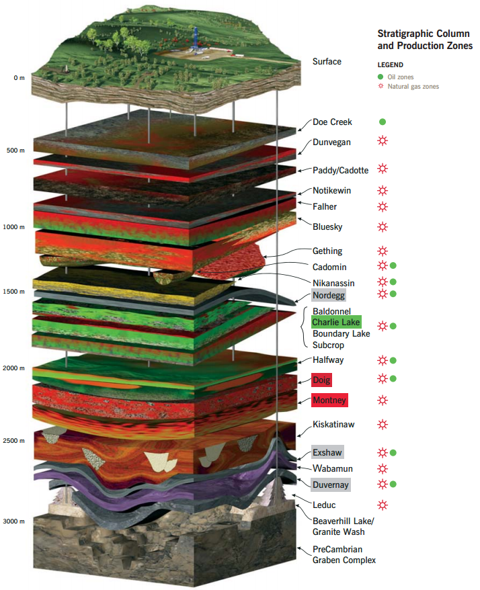 Source: Canadianoilstocks
Discovered in the 1950s, the Peace River oil sands deposit is located exclusively within the subsurface, the total area of the deposit spanning about 11,052 sections or 2.37 million hectares. Notably, the Red Earth Highlands effectively separates the Peace River and Wabasca oil sands deposits. Pilot projects initiated by Shell Canada in the 1970s and early 1980s led to commercial production of bitumen in 1986 using CSS and SAGD methods.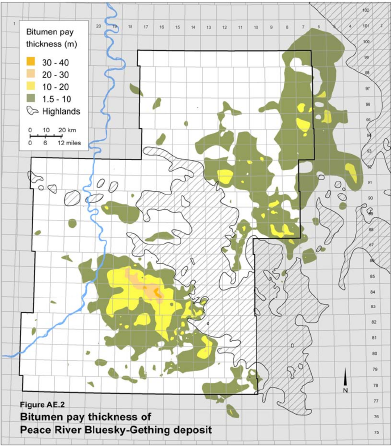 Source: ERCB ST98-2012
Heavy oil total reserve in-place is estimated at more than 90 billion barrels, with the potential to gather more than 7 billion barrels of oil with today's technology. According to the Final Oil and Gas Services Business Case Report of Abiocon Strategies, only 0.3% of the oil sands area, or 0.1% of the total land area of Alberta was commercially exploited.
Notably, as of January 2011, the operating capacity amongst current existing and proposed bitumen producers, Peace River produced 13,500 barrels per day out of a total of 1,787,300 barrels per day, which accounted for less than 1% of current operations at the time. Now that we have briefly explored Peace River, let me introduce a small-cap producer who acquired 96 sections of owned and operated land back in 2000 in the area.
Baytex (NYSE:BTE)
Baytex's future growth potential relies in the Peace River oil sands of northwest Alberta, where the company now owns 306 sections of oil sands leases and grown production from scratch to a current rate of approximately 21,000Bls/d (barrels per day) at Q4 2012.
In February 2011, the producer acquired approximately 1,700Bls/d of production and 95,600 net acres of undeveloped land with 100% interest. Baytex's land position at Peace River increased to 157,000 net undeveloped acres. 27 cold horizontal production wells were drilled, encompassing a total of 329 laterals and increasing the total of wells drilled to 104. Production averaged 15,400Bls/d. The chart below illustrates the growth in Baytex's production as well as its increasing oil percentage from 2004 to 2012, with expectations for this year.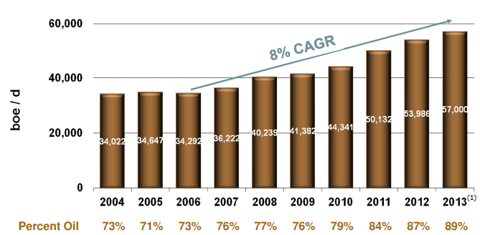 Source: Baytex May 2013 Presentation
According to the company, it added 43 net sections of prospective oil sands leases through land acquisitions, acreage trades and farm-in agreements during 2012. It drilled 33 cold horizontal production wells, five CSS (cyclic steam stimulation) wells and 18 stratigraphic test wells in the Peace River area.
Furthermore, Baytex achieved a significant milestone with the completion of its first 10-well CSS module at Cliffdale. Production from the 10-well module averaged approximately 400Bls/d. The company advanced regulatory process for its next 15-well module. Successful operations continued during Q4 of 2012 with seven wells receiving steam and six wells commenced post-steam flowback operations. Through Q4 of 2012, Baytex drilled 142 oil wells with a 100% success rate.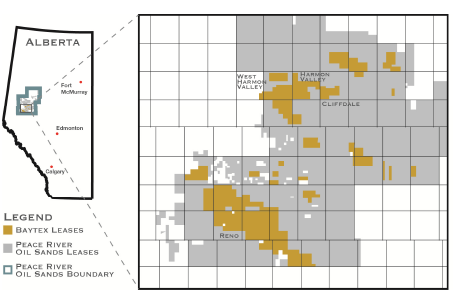 Source: Baytex May 2013 Presentation
Baytex has signed a 10-year agreement last February with Genalta Power whereby the majority of excess gas associated with its Peace river heavy oil operations will be delivered to a power generation facility being constructed by Genalta in the area.
In addition, Baytex will construct a pipeline that will connect its existing integrated gas collection system in the Harmon Valley and West Harmon areas to the Genalta facility. The pipeline is expected to be completed in the first half of 2013. According to Baytex, the agreement with Genalta would reduce emissions significantly, in line with its ongoing commitment to conduct its operations in an environmentally responsible way.
Cold Multi-lateral Horizontal Process
The technology used at Peace River has been evolving, leading to greater production rates, increased recovery and even stronger capital efficiencies. According to the company, the initial completion technique involved drilling mile-long single leg horizontal wells at a depth of approximately 1968 feet. These wells initially produced at rates of between 150-200Bls/d.
In August 2007, Baytex drilled its first multi-lateral well while six months later, it drilled its first triple-lateral well. The completion technique has continued to evolve and the current well design is eight to ten mile-long laterals, sometimes augmented with several shorter laterals.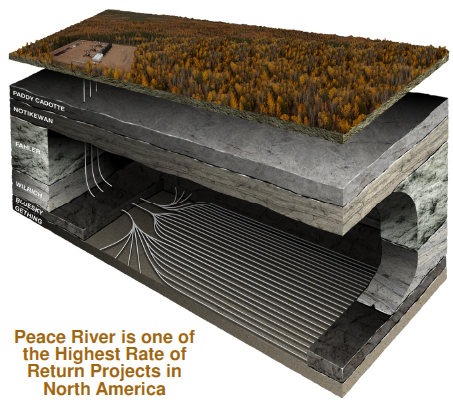 Source: Baytex
In addition to its primary development, further analysis of Peace River has indicated that both waterflood and CSS methods have the potential to increase economic oil reserves beyond what is achievable with cold primary recovery.
Future Outlook
Regarding the proved and probable reserves at Peace River, Baytex managed to achieve 102Mmbls (million barrels) in 2011 while it increased to 110Mmbls last year. Of the 2012 total, it consisted of 63.6Mmbls of primary reserves and 46.4Mmboe (million barrels of oil equivalent) of bitumen reserves associated with the Cliffdale CSS project.
Baytex plans to continue its focus in the area to further develop its assets, allowing a larger part of its 2013 capital budget than any other projects. During this year, the company expects to drill 37 cold multi-lateral horizontal wells, 15 CSS wells, 28 stratigraphic test wells and five service wells. The purpose of the stratigraphic test wells is to improve delineation of the land base and guide development well trajectories. The following chart shows the production achieved for Q1 2013 and the revenue by product for the producer.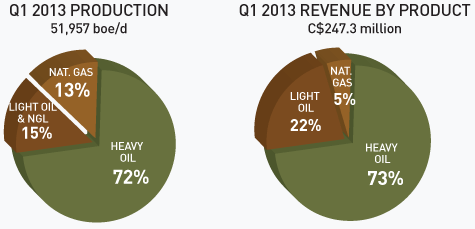 Source: Baytex May 2013 Presentation
Facility construction is scheduled to commence late in Q1 of 2013 with drilling operations to start in Q3 of 2013. Also in 2013, Baytex plan to drill additional stratigraphic test wells to further delineate its lands for future CSS development. According to the management's guidance, the production expected for all of 2013 should be between 56,000-58,000Boe/d with a proportion of 75% of heavy oil, as depicted by the chart below.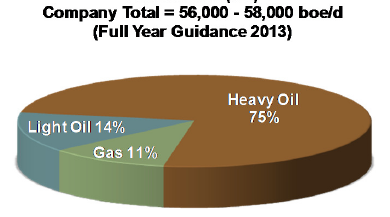 Source: Baytex May 2013 Presentation
Bottom Line
Peace River area has a lot of upside potential for Baytex going forward considering the vast resource base and the company's effectiveness to build up productive wells. Its total production is increasing year after year while the company managed to increase its proved and probable reserves.
More importantly, according to the company, its capital efficiency ratios remain strong with drill, complete and equip capital costs of $6.00 to $9.50 per barrel, and production efficiencies of $5,000 to $9,000 per Boe/d. The Contingent Resource Assessment for Peace River equaled 458Mmbls, 551Mmbls and 781Mmbls of oil and bitumen per the low, best and high estimates, respectively.
Baytex dividend yields an appealing 6.82% to its shareholders, way higher than its industry average of 1.57%. Its current TTM P/E ratio is almost at its lowest from the last five years with 20.66, lower than the 24.57 ratio of its industry average. Here are the main reasons why investors should strongly consider Baytex if they plan to invest in the abundant Canadian oil sands and seize the opportunistic occasion that carbonate-hosted bitumen has to offer in Peace River:
Superior operational efficiencies with a long-term strategy
Strong capital efficiency's production rates
77% in ownership interest with institutional stability
Sustainable and conservative payout ratio's business model
Strong balance sheet
Attractive and meaningful dividend yield to shareholders.
Disclosure: I have no positions in any stocks mentioned, and no plans to initiate any positions within the next 72 hours. I wrote this article myself, and it expresses my own opinions. I am not receiving compensation for it (other than from Seeking Alpha). I have no business relationship with any company whose stock is mentioned in this article.