I believe that BlackBerry's (NASDAQ:BBRY) Z10 and any follow-ons that essentially "copy" the iPhone style of touch screen will be ultimately destined to failure. On the flip side of the coin, while it is not yet clear how much consumers are clamoring for a modern version of the original BlackBerry phones, I do believe that BlackBerry can carve out a niche for itself with the "Q" line of devices - particularly the Q10 and the upcoming Q5 - and ultimately see a nontrivial amount of success.
The Z10 - Too Expensive, Behind The Curve
For those of you unfamiliar with the BlackBerry story, the Z10 is BlackBerry's attempt to do an iPhone-like smartphone based on its BlackBerry 10 operating system. It looks like this: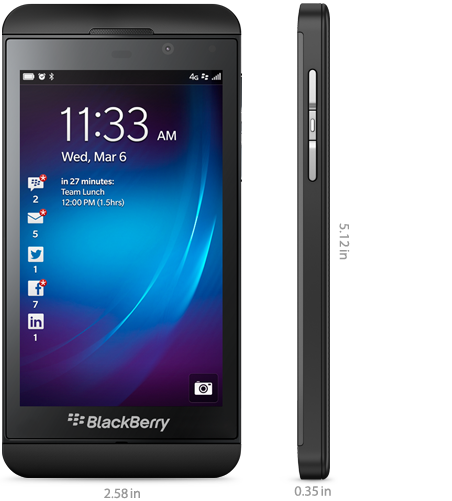 Now, I don't think that the Z10 is a particularly bad device, although in terms of screen resolution and processing power, it is squarely mid-range compared to the recent crop of Android device. Now, being a mid-range class device with a new, unproven operating system platform is already enough of a problem, but my real problem with it is that it sells for a price typically reserved for very high end Apple (NASDAQ:AAPL) and Android devices. For example, here is a comparison of what the customer gets with the Z10 (for $199 with contract at Verizon (NYSE:VZ)) and a $199 (with contract) Samsung Galaxy S IV:
| | | |
| --- | --- | --- |
| Feature | Samsung Galaxy S IV | BlackBerry Z10 |
| Screen Size | 5.0" | 4.2" |
| Screen Resolution | 1920x1080 | 1280x720 |
| Processor | Snapdragon 600 (1.9GHZ, quad core, Adreno 320 GPU) | Snapdragon S4 (dual core, 1.5GHz, Adreno 220 GPU) |
| Memory | 2GB | 2GB |
| Storage | 16GB | 16GB |
So, for the same $199 (with 2 year contract), Samsung (OTC:SSNLF) offers a sharper display, a much faster processor, and a much richer library of applications over the BlackBerry Z10, thanks to the more mature/ubiquitous Android platform. The problem here is that a vendor such as Samsung has economies of scale and is a large scale supplier of DRAM, NAND flash, screens, and in some cases processors, which gives Samsung a significant cost structure advantage over BlackBerry, which is why BlackBerry - for the same subsidized price - cannot offer the same component quality at a given price as Samsung. Further, with Samsung a much more well-known brand, carriers are likely to be more generous with subsidies to Samsung than to BlackBerry.
While there is certainly a subset of the high end smartphone buying public that will buy BlackBerry because they are familiar with/like BlackBerry, the average consumer is unlikely to be particularly impressed with the Z10 in light of the sea of high end Android offerings that outstrip the Z10 in every objective metric for the same price, or the swarm of lower end Android devices that offer comparable capabilities/specifications for significantly cheaper.
The Q10 Has A Chance...
While BlackBerry is unlikely to make any significant inroads in the high end "iPhone-like" space, I do see the firm able to carve out a niche with its "Q" series of smartphones.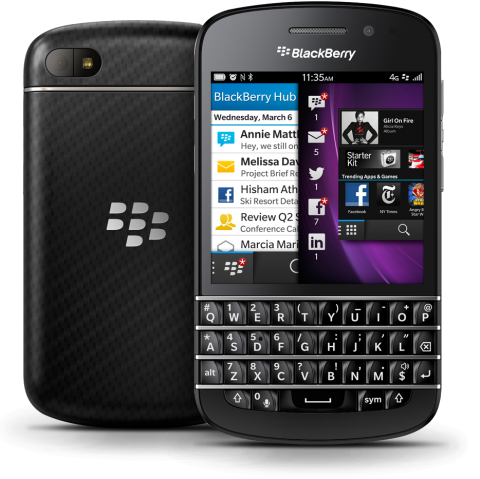 While BlackBerry still faces fundamentally the same problem on the specification side - the Q10 has similar internals as the Z10 and once again goes for $199 with 2 year contract - there is a chance that high end buyers may simply find the new form factor appealing and will be able to overlook the relatively weak technical specifications/features and the relatively anemic application ecosystem. However, it is difficult to forget how quickly Apple's iPhone and the Android clones were able to shut the original BlackBerry out of the market, so while some investors may be partial to this form factor, it is still unclear how well it will be received by the general smartphone buying public.
...But I'm More Interested In The Low End
I remain skeptical that the high end smartphone space will be a particularly lucrative growth opportunity for any vendors going forward. My background is in the analysis of semiconductor apps processors, and from the sales trends that I have observed, it seems that the low end is where the explosive growth in chip sales happens to be and that the high end has become a dogfight for market segment share in an increasingly stagnant TAM. So, this is where BlackBerry needs to really target if it is going to remain long-term viable in the smartphone market.
So far, the only low end/emerging market oriented phone that seems even on the radar for BlackBerry is the Q5, a low end version of the Q10 aimed at emerging markets. While this may or may not gain significant traction, it enters a crowded marketplace, but the twist is that in emerging markets, the current app ecosystems are not particularly entrenched (although the Android players are making a very strong push into this new market), so BlackBerry is much more likely to capture non-trivial market segment share. And, if executed properly, BlackBerry can build its brand awareness to Apple-like proportions in these emerging markets if it can offer the right devices at the right price points.
For anybody investing in BlackBerry, this is the story that needs to be watched; I do not think that the higher end phones will be material to BlackBerry's long-term success. The more deeply entrenched BlackBerry becomes in these emerging markets, the wider and deeper its moat ends up being. In the cutthroat smartphone business, a company with no moat will eventually end up exiting the business.
This Is Why BlackBerry Is So Highly Shorted
Put away the tin-foil hat conspiracy theories - it is actually quite clear why BlackBerry is highly shorted. The high end smartphone market is dominated by firms with better cost structures, a more popular ecosystem, and arguably better devices at the same or lower price points. The low end market, where BlackBerry needs to thrive in order to survive, is also increasingly under threat from the carriers and the very low margin/low cost structure players that do not have the R&D and marketing overhead that BlackBerry has. If BlackBerry can manage to overcome these extreme threats, then the shares may finally undergo the "short squeeze" that the longs have been praying and hoping for, but this is not a story that will play out overnight, and it seems that there is continued conviction in the bear thesis.
Conclusion
In life there are no guarantees, and from the underdog position, even probabilities do not look good. Make no mistake - BlackBerry's three new phones are nice, but it is not at all clear at this point whether the company is going to be viable long term. The share price is currently supported by its tangible book value (most of which is cash), but cash has a tendency to run out very quickly when profitability remains elusive. The only thing that matters here is sales trends, and I eagerly await the first sell-through data of the Q10 and, more importantly, the Q5, as these two devices are what give BlackBerry hope.
Disclosure: I have no positions in any stocks mentioned, and no plans to initiate any positions within the next 72 hours. I wrote this article myself, and it expresses my own opinions. I am not receiving compensation for it (other than from Seeking Alpha). I have no business relationship with any company whose stock is mentioned in this article.