By Chris McKhann
Traders were snapping up calls yesterday in the UltraShort Basic Materials ETF.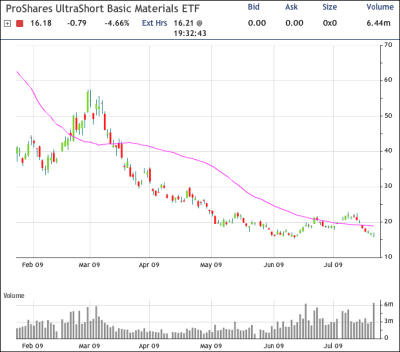 The SMN traded down 4.66 percent on the session to $16.18, approaching the low of $15.37 set in June. Shares were above $55 back in March, and as high at $133 back in November as markets tumbled.
Apparently someone thinks this sector is again due for a correction. Our systems show the purchase of 20,008 of the September 20 calls for $0.90 and almost 30,000 of the January 2010 25 calls for $1.30. Because these shares aim to produce twice the inverse of the daily returns of the basic materials index, a drop in that index can produce outsized gains for this ETF.
The implied volatility of the September calls is 77 percent and for the 2010 call it is just behind at 73. The average implied volatility for the SMN is lower at 71 percent while the historical volatility is at 75 percent, the lowest level since last September and well off the highs of 230 seen in November.
(Chart courtesy of tradeMONSTER)