In the early-1990s, after a decade of stagnation and declining revenues, a true leader finally took the reins at IBM (NYSE:IBM). During his tenure, Lou Gerstner first stabilized the company before reinvigorating it with new products and services. I am now convinced that such a savior has arrived at Hewlett-Packard (HPQ). Of course, I am talking about Meg Whitman, the company's sophomore CEO. And though people have started to climb aboard Meg Whitman band-wagon, it still has plenty of room.
Taking the helm at HP has not been easy for the former eBay (NASDAQ:EBAY) CEO. Ms. Whitman inherited a company wrecked by Leo Apotheker, whose decisions appeared abrupt and without the same long-term thinking - and ultimately cost shareholders $30 billion in lost market capitalization. But, even after Apotheker was fired, it has not been a smooth road. A year after taking the helm, Ms. Whitman was forced to take a $9 billion write-down on Apotheker's Autonomy purchase, sending shares to a closing low of $12.44. Since Ms. Whitman revealed the company's turnaround plan in October 2012, the stock has nearly doubled and is currently trading over 10 percent higher than when Whitman took control. But, this is only the start of a larger move higher.
Long-Term Strategy
Unlike Mr. Apotheker, Ms. Whitman clearly articulated a long-term strategy to turn the IT company around. And, less than two years into her tenure, she is executing. As Whitman put it, she is focused on making it easier for clients to do business with HP - something that seems intuitive but was lost while Mr. Apotheker was at the helm. Ms. Whitman's secondary focus is on diversifying out of the global PC market and more into IT services and printing, which are higher margin segments. But, as she mentions, this is a "multi-year journey."
The first part of that journey has been to bring costs in line and grow net profit margin. Margins in the printing group grew to 15.8 percent in Q2, a 2.6 percent increase year-over-year. And the company continues to dedicate resources there. Ms. Whitman is also helping the company innovate new products and services. HP's new server class, Moonshot, adds efficiency to its server offerings. The product costs 77 percent less than the traditional HP ProLiant servers, but also reduces complexity and uses 89 percent less energy. The product is expected to help HP gain share in hyperscale computing. HP is also gaining ground in converged storage and networking, as well as a few other business segments.
But to buy into the company, you have to buy into Ms. Whitman-- one anecdote perfectly describes why your faith would not be misplaced. After Dell (NASDAQ:DELL) beat HP out on an RFP for servers from Microsoft's (NASDAQ:MSFT) Bing, Whitman called Steve Ballmer, Microsoft's CEO, about why the company lost. From there, Mr. Ballmer connected her with the decision-maker who reviewed the bid. The review noted that Dell went above and beyond the scope of the bid to try to deliver additional value to Bing - something that HP did not. HP's proposal was a black and white bid that was neither price nor value competitive.
Whitman, the consummate leader, made internal changes to ensure that HP would approach bids differently in the future. And, as a result, HP won the next Bing bid for $530 million in servers - the first Bing contract it won on six tries.
Whitman's Approach Like IBM's Gerstner
Whitman's decisions thus far have been reminiscent of efforts by Lou Gerstner to revitalize and revamp IBM in the early 1990s. At the time Gerstner took the helm, IBM was bloated, overstaffed and overinvested in low-margin businesses. Revenue, which peaked in 1990, was plummeting, and earnings that had been growing above $5 billion in the 1980s were transformed into losses of $16 billion between 1991 and 1993.
Mr. Gerstner's first step was to make the company solvent by cutting costs and improving margins, just as Ms. Whitman is doing. But, one of Gerstner's key decisions was to dismantle a plan to break the company into several operating units. As Ms. Whitman took her position, she too reversed plans to sell off the Personal Systems Group. Selling that unit, she thought, would ultimately make it less competitive to corporate clients who want fully integrated solutions. Perhaps more importantly, sticking with the decision would have likely forced HP to liquidate below the unit's true value - further eroding HP's value.
Whitman is also in the process meeting one-on-one with customers and ensuring that HP's sales unit is operating efficiently and quickly. Those meetings and internal changes appear to be taking a foothold. Ms. Whitman notes that the internal culture is changing - with employees developing more innovative products to add to the pipeline.
However, Ms. Whitman has further work to do in stabilizing HP. Over the past 10 years, HP has spent $19 billion acquiring companies that add just 7 percent to overall profit. Just as Gerstner was not content with simply stopping IBM's bleeding, Ms. Whitman is looking for ways that HP can innovate for the long-term. "You've got to start launching new products when your existing ones are still growing," she told Forbes. "It is not helpful to start a new product" when sales of existing ones are declining.
Performance and Valuation
Last month, HP reported second quarter earnings that beat Wall Street expectations, sending the stock higher by 18 percent. More importantly, HPQ added another consecutive quarter of outperformance. The prior two earnings beats have added 44 percent to the stock price, causing it to rise from $17.10 to $24.74.
Additionally, at the May earnings announcement, HP upgraded guidance for the fiscal third quarter - noting that EPS should fall between 84 and 87 cents versus expectations of 83 cents, while full-year EPS would fall between $3.50 and $3.60, above expectations of $3.48.
True to her word, Whitman is also slimming HP's debt - having paid off $1.8 billion in net debt during its second quarter. That brings its long- and short-term debt to $26.8 billion compared with $13.2 billion in cash. HP also continues to return money to shareholders. HP's yield is a solid 2.35 percent, compared with 1.88 percent for IBM and 2.39 percent for rival DELL. And, the company has been buying back stock - repurchasing 36.3 million shares in Q2.
But, Ms. Whitman is in an enviable position where she can be truthful and critical of the company's challenges. Revenues are still shrinking - down 10 percent in the most recent quarter on a year-over-year basis. But, Whitman has repeatedly stated that she expects revenues to grow in 2014, and is thus far executing on all of her promises.
And, so long as she does this, HP is a buy. The company is valued at 9.7 times expected full-year GAAP EPS, compared with 13 times for IBM. Dell, which is not providing full-year guidance because of the buyout, has a trailing P/E of 12.6. At a similar valuation, that would suggest HPQ could rise to $32-33 per share - an upside of roughly 33 percent - without growing margins and revenues.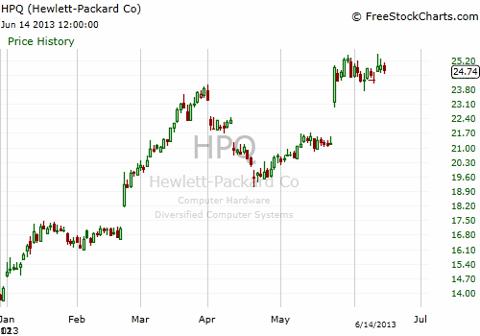 (Yearly performance of HPQ: The two large gap openings were following this year's earnings reports.)
Conclusion
Buying stock is always buying into the management's vision and ability to execute - but with HP, this is even more the case. To believe that HP can realize shareholder value means that you must believe that Meg Whitman can stop the bleeding, revitalize the company's culture and inspire employees to innovate. I believe not only that she can do this, but that she will.
Disclosure: I have no positions in any stocks mentioned, and no plans to initiate any positions within the next 72 hours. I wrote this article myself, and it expresses my own opinions. I am not receiving compensation for it (other than from Seeking Alpha). I have no business relationship with any company whose stock is mentioned in this article.