Fundamentals
Core Business Fundamentals
I posted on ArcelorMittal (NYSE:MT) back in November, 2008. My views are largely unchanged and can be viewed here. What's changed?
The dividend was cut in half, from $1.50 per share to $0.75 per share. I do not see the cut as a change in the long term dividend trend; MT has a shareholder value policy which calls for returning value with a payout ratio of 30% via a combination of buy backs and dividends. I expect dividend growth to resume rapidly once debt is paid down.
The balance sheet is much improved as a result of new equity and debt issuances.
It is clear that the steel industry has changed radically over the past economic cycle. In the past, steel has always commanded very low multiples. The two main reasons for this are (a) the industry was fragmented and so the negotiating power of steel makers versus raw material producers was weak; this left them very exposed during cyclical down turns. And (b) because the industry was fragmented, production cuts to drive down inventory were not executed; as a result during cyclical downturns the price of steel collapsed.
Under the leadership of the Mighty Mittals, the steel industry is different today. Much consolidation has occurred in the industry and this is a game changing event; once the markets recognize "The New Steel Industry", the multiples will expand. This downturn has been far more severe than several faced in the past; yet the industry response has been swift and strong and this has averted what could have been a prolonged disturbance in the industry.
At the same time it is clear that recent expansion in capacity exceeds near term incremental demand. In my view it will take 3 to 4 years for capacity shortfall to arise anew. The long term fundamentals for steel remain very powerful and steel makers need to continue investing to expand capacity, provided prices stay over the marginal cost of production.
Players like ArcelorMittal are advantaged because several of their facilities are low marginal cost ones. They are able to respond by shutting down or mothballing higher marginal cost facilities, while keeping low marginal cost facilities operating at full capacity. The profitability of operations is high because steel prices are likely to cover the higher marginal cost at an industry level. Note that overall demand has already reached past the level where it can be fully supplied from low marginal cost producers.
ArcelorMittal derives much of its demand from energy, automobiles, housing, mining and infrastructure companies. All are particularly powerful up-trends, caused by demand in emerging markets, most notably China and India. This is offset by demand reduction in the developed economies which are suffering on account of the recent property and debt bubbles.
ArcelorMittal products are highly dependent on credit availability. Several potential buyers have damaged and over-leveraged balance sheets. However, long term this should not make a difference; for example if GM (GMGMQ.PK) is forced out of the market, there will be increased demand for Toyota's (NYSE:TM); demand initiates from the consumer and crystallizes at the auto manufacturer and ArcelorMittal is a lead supplier to most major automakers.
As a result of the financial crisis, a deferral in replacement cycle can be expected. There are no visible catalysts for a significant reversal during 2009 into much of 2010. However, the process of the development, urbanization and industrialization of India and China is irreversible; this is a multi-decade period of growth. Rising demand with shortfalls in long term capacity is likely to keep steel margins firm.
Leverage
Total debt net of cash was just over $26.7 billion as at 31 March 2009. Shareholders Equity at this time was $55.46 billion. Net debt divided by net debt plus equity came in at 32.5%. Subsequent to the quarter, significant further steps have been taken to reduce debt levels and to alter the debt maturity profile. Following these actions, it is my view that MT's balance sheet cannot be viewed as over-leveraged or damaged keeping in mind the capital intensive nature of the industry they operate in.
Returning Shareholder Value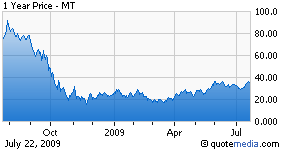 The policy of ArcelorMittal aims to return 30% of ArcelorMittal's prior year's annual net income to shareholders every year through an annual base dividend, supplemented by share buy-backs. I believe this is a responsible value return strategy and the payout ratio is in line with what should be expected given the need to reinvest profits to realize the growth potential in the industry. A dividend cut does not mean that the long term trend of dividend growth is dead. In my view, it is likely that dividends will be back to the $1.50 level no later than 2011, provided that the world does not plunge into another pool of despair.
Valuation
The past 9 years have seen immense growth for MT. Much of the growth has been driven by M&A activity. In such situations, historic growth rates do not provide a reliable guide for valuation. In my view, I believe long term EPS of $5.45 (past 6 year average EPS) growing at 7% annual is very achievable. Using a 30% payout, we arrive at a shareholder value return of $1.64. A shareholder looking for an 11% return would be willing to pay $43.71 for an income flow of $1.64 growing at 7%. Any price below this is a good price to buy in. Some investors might be willing to wait longer and pay higher prices which might prevail when there is better clarity on the economic fundamentals, while others might wish to benefit from lower prices obtained while expectations are low. I am the latter kind of investor. Please note $43.71 is a buy target; for MT I do not have a sell target because I have high expectations and think that over time MT values will reach for the skies.
Disclosure: Long MT