Many would be surprised to know that the best performing Chinese IT stock of the past 12 months wasn't Baidu (NASDAQ:BIDU), nor SINA Corporation (NASDAQ:SINA): it was E-Commerce China Dangdang Inc (NYSE:DANG), better known as Dangdang.
Dangdang may not be as popular as Baidu's search engine, SINA's Weibo or Alibaba's Taobao (currently held private), yet its stock price increased almost 43% in the past 12 months.
What is causing the increase in stock price? Furthermore, will the price continue rising in the next months? In this article, I present a long case for Dangdang based on 4 reasons and taking into consideration the latest earnings call (May 16th, 2013), when Dangdang beat the street consensus by a slight margin.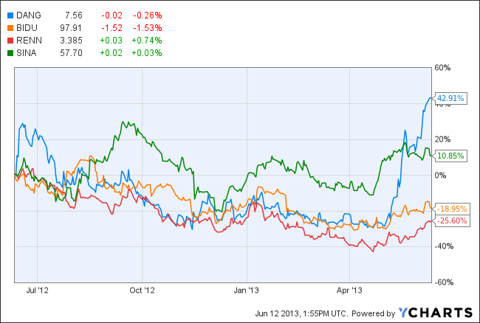 Dangdang 101
Dangdang's only business consists in operating dangdang.com, an e-commerce business to consumer (B2C) website specialized in selling books online. It is quite small, if we compared with Taobao (China's biggest e-commerce website): in early 2012, it only had 0.5% share of online shopping market and about 2.3% share of the online B2C market in China.
However, it is the largest book retailer in China in terms of revenue and selection. Most Chinese would go for Dangdang (rather than Taobao) if they want to find and buy a book. It is also growing quickly: on May 10th, Justin Giles checked the daily traffic Alexa rank of dangdang.com (which shows the current rank of a company's popularity all over the world). By that time, dangdang.com's position in the rank was 305. It now stands at 293 (47 in China).
Furthermore, although Dangdang's main focus relies in selling books, in the past 2 years, it has tried to grow its user base by going beyond books: it now offers select general merchandise products, including cosmetics, home and lifestyle products, apparel and digital and electronic products. In particular, the new focus in providing general merchandise could increase Dangdang's margins, as general merchandise products are known for having higher gross margins than IT products and books.
According to official figures, as of March 31, 2013; Dangdang offered over 900,000 books and other media products: the largest selection available both online and offline from a single retailer in China. They also had about 800,000 stock keeping units (SKU) of general merchandise products for sale.
History
-- November, 1999: Website launched.
-- February, 2000: Dangdang raises venture capital (first round).
-- July, 2001: unique visitors per month exceed 500,000.
-- February, 2004: second round of venture capital. $11M from Tiger Fund Investment.
-- April, 2004: Dangdang expands its business to general merchandise.
-- July, 2006: Third round of venture capital. $27M from DCM, Walden International and Alto Global Investment.
-- December, 2010: Dangdang is successfully listed on the NYSE at about $13 - $15 per share.
4 Reasons to be long Dangdang
1. Fundamentals are improving
Like many Internet small cap stocks, Dangdang is not profitable. However, the latest earnings show us that if Dangdang continues executing sales at the current pace, it could enter into profit zone by the beginning of next fiscal year.
Between 2011 and 2012, Dangdang revenue grew at an amazing pace, but that was not enough to keep up with increasing operating costs. Therefore, net losses increased. In this period, Dangdang started to expand its catalogue by including more home and lifestyle products.

The figure is very different now. According to the latest earnings call, Dangdang's revenue continue growing at a healthy pace: total revenues in the first quarter of 2013 were $214.7M, representing a 23% increase from the corresponding period in 2012. However, now Dangdang is not only seeing its revenue increasing but also a reduction in its net loss. At $11.7M, net losses currently represent 5.5% of total revenues, as compared with 9.2% in the first quarter of 2012. Likewise, gross margin in the first quarter was 17.2%, the highest level since the second quarter of 2011.
2. Revenue is more diversified
Many would think that because Dangdang focuses on books and e-commerce, revenue could be very cyclical, concentrated and risky. This is true. However, although book sales (Media revenue) are the main revenue component ($139.1M, according to the latest earnings call), Dangdang is successfully introducing diversification to its business that look quite promising: in the first quarter of 2013, general merchandise revenue saw a 12% increase and other revenue (including revenue from third-party merchants), which came out $9.4 million, representing a 194% increase from the corresponding period in 2012.
3. Traffic metrics are increasing
According to Alexa Analytics, in the past 3 months, Dangdang increased its reach (estimated percentage of global internet users who visit dangdang.com) by 17.7% and its page views by 11.3%.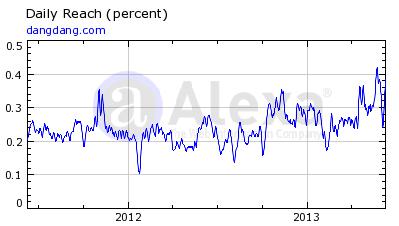 This increase should bring many new customers. According to the first quarter 2013 results, Dangdang had approximately 7.4 million active customers by the end of the quarter, including 2.4 million new customers in the first quarter of 2012: a 21% increase from the corresponding period in 2012. Total orders for the first quarter 2012 also saw a 21% increase from the corresponding period in 2012.
4. Strong brand
I borrowed this reason from an old (and quite visionary) article on Dangdang published in 2012, by Maxsoar: "Dangdang: Next Amazon Or Next Apple?". According to Maxsoar:
(Dangdang) is recognized by about 70% of people in China. In terms of brand recognition, Dangdang is ranked only after Taobao. It is ranked higher than Joyo.com and Alibaba.com
I have not been able to find an update of these figures. However, due to the fact that Dangdang has focused on selling books for more than 10 years, many Chinese associate the company with books. This is a competitive advantage that should help Dangdang to keep its leading position as book seller in China, despite increasing competition.
Scenario Analysis
| | | |
| --- | --- | --- |
| Event | Probability | Effect |
| Dangdang continues improving its fundamentals by keeping its leading position as a book seller in China and also by increasing its user database and providing more general merchandise items. | Medium | Upside |
| Piracy and price wars cause Dangdang's revenue and margins to decrease. | Low | Downside |
| An acquisition by Taobao (Alibaba) or Baidu. | Low | Upside |
| Digital content becomes very popular as Chinese continue buying more tablets. | Medium | Upside |
| A new book seller & start up emerges with a different, more attractive business model, user interface and catalogue; and becomes a strong competitor. | Low | Downside |
Risks
-- Piracy: Pirated books are widely available in China and this poses a major risk to both revenue growth and margins. According to some sources, in 2009 as much as 40% of books sold in China were counterfeit and there are about 500 million unauthorised books produced a year. This forces Dangdang to be very competitive, both price and speed-wise.
-- Although traffic is increasing in terms of reach, the estimated daily time spent on the site (a measure of user engagement) might be decreasing. According to Alexa Rankings, in the past 3 months, it decreased 18%, but this could be cyclical.
-- Taobao is a hard-to-beat competitor. Furthermore, Taobao's business model may have certain competitive advantages in China. Taobao's experience with third-party merchants is a precious asset. It also offers its users the option of bargaining on the price listed, by chatting with the seller. Dangdang, on the other hand, launched its third-party marketplace program only in 2009. They have less experience in this field. However, notice also that many people come to Dangdang because of the "simplicity of shopping", as most products are shipped directly from Dangdang.
Final Remarks
Rating: Buy
Investment Strategy: Growth
Investment Horizon: One year
Price target: $10
Uncertainty: High
Disclosure: I have no positions in any stocks mentioned, and no plans to initiate any positions within the next 72 hours. I wrote this article myself, and it expresses my own opinions. I am not receiving compensation for it (other than from Seeking Alpha). I have no business relationship with any company whose stock is mentioned in this article.