In September of last year, Toll Brothers (NYSE:TOL) printed a near 7-year high. It was the culmination of an amazing 12-month run that took the stock up 164% from a retest of 2008 and 2009 lows. It was one of the more incredible (relative) turnarounds in the homebuilder space.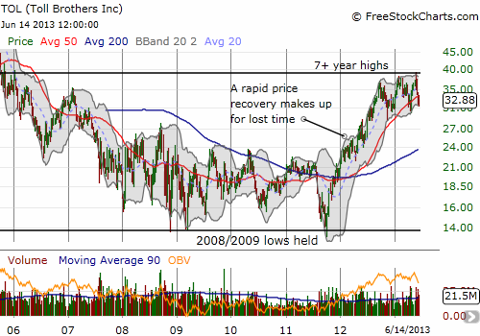 After a rapid price recovery, TOL stalls out under 7-year highs
Source: FreeStockCharts.com
In the nine months since that high, the chart above shows that TOL has twice broken that high for brief moments. The last occurrence was May 22nd when the rest of the market seemed to put in a lasting (short-term?) top just after TOL reported earnings for its 2013 Q2. Also twice this year, TOL has traded in negative year-to-date territory. It is currently up 1.7% year-to-date and greatly under-performing the S&P 500 (NYSEARCA:SPY). It seems in TOL's case, the market has priced in the housing recovery in one quick burst - at least that is an interpretation consistent with the stock's inability to rally further on outright bullish earnings news.
As a point of comparison, here are the performances of other publicly traded homebuilders. The first number is the percentage of price recovery from (bubble) peak to (recession) trough at the close June 14th. The second number is the year-to-date price change. Numbers sorted in descending order of price recovery:
Lennar Corp (NYSE:LEN): 62% vs 0%
D.R. Horton (NYSE:DHI): 47% vs 21%
Ryland Group (NYSE:RYL): 46% vs 19%
Meritage Homes (NYSE:MTH): 45% vs 25%
Toll Brothers : 43% vs 2%
Pulte Homes Inc. (NYSE:PHM): 40% vs 15%
M.D.C. Holdings (NYSE:MDC): 39% vs -3%
Kb Home (NYSE:KBH): 25% vs 37%
Beazer Homes (NYSE:BZH): 11% vs 17%
Hovnanian Enterprises (NYSE:HOV): 5% vs -10%
Notice the remarkable consistency in the overall pricing of the housing recovery from the lows relative to the bubble peak even as year-to-date performances have varied greatly. TOL experienced a large share of its recovery before this year while other homebuilders are just now catching up. I suspect that as a group, the 40%+ price recovery is a cap for now until a fresh positive catalyst appears.
I read through the Seeking Alpha transcript of TOL's earnings conference call looking for a smoking gun to explain the muted reaction. In the transcript, I found a lot of bullish news and encouraging signs for the housing market, but no clear sign of any warning. I also found a lot of wary analysts probing for hints of what to expect NEXT year. I am assuming analysts feel comfortable with the second half of this year but are groping for a catalyst that maintains the momentum into next year. Analysts are clearly wondering whether the performance of TOL, and the housing market in general, is as good as it gets for now. The stakes on such assessments are slowly creeping upward as mortgage rates have shot upward sharply in the past two weeks or so. The 30-year fixed is now where it was at the beginning of 2012 when the housing recovery finally began in earnest.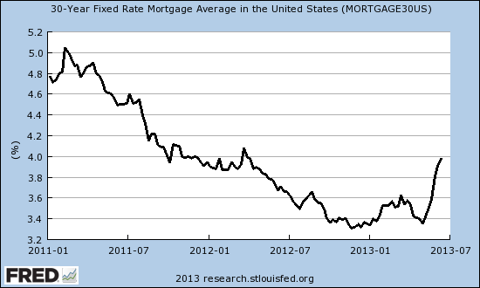 In two weeks, mortgage rates have reversed a year's worth of declines
Source: Federal Reserve Bank of St. Louis
TOL's valuation at historic highs also raises the stakes for these assessments. The stock is not likely to regain its upward momentum until evidence appears that the rate of improvement in the business can/will increase.
Here is a comparison of TOL's current valuation versus its maximum on an annual basis over the last 10 years:
P/B: 1.77 vs maximum of 2.07 in the year-ending Oct, 2005
P/S: 2.63 vs maximum of 2.98 in the year-ending Oct, 2012. Since the recession, TOL's P/S ratio has been abnormally high at 1.6 and above. From 2003 to 2008, TOL's P/S ratio never deviated far from 1.0.
With these data points as backdrop, I took notes on the TOL conference call. The following is not a comprehensive summary; it represents the nuggets I found of most interest. They all point to a very robust business for TOL for the rest of 2013 and into 2014.
Business Momentum
"On a per-community basis, fiscal year 2013′s net signed contracts were the highest for any second quarter since fiscal year 2006."
At the end of 2nd quarter, TOL had a "…backlog of 3,655 homes, aggregating $2.5 billion, which was 69% higher in dollars and 52% higher in units than second quarter of 2012."
Communities selling faster than expected. Opening 1 1/2 communities per week and selling out 1 community per week.
TOL is a very different company now with more (high density) multifamily, town home, and "urban" in its mix.
Agreements and deposits up 25-30% in the first 3 weeks of the third quarter over last year's third quarter. Tough comps as last year's third quarter was up 60% in agreements and deposits over 2011.
"…seeing recently size making a difference. Because of the size of the company and the ability to raise money so easily in the bond market, we're able to take on deals that only a few of our competitors can take on as well. "
Spent ~$165M on land in Q2, under option $381M for a total of 2,833 lots.
Margins
"Second quarter homebuilding gross margin before interest and write-downs as a percentage of homebuilding revenues was 23.3% compared to 23.2% in 2012′s second quarter. 2013′s first quarter was 23.4%. The small decline in margin compared to last quarter is a result of mix. Our margin exceeded our guidance because the mix of deliveries from lower-margin communities was not as large as expected."
An analyst asked why margin guidance seems so conservative given price appreciation is the same or greater than competitors who are giving better margin guidance; expecting margins to approach prior peak (around 30%) within the next couple of years. TOL responded by saying pricing power did not drive margins the past two years, instead it was the benefit of lower-priced land positions that made it through the build cycle. Other builders have short build cycles and were/are able to recognize those kinds of gains more quickly in an improving market.
Costs
Costs "moderated a bit" in the second quarter: up only ~$700/home.
Lumber is starting to decline after having increased dramatically.
Labor is about half of the $700/home increase.
Housing Market
"Demand accelerated significantly this quarter…we can't even get sticks in the air that are unsold because the demand is so strong…Buyers who have been on the sidelines for 6 years are jumping in. Low interest rates, improved customer confidence, a strong stock market, rising home prices and a reawakening economy are stoking demand in our luxury market."
"The most recent ISI survey of large and midsized builders is near record highs."
Resale inventory remains limited in almost all of TOL's markets.
The banks are mostly no longer land sellers; there is more land for sale because prices are much better, motivating those who held out to finally bring land to market.
Pricing
"Average delivered price per home in the second quarter of 2013 increased to $577,000 due to an expected shift in geographic and product mix."
Increased prices in Q2 ~$26K/home on average. Price increases this summer should be greater than 2011 or 2012 summers, even better than the good times BEFORE the bubble got "silly."
Price increases in ~60% of communities accounted for ~70% of sales. Pace stayed consistent through April and May.
Increasing price in Northern California and "almost all" of Southern California
Raising prices in 80% of Dallas and Houston.
In "less hot" markets, raising prices in 60% of communities.
A community in Sunnyvale, CA: 18 contracts in Q2, increasing price $280K quarter-over-quarter. Up $500K since October, 2012. Have sold a total of 41 homes.
Still able to find some terrific deals on land in Northern California.
City Living communities - New York City, NY; Hoboken, NJ; Jersey City, NJ; Philadelphia, PA: sold 75 homes since February with an average price increase of $140K. Sold another 27 while raising the price an average of $275K. (Average price over 157 units sold in Q2 was ~$850K accounting for 11% of TOL revenue).
Guidance
3,850 to 4,200 homes delivered in 2013.
Deliver ~25% more homes in the fourth quarter over the third quarter.
$610,000 to $630,000 average delivered price per home for 2013. ~$25K higher average delivered price in the fourth quarter over the third quarter.
Margins in the third quarter ~275 basis points higher than the second quarter. The fourth quarter will be ~200 basis points above the third quarter (a net quarterly decline of ~75 basis points). Overall 2013 margin improvement of ~80 basis points, above year-end 2012 expectations for flat margins. Guidance includes interest but excludes impairments.
Year-end community count stays at 225 to 255 with growth concentrated late in the second of the fiscal year. Should continue to accelerate into 2014. Growth in 2014 should exceed 2013 growth.
~40% quarterly revenue increase for the third quarter; ~50% revenue increase for last 6 months over first 6 months of the fiscal year.
Be careful out there!
Disclosure: I have no positions in any stocks mentioned, but may initiate a long position in MDC, MTH, TOL over the next 72 hours. I wrote this article myself, and it expresses my own opinions. I am not receiving compensation for it (other than from Seeking Alpha). I have no business relationship with any company whose stock is mentioned in this article.
Additional disclosure: (Any positions opened would be trading positions related to the market's reaction to the Federal Reserve meeting on Wednesday, June 19th.)