The markets went into the weekend red and late last night Asian markets rallied to finish green, providing good news for us to trade on here in North America this morning. One thing to be aware of, the Tuesday winning streak has been over for the past few weeks and a new type of streak has developed...a losing streak.
As we mentioned last week, regardless of how the market moves, we are of the mindset that we want to be on the sidelines.
Chart of the Day:
We found this chart today of natural gas production in the US. As BP stated last week, we are at all-time highs in production and this is a good thing for the country. Yes prices are lower and hurting producers, but industry is able to manufacture products and operate at a cheaper level which creates many jobs. This might be the backbone of any further recovery and if shale fracking goes worldwide it could lead to a global boom for the economy.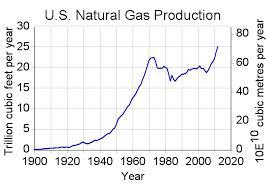 Chart courtesy of wikipedia.org
We have economic news due out today, and it is as follows:
Empire Manufacturing (8:30 a.m. ET): 0.8
Net Long-Term TIC Flows (9:00 a.m. ET): N/A
NAHB Housing Market Index (10:00 a.m. ET): 45
Asian markets finished mostly higher today:
All Ordinaries -- up 0.62%
Shanghai Composite -- down 0.27%
Nikkei 225 -- up 2.73%
NZSE 50 -- up 0.60%
Seoul Composite -- down 0.32%
In Europe, markets are higher this morning:
CAC 40 -- up 1.80%
DAX -- up 1.49%
FTSE 100 -- up 0.95%
OSE -- up 0.65%
Biotechnology
Elan (NYSE:ELN) has the company for sale, should the right price present itself to the board...but apparently that is not Royalty Pharma's bid which lapsed according to law on Friday. It looks like Royalty Pharma will be back with a richer price, and it may be sooner than anyone thinks as they may try to move before Elan takes any further actions to allocate capital or make other decisions which could affect the value of shares moving forward. It seems the company has been working towards this for some time now, selling off piece by piece until they became a royalty company. Elan may have finally entered the final chapter in their autobiography with their latest moves.
Also causing excitement in the biotech sector last week was Amgen (NASDAQ:AMGN) which received a favorable write up by Barron's in their latest issue. The article is bested summed up by this Reuters article we found on the web, located here. Talking about the life cycles of these biotech companies, Amgen, which we look at as one of the 'Big 3' in the industry, is looking to return over half of their net income to shareholders moving forward and in this market that goes a long ways in attracting shareholder capital to drive the share price higher. Readers who have taken our advice on some of the larger biotech names have enjoyed some serious price appreciation and whereas we rotated out of some of those names, namely Celegene (NASDAQ:CELG), on valuation concerns we could see rotating back into the sector with a little more sideways action.
Celgene has obviously outperformed, but that has been driven by the advancement of their drug portfolio. Watch for capital allocation to play a bigger role in the industry in the next few years.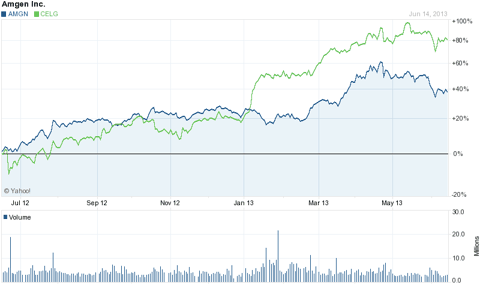 Chart courtesy of Yahoo Finance.
Cable
The best example we can throw out there for readers is the transformation that cable TV operators have undergone in the past 10-20 years. The business was always about technology and huge infrastructure spending, but now that they have much of their service areas wired and get to lay cable down when neighborhoods are developed their costs have fallen dramatically...not to mention that the tech gear has gotten cheaper to buy and operate. This has made names like Comcast (NASDAQ:CMCSA), Time Warner Cable (TWC) and Charter Communications (NASDAQ:CHTR) big winners as of late because they are now able to redeploy their growing cash flow numbers towards functions which return capital to shareholders.
Time Warner Cable hit new highs on the news of a possible merger, one with John Malone involved.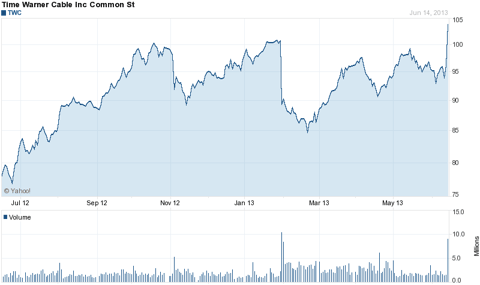 Chart courtesy of Yahoo Finance.
All this and the fact that John Malone's name was mentioned (see Barron's article here) explains why the merger rumors on Friday received the attention that they did. Yes Malone has stated he wants Charter to help further consolidate the industry, but the fact that Time Warner would be involved is a bit intriguing. Our thoughts on the industry were that the next wave of consolidation would either be among the smaller names in their pursuit to create mid-majors or the big names simply doing bolt-on acquisitions of the little guys to fill in their footprints. Needless to say, this adds another level of intrigue to the industry's progression.
Disclosure: I have no positions in any stocks mentioned, and no plans to initiate any positions within the next 72 hours. I wrote this article myself, and it expresses my own opinions. I am not receiving compensation for it (other than from Seeking Alpha). I have no business relationship with any company whose stock is mentioned in this article.