On Saturday, June 15th, Reuters ran a story quoting FDIC Vice Chairman Thomas Hoenig as follows:
A top U.S. banking regulator called Deutsche Bank's capital levels "horrible" and said it is the worst on a list of global banks based on one measurement of leverage ratios.

"It's horrible, I mean they're horribly under-capitalized," said Federal Deposit Insurance Corp Vice Chairman Thomas Hoenig in an interview. "They have no margin of error."
Further on in the article Hoenig was quoted as:
Other banks with a low ratio, according to Hoenig, are UBS at 2.52 percent, Morgan Stanley at 2.55 percent, Credit Agricole at 2.72 percent and Societe Generale at 2.84 percent.
We dug a little deeper and found the reference document where Hoenig was getting his information. It is called "CAPITALIZATION RATIOS FOR GLOBAL SYSTEMICALLY IMPORTANT BANKS (GSIBs) and is available from the FDIC site. Here is a picture of the PDF: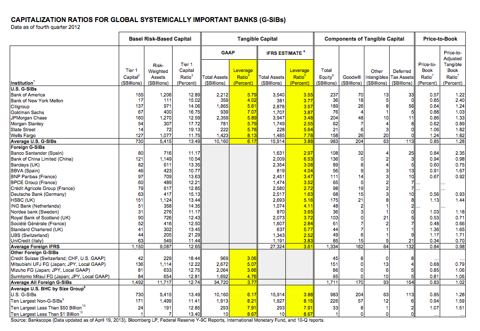 (Click to enlarge)
What stands out here is that the singling out of Deutsche Bank (NYSE:DB) seems to be unfair given the other banks in the "under 3%" group when using the IFRS estimated Leverage Ratio benchmark in the above chart. DB has raised capital since the chart above was released by Hoenig. The others noteworthy of highlighting include UBS (NYSE:UBS) at 2.52%, Morgan Stanley (NYSE:MS) at 2.55%, Crédit Agricole Group (OTCPK:CRARF) at 2.72%. Société Générale (OTCPK:SCGLF) at 2.84% and Banco Santander (NYSE:SAN) at 2.97%. The Leverage Ratio is a more sober method of weighing a bank's capital ratio: "5 The Leverage Ratio is the ratio of adjusted tangible equity to adjusted tangible assets. Adjusted tangible equity, adjusted tangible assets, and adjusted tangible book subtract goodwill, other intangibles, and deferred tax assets." We think that while these estimates are published, these banks are so large and complex, the real capital ratios are very hard to discern for any regulatory body. Given this as a backdrop, the FDIC's Hoenig is going out on a limb by showing what his estimates are and creating real doubts as to the viability of these banks. Perhaps this explains the lack of lending and the lack of the real money multiplier effect keeping a lid on inflation.
Hoenig is very vocal about his lack of support for Quantitative Easing and has been for a very long time as we see in this quote from 2011:
"I'm advocating that the FOMC (the Fed's policy-setting Federal Open Market Committee) move ... to non-zero rates," he said.

Hoenig has at length opposed the Fed's ultra-loose monetary policy, which dropped rates to near zero in December 2008. He is not a voter on the FOMC this year. He dissented against easy money policies at every meeting when he had the vote in 2010.
We think he may actually be contradicting himself. The QE program is really a bank recapitalization plan in disguise. Banks have access to virtually free money from the Federal Reserve with a borrow rate at .25% which they then use to buy US 10 year treasuries yielding over 2% or other GSE issued paper such as conforming mortgage-backed securities which have a zero risk weight on their balance sheet. Moreover, banks also sell or pledge for loans their other assets to the Fed at low rates and earn bigger spreads under the QE initiative. This exercise is like "trickle charging" banks capital ratios over time. If Hoenig is arguing these banks are under-capitalized, why would he be against QE. Does he want to shut these institutions down?
We think the QE program will be in full force and effect for some time to come as we have written before here at SA. In fact, we think the powers at the regulatory agencies may even put some incentives to get banks back in the small business loan act by reducing the oppressive risk weighting on commercial loan assets.
Disclosure: I have no positions in any stocks mentioned, and no plans to initiate any positions within the next 72 hours. I wrote this article myself, and it expresses my own opinions. I am not receiving compensation for it. I have no business relationship with any company whose stock is mentioned in this article.