160 million people a day use products manufactured by Unilever (NYSE:UL). The firm has 400 brands of which 13 are "Billion Euro brands", including Dove, Knorr, Flora, Lipton and Sunsilk. In a recession when consumers have less cash to spend, there is naturally an inclination for shoppers to fill their baskets with supermarket own-label products rather than branded goods which are usually more expensive. Investors in Unilever shares therefore awaited the Q1 2009 update, in the knowledge that the firm is currently facing extreme pressures on both margins and revenue.

The firm has held up relatively well under the circumstances. Q1 organic growth was 4.8% with double-digit progress in emerging markets off-setting weakness in Western Europe. Earnings per share, though, after restructuring, disposals and pension costs were down 13% (EPS 44% weaker including exceptional items). News that turnover was 0.7% lower in the quarter relative to the same period a year earlier also required deeper investigation. The near flat performance was aided by the organic growth, detailed above, but held back by currency movements and weaker volumes.
Overall, the financials were probably as good as could be expected in such difficult markets. Unilever, deeply aware that the global recession may last through Q4 2009, has also been busy restructuring and acquiring margin-enhancing brands to strengthen its portfolio, adding the Baltimor and TiGi brands to its stable. Unilever also successfully raised additional capital of $1.5 billion and £0.35 billion via two over-subscribed bond issues earlier in 2009, no mean feat under the circumstances. The firm is also acutely conscious that one of its core markets, Europe, remains particularly weak and detailed a determination within its Q1 update to invest more in product development and marketing to support key product lines, adding to the Euro 927 million invested in research and development during 2008.

Looking forward, a workforce of 174,000 primarily based in 270 manufacturing sites, located in over 100 countries, looks increasingly vulnerable to cost-cutting attention if the global recession persists longer than anticipated. Meanwhile, for investors, there is a multitude of higher-growth potential shares available home and abroad that are better positioned to offer leveraged returns on the back of improving risk appetite towards equities and the 2010 global economic recovery.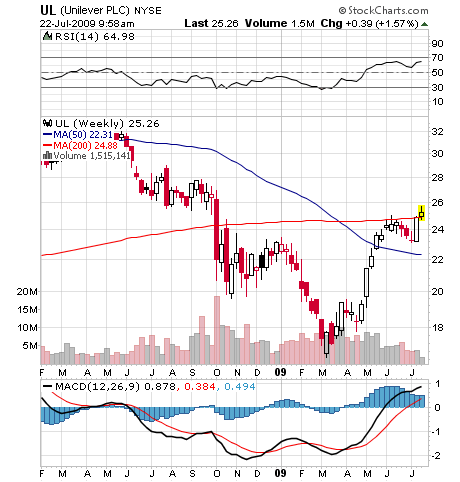 Disclosure: No interest.