BlackBerry (NASDAQ:BBRY) is making an impressive turnaround, and the new BlackBerry 10 operating system is an excellent evidence of that. That's the way to stay again as a relevant player in the smartphone industry. Indeed, the new platform 10 seems to be quite interesting, but the market penetration will be decisive from now on. It is crucial to remember that there is an installed base of around 76 million loyal to the keyboard. That presents a strong upgrade opportunity since the company's market share collapsed and it is struggling for several quarters. In the United States Google's Android browser still leads with increasing dominance, followed by Apple's iOS. Both now have more than 85% of the domestic market, but Blackberry has the chance to get back its 6% share that has fallen to 0.7% over the last year. I see an enormous opportunity here for a real recovery.
Above all, we must consider the characteristics of each company, and rankings here can be misleading. There are three aspects to examine: units, revenue and operating profit. At times - as it happens now with BlackBerry, the market share is critical although operating profit is always a key objective to be achieved.
Globally, there is also room for BlackBerry to further extend sales especially with the affordable new Q5 to be launched in July 15. With a very recent entry into the American market, Q10 can still sell in the 1st quarter of the year about 4 million units. Adding it up to one million units, which is estimated as Z10 sales, total Q1 sales could reach or even surpass 5 million BB10 handsets.
Current analyst consensus has still lower numbers. However, increasing positive news point to a potential for first-quarter upside over estimates. Q10 is certainly a product for the future as it was launched only in May for 14 countries and in June for the U.S.
BlackBerry has other encouraging aspects such as the ability to generate cash flow, and the significant fact of not having any debt. This information is essential when we know the difficulties that the company felt in recent quarters.
BlackBerry probably will be able to show growing sales at a 15% CAGR in this 1Q14 (June 1, 2013) and subsequent three quarters. I also expect operating profit to be 8% on average. In this case, the company will reach a decent net income by the end of its fiscal year. At that time, the assumptions I have stated will lead to revenue of $15.38B with an operating profit of $1.23B. Thus, assuming full year tax rate of 25% it will gives us net income of $0.92B. As diluted shares outstanding are 515 million we will arrive at EPS of $1.79.
Assuming that BlackBerry will continue growing to the same extent in the following year, it will be possible to accept a PE of 15. At a 15x multiple against $1.79/share, we arrive at $27 per share by the end of its fiscal year (March 2014).
Chart courtesy of StockCharts.com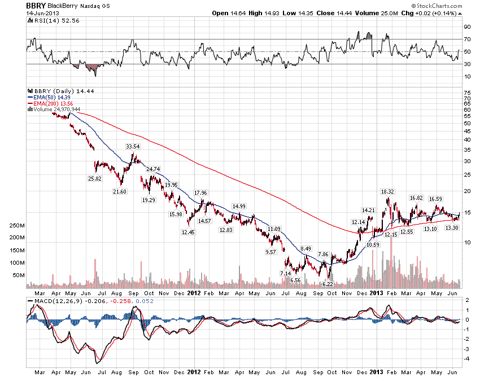 Click to enlarge
(Click to enlarge)
It is clear that, with a current price of $14.44 per share, BlackBerry has excellent risk/reward. Indeed, those who invest now could have a downside risk of about 3 or 4 dollars per share (25%) because I don't believe that share prices will touch last year's low. Nevertheless, any investor could make a "stop loss" order which will lead to a potential loss even lower than the amount mentioned above. By contrast, the reward can be much higher because the company has the chance to succeed with the launch of its new products, and may have an upside potential of about 87% within a year.
As of May 31, BlackBerry had around 171 million shares short. With 515 million shares outstanding, short position would be around 33%. This is significant as a degree of investor's expectation, but for me it has probably to do with speculation by institutional traders. In my opinion, this position is too risky and can trigger a short squeeze if the evolution of the company exceeds expectations, which is likely to happen.
Conclusion
BlackBerry succeeded in placing on the market a new technologically advanced platform. The company's turnaround is now increasingly close to success as new products have been launched with growing interest from buyers. On the other hand, it is on the right path to regain its lost market share. The company's potential is remarkable, but the future is still uncertain because competition in both domestic and external markets is unusually strong. Prices, quality and innovation, will play a crucial role while it seems that BlackBerry has an adequate strategy, and the pace required to run it. According to my assumptions it has a price target of $27 per share by the end of the current fiscal year.
Disclosure:
I have no positions in any stocks mentioned, and no plans to initiate any positions within the next 72 hours. I wrote this article myself, and it expresses my own opinions. I am not receiving compensation for it (other than from Seeking Alpha). I have no business relationship with any company whose stock is mentioned in this article. The author of this article gives only his personal view and opinion, never making any investment advice to buy or sell specific securities. The information presented is from sources believed to be reliable, but its accuracy cannot be guaranteed. Before investing in financial assets, investors should do their own research and consult a professional investment adviser.