We have been analyzing and evaluating the newspaper companies that Warren Buffett and Berkshire Hathaway (BRK.B, BRK.A) has invested in the past and has invested in recently over the last twelve months. We have analyzed and evaluate each firm's past performance, breakdown of each firm's business operations mix and most recent highlights. Berkshire's newspaper operations include BH Media (newspapers Berkshire owns outright), The Washington Post Company (WPO) and Gannett (GCI). In this report we will examine the recent performance of BH Media Group, The Washington Post Company and Gannett.
BH Media Group and the Buffalo Evening News: Berkshire owns the Buffalo Evening News and it was the only newspaper fully owned by Berkshire for almost 35 years. We've already established how the paper is a regional metro area broadsheet newspaper that is serving a city that has seen steady population erosion since 1930 and its suburbs have not been able to make up the declines seen in Buffalo proper. For whatever reason, Berkshire is keeping it separate from its BH Media Group organization that it established in order to oversee the 63 newspapers it acquired from Media General (MEG) as well the Omaha World-Herald (which was acquired last year). From December 2012 to February 2013, Berkshire bought the Tulsa World and the Greensboro, NC News & Record while shuttering the Manassas, VA News & Messenger. BH Media Group now owns 68 newspaper publications, including 28 daily newspapers and recently announced the acquisition of The Roanoke Times.
The Washington Post Company: Berkshire directly owns 23.4% of WPO and has been WPO's 2nd largest shareholder since 1973. Buffett tutored Katherine Graham and her son Donald on how to run a business to maximize shareholder wealth and Katherine Graham was Buffett's ticket to high society. Because of Buffett's involvement, we see that WPO has handled the shakeout in the news industry better than other firms who did not have the vision to diversify into higher-value content like for-profit education as well as the television business. WPO's flagship newspaper and its Post-Newsweek Media community papers only accounts for 13% of the company's revenue, down from 46% in 1993.
Source: Washington Post's 1993 Annual Report and Q1 2013 10-Q Report
WPO's Newspaper Publishing division saw its revenues decline by 3.9% from $132.45M in Q1 2012 to $127.3M in Q1 2013. The division benefited from a $1.9M (8%) increase in year-over-year revenues from its online media properties but this was more than offset by a 7.77% decline in print advertising revenue ($4.1M). Average daily circulation declined by 7.2% for The Washington Post in Q1 2013 versus Q1 2012 levels. Operating losses widened by $14M year-over-year due to declining revenue and $14M in increased pension expenses as part of the division's Voluntary Retirement Incentive Program. This program is estimated to incur $6.4Min additional expenses in future quarters as well. WPO closed the sale of its Everett, WA community daily newspaper publication (The Herald) to the Sound Publishing subsidiary of Black Press Group Ltd in March. Under the terms of the agreement, the purchaser received most of the assets and liabilities; however, certain land and buildings which were worth $10M and other assets and liabilities were retained by WPO. WPO has formally expressed interest in selling its headquarters building located in Downtown Washington, DC and will introduce an online paywall this summer.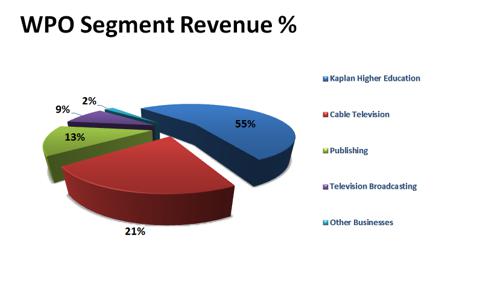 Source: Washington Post Q1 2013 8-K Earnings Release
WPO's best performing divisions in Q1 2013 was its broadcast TV division and its cable television division, which continues the trend we've seen from last year. WPO's TV broadcasting division saw revenue growth of 4.6% and operating income growth of 14.1% in Q1 2013 as growth in advertising demand across many product categories and increased retransmission revenues was partially offset by a $2.8 million decline in political advertising revenue. WPO's cable television operations saw 5.2% revenue growth and 11.7% operating income growth due to rate increases for many subscribers in June 2012, partially offset by a decline in basic video subscribers.
WPO's Kaplan Higher Education subsidiary was formerly WPO's high-flying star performer but is now a broken growth company. Kaplan is facing industry related headwinds thanks to lower student enrollments and government reforms of the industry, which explains how Kaplan's adjusted profits declined by nearly 100% in 2012 versus 2011 and suffered $111.6M in asset impairments. WPO's Kaplan, Incorporated division was able to narrow its operating losses by $7.85M on the strength of reduced corporate expenses as well as revenue growth from its Kaplan Test Preparation Business and International operations. Kaplan Inc.'s revenue excluding KHE grew by 7.4% year-over-year. Although Warren Buffett endured a negative total return of 45.25% on his WPO shares since it peaked at $999.50 on December 30, 2004, at least he is earning a 159% yield on his original cost of $6.15/share and his shares have increased at a compounded annual growth rate of 11.4% excluding dividends received.
Source: Morningstar Direct
Gannett Co: Berkshire still owns $35.5M of Gannett, which represents 76bp of GCI's outstanding market cap. We think Gannett is actually one of the better print media companies out there. Although that's not saying much due to the secular declines in the industry, Gannett was still able to generate $665M in free cash flows in FY 2012. Considering that its market cap is only $4.7B, we can take note of this 14.2% free cash flow to market price "yield" as well as its 3.8% dividend yield. Gannett generated solid performance in Q1 2013 and beat adjusted analyst EPS expectations by $.03 due to revenue growth from circulation and its TV broadcasting division and this prompted GCI investors to take profits in GCI as its share price had increased by 17% before it released its Q1 2013 results. We're starting to warm up to Gannett ourselves as it has diversified out of print media and gets 30% of its revenue from high growth media content areas. We'd consider buying some ourselves if a major pullback occurred. However it still has to deal with the declines of the print media business, which still brings in 70% of the company's revenue even during years that have the Presidential elections and the Summer Olympics. We believe that reducing the share of revenue that comes from print media operations was part of the reason why GCI recently announced its $1.5B acquisition of Belo Corporation (BLC).
Source: Gannett Q1 2013 Earnings Release
Gannett saw its total revenue increase by 1.6% year-over-year in Q1 2013 on the strength of its broadcasting operations. Broadcasting revenues grew by 8.7% year-over-year and accounted for the majority of GCI's revenue growth in the quarter. Publishing revenue decreased by 0.3% in Q1 2013 as GCI's all access content subscription model continued to drive circulation revenue growth. GCI saw 8.6% revenue growth in publishing circulation revenues, which was offset by a 4.5% decline in publishing advertising revenue. GCI also incurred $10M in non-cash asset impairments, efficiency-driven facility consolidation and workforce restructuring charges, down from $22.7M year-over-year. The company also spent $63M on acquisitions in 2012 but the company saw a 10% year-over-year increase in free cash flows excluding changes in working capital assets and liabilities.
Source: Morningstar Direct
In conclusion, we can see why Warren Buffett has not given up on the newspaper business. Warren Buffett is not the only famous investor investing in the newspaper business as every major publicly traded newspaper chain has at least one notable value investor that holds a significant equity stake. Berkshire has its equity and debt stakes in three companies that publish newspapers and one company that used to publish newspapers. Berkshire has also purchased nearly six dozen newspaper publications outright. We are surprised that Berkshire has sold off all but 88K shares of its entire equity stake in Lee Enterprises considering that Lee's EBITDA margin is higher than its peers and because Lee has been making steady progress in paying down its debt even with the burden of higher interest rates. At least Berkshire reiterated its commitment to Lee by refinancing its legacy Pulitzer debt. Lee is also the only one of Berkshire's newspaper industry marketable security investments that is a pure-play newspaper company. WPO only gets 14% of its revenue from newspapers, Gannett's success in 2012 was due to its TV broadcasting operations and Media General sold off all of its newspapers to Berkshire. Our upcoming report will analyze and evaluate Berkshire's MEG and LEE holdings.
Disclosure: I am long BRK.B, LEE. I wrote this article myself, and it expresses my own opinions. I am not receiving compensation for it (other than from Seeking Alpha). I have no business relationship with any company whose stock is mentioned in this article. This article was written by an analyst at Saibus Research. Saibus Research has not received compensation directly or indirectly for expressing the recommendation in this article. We have no business relationship with any company whose stock is mentioned in this article. Under no circumstances must this report be considered an offer to buy, sell, subscribe for or trade securities or other instruments.