If you look at the basic chart for General Electric (NYSE:GE) for the past three months you'll see that it basically flat-lined. You can see a bottom, which occurred on April 23, 203, from which the stock has bounced upward 10.16%. During the same time the S&P500 is up only 4.11%. In my article published April 22, 2013, I stated that I was buying the stock because I felt the yield support right there and then was good; I definitely picked a really good time to purchase a batch of the stock for the 10% capital appreciation. A couple of months have passed and I want to evaluate on a fundamental, financial and technical basis if it's worth buying more of the stock right now.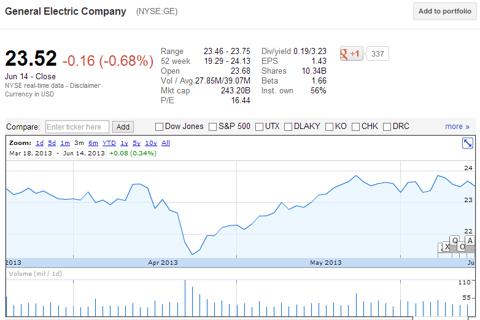 Fundamentals
General Electric currently trades at a trailing 12-month P/E ratio of 16.45, which is fairly priced, but I mainly like to purchase a stock based on where the company is going in the future as opposed to what it has done in the past. On that note, the 1-year forward-looking P/E ratio of 12.92 is currently inexpensively priced for the future in terms of the right here, right now. Next year's estimated earnings are $1.82/share and using that value I'd consider the stock cheap until at least $27.30. The PEG ratio (1.51), which measures the ratio of the price you're currently paying for the trailing 12-month earnings on the stock while dividing it by the earnings growth of the company for a specified amount of time (I like looking at a 5-year horizon), tells me that General Electric is fairly priced based on a 5-year EPS growth rate of 10.87%.
Financials
On a financial basis the things I look for are the dividend payouts, return on assets, equity and investment. General Electric boasts a dividend of 3.23% with a payout ratio of 53.7% while sporting return on assets, equity and investment values of 2.1%, 11.6%, and 2.8% respectively; which are all respectable values. If maybe you feel the market will retract a little more and would like a safety play then maybe the 3.23% yield of this company is good enough for you to take shelter in for the time being. General Electric goes ex-dividend on June 20, 2013, with a $0.19/share dividend and is payable to shareholders on July 25, 2013.
Technicals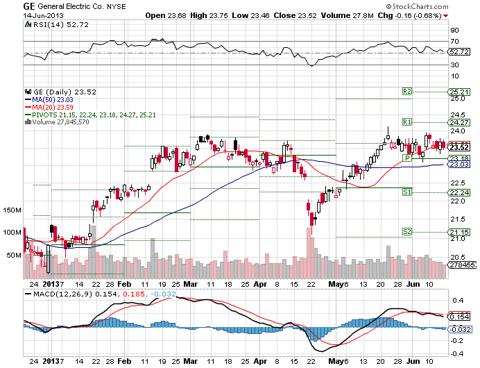 Looking first at the relative strength index chart [RSI] at the top I see the stock at around a middle ground value of 52.72 but with a downward projection, this tells me that there may be a little bit of downside to the stock. To confirm that I will look at the moving average convergence-divergence (MACD) chart next and see that the black line has crossed below the red line and that the divergence bars are increasing in height to the downside indicating there may be a bit of downside coming. As for the stock price itself ($23.52), it's been hugging the 20-day moving average tightly since the beginning of June and I'd expect the 20-day moving average to act as resistance. If the stock can break free of the 20-day moving average I can see it going to $24.27, but if it can't I see it going down to $23.18 for a risk/reward of -1.45% to 3.19%.
Recent News
GE received approval from the FDA for its Brivo Plus C-arm surgical imaging device and it is now available for use in the states.
CEO of GE Capital will be replaced by current GE CFO Keith Sherin.
The aviation unit at GE plans to increase production of commercial engines next year to 3,800.
Conclusion
From the information I gathered here I see GE as a short-term value play with great growth potential while it pays you a great dividend yield. Value, growth and a dividend are the holy grail of a stock to me. Technically there may be a little downward movement on the stock with what I calculate to be a risk of -1.45% for the immediate short term, which will make me wait a couple of days before buying a little bit more of the stock. Maybe I'll pull the trigger after the Fed speaks this week. Either way I will definitely be purchasing some more shares of this great company before the ex-dividend date.
Disclosure: I am long GE. I wrote this article myself, and it expresses my own opinions. I am not receiving compensation for it (other than from Seeking Alpha). I have no business relationship with any company whose stock is mentioned in this article.
Disclaimer: These are only my personal opinions and you should do your own homework. Only you are responsible for what you trade and happy investing!