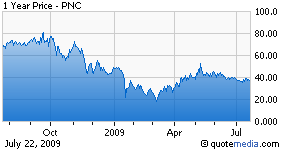 PNC Financial Services Group (NYSE:PNC) is expected to report Q2 earnings before the market open on Thursday, July 23 with a conference call scheduled for 11:00 am.
Guidance
Analysts are looking for EPS of 45c on revenue of $3.65B. The consensus range for EPS is 20c to 82c, while the consensus range for revenue is $3.26B to $3.80B, according to First Call.
Analyst Views
While an RBC analyst predicts that PNC Financial's results will be negatively impacted by the recession and credit deterioration, the analyst notes that there are some factors which should limit the impact of the macro economy on the bank, MSN Money reported. For example, PNC's results should be boosted by the revaluation of its investment in BlackRock (NYSE:BLK) and the strength of its securities servicing business, according to RBC, which expects the bank to report "decent" numbers compared with its peers.
Meanwhile, investors will want to find out tomorrow whether PNC has been able to improve the performance of National City, which PNC bought last year in a $3.9B deal. Investors will also attempt to determine whether PNC's retention of the TARP funds it received is hindering the bank in any way.
Rochdale Securities analyst Richard Bove predicts that U.S. regulators will influence the management of PNC, and possibly force it to sell assets, according to Bloomberg. Bove, who believes interference by the government will make it more difficult for PNC to manage itself, has a Neutral rating on the stock.
PNC investors may be encouraged by the fact that a number of banks which announced results today reported better than expected EPS. US Bancorp (NYSE:USB), Wells Fargo (NYSE:WFC), and Northern Trust (NASDAQ:NTRS) all beat consensus EPS estimates.