Unlike this morning's Empire Manufacturing report which was stronger than expected on the surface only, the NAHB Homebuilder Sentiment Survey for June showed strength on the headline reading and beneath the surface. While economists were expecting the headline reading to come in at 45, the actual level came in at 52. This is the first time that the headline reading has been above 50 since April 2006. It was also the largest one-month increase in the headline index since September 2002.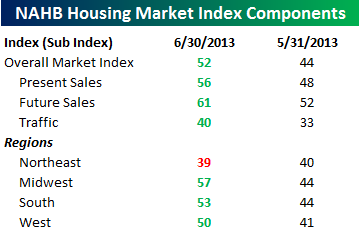 The table to the right summarizes the current levels of the NAHB Sentiment Index's subcomponents. As shown, Present Sales, Future Sales, and Traffic all saw big increases and hit their highest levels since 2006. In terms of regional activity, the Northeast was the only region that showed a decrease this month (confirms weakness in Empire Manufacturing report this morning). Each of the remaining three regions were all above 50, and in the Midwest, sentiment among homebuilders actually reached its most bullish levels since at least 2005.
This morning's NAHB data provides further confirmation that the US residential housing sector has rebounded, which is a positive. In the short term, however, it will add upside pressure to interest rates as investors potentially bring forward their estimates for when the Fed will begin the 'dreaded' taper.