I have previously briefly covered Seagate (NASDAQ:STX) as a portion of my dividend portfolio for the strong-stomached. STX has had a huge run since the beginning of the year, with an appreciation of 44% YTD, a forward P/E of 7.3, and a dividend yield of 3.2%. It's been a great addition to the portfolio, but there have been several articles written in the last month that more than adequately cover the company's outlook. Instead of beating a dead horse, with this article I am interested in comparing Western Digital (NYSE:WDC) and Seagate in an effort to identify which company is the better value.
YTD Performance



(Click to enlarge)
(google.com/finance)
Both companies have had a great six months with WDC having appreciated a bit more with a 50% return. Both companies are pledging and performing buybacks and dividend payments that match 100% of FCF for the year. This means that WDC is committing 2.4 billion and has a buyback yield of 16% and STX is committing 3.3 billion and has a buyback yield of 21%.
Price
Seagate's price to book value has appreciated significantly more over the last three years than Western Digital, which still remains below the average for the S+P 500. This would be more concerning if the increase in price was not supported by increasing earnings over the same time period, but both companies have maintained relatively low P/E ratios as prices have increased.
FCF and Fair Value
Seagate has maintained a higher FCF in the last two years and considering that the hard drive market is highly consolidated and pretty stable, both companies should be able to maintain this type of FCF for the near future. Using the analyst estimates for FY 2013 EPS of 5.29 and 8.33 for Seagate and Western Digital respectively and their current P/E ratios of 7 and 8.1, I calculate a fair value of 37.19 and 67.47.
ROIC versus Debt
Looking at the companies balance sheets, Seagate has a weighted average cost of capital (OTC:WACC) of 7.6 versus Western Digital's WACC of 4.6. This indicates that Seagate has used more financing in order to grow the business in the past than Western digital has. That being said, Seagate's Return on Invested Capital of 37.2% is much greater than Western Digital's 18.9% indicating that is has maintained a higher return for the capital that is has invested even though it has had to take on some debt to finance it. Both companies have pretty decent balance sheets without a huge amount of debt and have debt/equity ratios of 0.75 for Seagate and 0.21 for Western Digital. Western Digital carries less long term debt while maintaining a reasonable ROIC. Seagate carries more long term debt, but has a higher ROIC and is working on retiring it's higher interest long term debt and has recently completed a tender offer for the 7.75% interest senior notes due in 2018.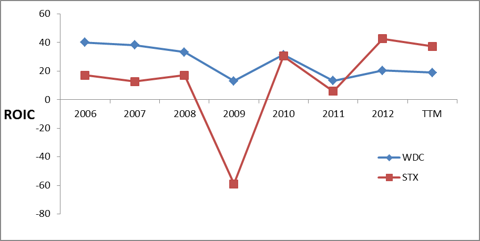 Concerns about Dwindling PC Sales
There are concerns about dwindling PC sales putting downward pressure on earnings for both of these companies. I think these worries are a bit overblown as demand for data storage continues to increase as more information is stored remotely and video and graphics become increasingly accessed across multiple platforms, not just by desktop PCs. This type of remote storage typically requires multiple backups of all stored data, usually 3 times over and this takes serious storage that can only be provided currently by large hard drives. Solid state drives will increasingly become a legitimate option for tablets and laptops as their capacity increases, but for mass storage of data, there currently is not a better solution than multiple large hard disk drives. In whatever way the industry shifts, it will be a significant hurdle for both companies and they have taken steps to address developing technologies through strategic acquisitions of La Cie and HGST.
Overall
Between these two companies, Western Digital represents the better value at current price levels. Typically I would be drawn to Seagate's higher FCF and larger percentage of return of value to shareholders, but the price has appreciated so greatly that until it drops a bit or earnings support further appreciation I will not be purchasing at these levels. Seagate is maintaining a higher ROIC, but has taken on some debt in order to do so and is now working to eliminate it. As they further clean up their balance sheet, they should see more appreciation in the stock price and have more opportunities for strategic acquisitions. Western Digital has not had as significant an increase in P/BV over this time period, has a cleaner balance sheet even though ROIC is a bit lower and still looks to have the earnings to support some additional upside from here. Don't get me wrong, I think both companies will do well in the near future, but as a whole picture, Western Digital is a better value at current price levels.
Disclosure: I am long STX. I wrote this article myself, and it expresses my own opinions. I am not receiving compensation for it (other than from Seeking Alpha). I have no business relationship with any company whose stock is mentioned in this article. I have recently taken some profit in part of my position in STX at the recent spike up to $42 after Q3 earnings.