Since putting in a bottom on 5/22 at 1.0186, the Swiss franc has appreciated 6.5%, lifting futures to four month highs as of last week. I am operating under the influence that an interim high was reached last week at 1.0962. Let the Fibonacci levels on the chart below guide you on this trade, as I am targeting a move back to the 50 day MA (dark blue line) in the coming weeks.
On the docket this week domestically, the FOMC is meeting Tuesday and Wednesday, and the SNB gets together on Thursday. While I see the U.S. keeping rates at 0.25% and the SNB maintaining 0%, the FX markets could react on comments or any indication on the timing of IR changes in the future. The primary goal of the SNB is to ensure price stability while taking due account of economic developments. In so doing, it creates an appropriate environment for economic growth. Translation: a stronger franc is not conducive for growth moving forward. In a press release after a prior meeting, the SNB commented that "an appreciation in Swiss franc will threaten the price stability and may cause important damages to Swiss economy." As the global economic situation is not very appetizing, the SNB is said to be ready to proceed with unlimited foreign exchange purchases to defend its currency, i.e., price manipulation as currency wars heat up.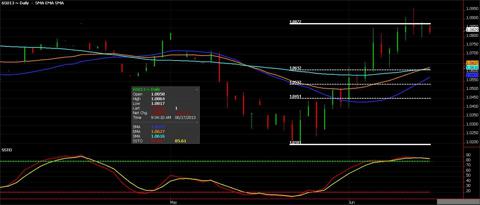 Click to enlarge
To capitalize on potential depreciation in the swissie, I am advising bearish exposure. My suggested play is short September futures while simultaneously selling out of the money puts 1:1. The idea is to make more money in the futures leg than you lose in your put option leg while cushioning the trade if prices trade north temporarily. Those more risk averse traders just looking to play the Central Bank meetings this week could buy July put options. With only 19 days until expiration, if a move does not happen immediately, this will be a loser. Be willing to risk the entire premium paid. At the money strikes cost $1400, and going out two cents the cost is $550… pick your poison.
Risk Disclaimer: This information is not to be construed as an offer to sell or a solicitation or an offer to buy the financial products herein named. Trading futures, options, and Forex involves substantial risk of loss and is not suitable for all investors. Past performance is not necessarily indicative of future results. This report contains research as defined in applicable CFTC regulations. Both RCM Asset Management and the research analyst may have positions in the financial products discussed.
Disclosure: I have no positions in any stocks mentioned, and no plans to initiate any positions within the next 72 hours. I wrote this article myself, and it expresses my own opinions. I am not receiving compensation for it. I have no business relationship with any company whose stock is mentioned in this article.