Last week was a big one for Cliffs Natural Resources (NYSE:CLF) as they announced that they had to temporarily suspend their Chromite Project Environmental Assessment Activities and that they prolonged their Iron Ore Pellet Sales Contract with Essar Steel Algoma Inc. CLF's stock price increased by 6% intraday yesterday, but fundamentally, what do these announcements mean for the company in the near future - and how can CLF be traded as result?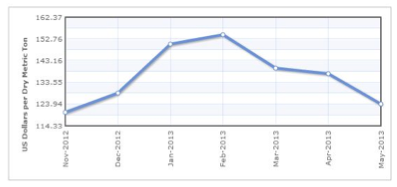 CLF's halting of their Chromite project came as a result of numerous environment and economic issues with the government of Ontario. The concerns came with the delayed approval of the Terms of Reference for the provincial Environment Assessment process; unresolved land surface rights issues; and unfinished agreements with the government of Ontario that would put in jeopardy economic viability. As soon as these issues are resolved, CLF said that they would continue with the project. The only problem with this is that Canada has one the strictest mining laws in the world, and these issues might prove hard to overcome in the "Ring of Fire" region of Ontario.
CLF already has mines in Canada, but these, coupled with American mines, are proving to be the ones with the most long term environment and mine closure obligations. The two mines operated in Eastern Canada had obligations of $73.4M, below the $83.1M for the five US mines. One can only imagine how much this figure would increase if CFL had the same number of mines in Canada as they do in the US. Although the environmental obligations would increase, so would the chromite extraction which represents "an attractive diversification opportunity" for the company that is currently only operating with iron and coal. Iron prices have been decreasing for some time now, so it would be wise to hedge these effects with some diversification that chromite might bring.
As mentioned, the other major announcement from CLF was the prolonging of their contract to supply iron ore pellets to Essar Steel Algoma Inc. The previous agreement was supposed to end in 2016. The contract includes Essar's minimum volume iron ore pellet purchases from CLF beyond 2016 and pricing for 2013 through 2024. The extension of this new contract came at perfect time CLF to give its iron ore segment a pick-me-up after poor earnings announced in April. Constantly declining iron ore prices, as can be seen from the chart, and reduced volume hurt earnings this previous quarter. Sales for the quarter were at $1,140.5M, down from the 1,212.4M reported in the same quarter in the previous year. CLF has predicted this to change as they raised their predicted iron ore sales for FY13 from 20M to 21M. The increase was argued to be as a result of increased pellet demand from U.S. based customers. As there is more demand for steel, proven by the increased auto sales index since late April, prices will start to increase again which is a positive for CLF and their iron ore pellet sales. The agreement comes to provide some more certainty to CLF volumes after 2016 bringing what might have been concerned investors back into the stock.
Additionally, CLF's forward PE is at 9.54, which is below our sub-15 threshold for undervalued companies. We believe there is some upside in this company. As mentioned, the Essar contract is a long term positive for the company as there is already a buyer for the mined iron ore.
Recommendation: Long CLF.
Disclosure: I have no positions in any stocks mentioned, and no plans to initiate any positions within the next 72 hours.
Business relationship disclosure: The Oxen Group is a team of analysts. This article was written by David Ristau, one of our writers. We did not receive compensation for this article (other than from Seeking Alpha), and we have no business relationship with any company whose stock is mentioned in this article