After a spectacular beginning to the year, the S&P 500 has retraced a portion of its gains. Equally important, the stock market has seemed to change character and entered a more volatile period. There are many factors for this change in character such as signals from the Fed that it is ready to step back on its liquidity programs, extreme volatility in overseas markets due to the unwinding of the yen carry trade, and weakening economic signals as well as potential buying exhaustion after such a sustained rise in prices
The index has climbed 144% off its March 2009 low, 51% from its October 2011 low, and this most recent move higher began November 2012 out of the "fiscal cliff" discussions and has moved 21% higher in that time. Starting in mid April, the stock market embarked on an exceptionally powerful, broad-based rally, which I anticipated in this article.
Recently, the market made a new, all-time high of 1687 on May 22, and since then dropped 3.6%. Although the drop seems mild, certain segments of the market have been brutally sold off including emerging markets, Japanese stocks, and interest rate sensitive issues. Additionally, many speculative stocks that exploded higher during the April-May bullish time period were severely sold off in this more risk-averse time period. In late May, I wrote this article advocating traders to temporarily abandon the "buy the dip" mentality.
In this article, I will discuss the possibility that the market has successfully weathered the worst of the storm with the impressive resilience of price in the face of these negative factors. Further, there have been some constructive developments in terms of market internals that make getting long stocks at this juncture an attractive proposition especially given a close stop out point. Finally, I do want to stress that the some of the factors that had me concerned earlier still persist, so I will employ strict risk management on the trade.
Potential Double Bottom
The chart below of the S&P 500 futures makes the double bottom very clear: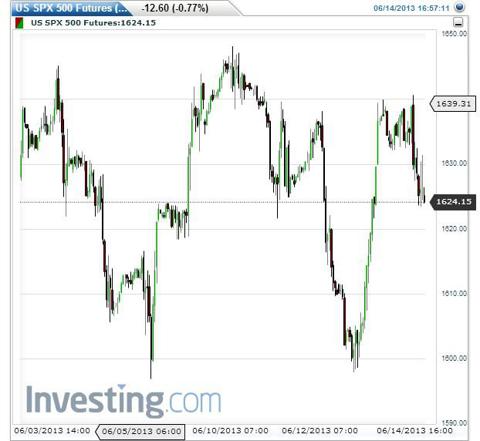 Click to enlarge
The fact that buyers came in and furiously bought twice at the 1600 level is a good sign for the bullish case. Further, in our quest to maximize reward and minimize risk, it tells us a breach of this level indicates our thesis is flawed.
Currently, we are about 1.5% away from this level, so the risk is low and contained. Someone who is more risk-averse could choose to cut losses if this level is breached and a person with more faith on the long side could choose to cut losses if we close below these levels. Of course, there are advantages and drawbacks to both approaches.
An ETF alternative for the S&P 500 is the SPDR S&P 500 ETF Trust (NYSEARCA:SPY).
High Beta Stock Indices Outperforming
In past articles, I have detailed the significant threats to this uptrend. However, one consistently bright spot has been the outperformance of small caps and cyclical stocks. In fact, both have been trading sideways during this period of uncertainty and now seem to be on the verge of breaking out.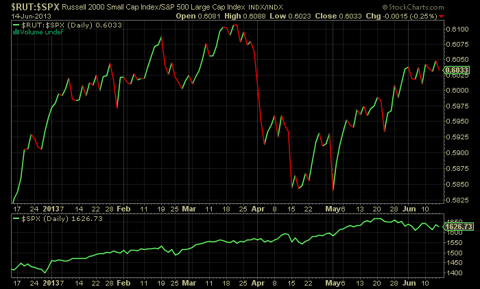 Click to enlarge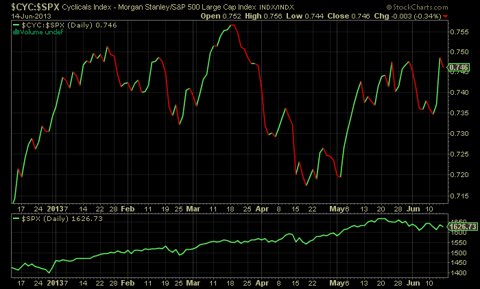 Click to enlarge
Both of these indicators reflect how much risk traders are willing to take and how they feel about future economic conditions. The strong performance of these coupled with the weak performance of interest rate sensitive securities such as high-yield bonds and utilities shows that some of the money is rotating into these securities during the sell-off. For a significant correction to occur, these would have to lead on the downside. This may yet happen, however as of now there are no signs that it will.
As long as these remain in their uptrends, I think we should consider this action to be more of a rotation - money staying in the market, moving to different stocks and sectors - rather than investors exiting the market. Thus, our efforts would be best served looking for stocks and sectors that will lead the market higher.
An ETF alternative for small caps is the iShares Russell 2000 ETF (NYSEARCA:IWM).
Another measure giving similar signal as the chart above is the ratio of the semiconductors to the Nasdaq. The semiconductors are the high beta group of the tech sector as they are the most vulnerable and leveraged to shifts in demand. Their outperformance during this time of uncertainty is a good sign for bulls.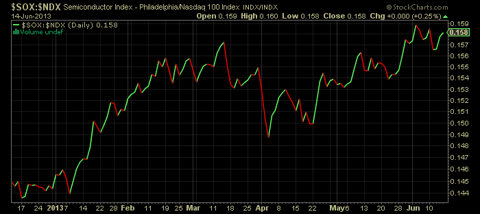 Click to enlarge
A comparable ETF for the semiconductors group is the Merrill Lynch Semiconductors HOLDRS ETF (NYSEARCA:SMH) and for the Nasdaq is the PowerShares QQQ Trust Series 1 (NASDAQ:QQQ).
Sentiment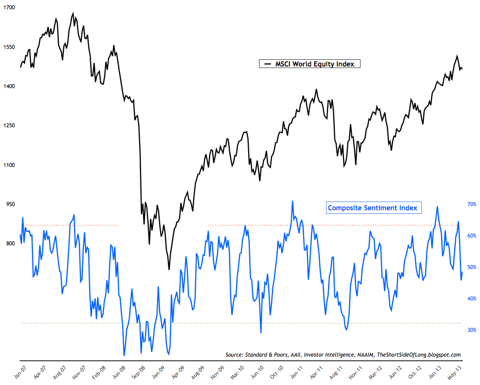 Click to enlarge
With this sell-off, sentiment which was veering into dangerous territory has also swiftly come back to more neutral levels. This adds to my belief that there is less risk buying at these levels than in previous weeks.
Conclusion
In recent articles, I have struck a bearish tone as there were certain issues that had me concerned. Many of these still persist but it has to be noted that despite the turbulence of this past week, there have been some positives emerging. In an article last week, I advised caution as many sectors were steadily selling off. These included emerging markets (NYSEARCA:EEM), high-yield bonds (NYSEARCA:HYG), utilities, Japan (NYSEARCA:EWJ), and commodities (NYSEARCA:DBC).
All of these seem to have found their footing in the past week, though of course it is too early to say so decisively. Therefore, it is important to remain vigilant with managing risk. To be honest, I expected a bigger and more violent sell-off, however based on recent evidence, I don't think it is forthcoming. Instead of the market weakening, it seems to be strengthening with signs of accumulation and outperformance in key areas.
Given this perspective, I have to alter my stance and focus on opportunities on the long side. In addition to the opportunity highlighted above with the S&P 500, traders could seek out those stocks with good fundamentals showing signs of accumulation and institutional support. In a future article, I will give the list of stocks that interest me.
Disclosure: I have no positions in any stocks mentioned, and no plans to initiate any positions within the next 72 hours. I wrote this article myself, and it expresses my own opinions. I am not receiving compensation for it (other than from Seeking Alpha). I have no business relationship with any company whose stock is mentioned in this article.