We were pleased that SUPERVALU (SVU) was able to consummate its deal with Cerberus Capital Management and Cerberus's strategic partners Kimco Realty, Klaff Realty and Schottenstein Real Estate Group with regards to the divesture of SVU's Albertsons, Acme, Jewel-Osco, Shaw's and Star Market retail grocery store operations, as well as the related in-store pharmacies supporting these stores. While SVU will only realize $100M in cash from the sale of these stores and has recognized a $1.15B accounting loss from the sale of these operations, at least it was able to shed $3.2B of outstanding debt. Furthermore, it allows SVU to close the book on its 2006 debt-funded acquisition of Albertsons and give its organization a somewhat fresh start. We can tell that the Albertsons acquisition did not work out because SVU's operating cash flows declined by 48% from 2008 to 2013 and it wrote-off $8B in impairment charges for goodwill, intangible assets and losses from selling off the legacy Albertsons properties. In addition to SVU disposing of all of the stores it acquired from Albertsons, it also sold off or closed legacy SVU operations such as bigg's, Scott's Food & Pharmacy and Sunflower Market during the 2006-2013 period when SVU owned the New Albertsons Inc operations.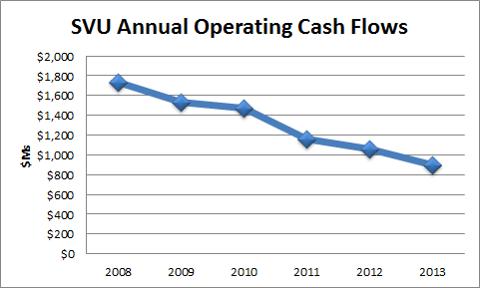 Source: Morningstar Direct
In addition to the sale, the Cerberus consortium created a subsidiary (Symphony Investors) to acquire up to 30% of SVU's outstanding shares at $4/share in a tender offer. Because Symphony Investors was not able to acquire 19.9% of SVU's shares during the tender offer, SVU was obligated to issue new SVU common shares to Symphony at $4/share to enable it to acquire 19.9% of SVU's shares. Symphony Investors owns 54M shares of SVU and this represents 21% of SVU's outstanding. SUPERVALU has a new CEO (Sam Duncan) and a new Non-Executive Chairman (Robert Miller), however, SVU's Interim CEO Wayne C Sales was retained on the new SVU's board of directors. Five of SVU's old directors (Ronald Daly, Susan Engel, Edwin "Skip" Gage, Steven Rogers and Kathi Seifert) resigned from the firm's board of directors in March after SVU sold the New Albertsons Inc subsidiary to Cerberus. SVU will be adding its new CEO Sam Duncan to the board of directors and Cerberus nominated four other non-employee directors to SVU's board (Robert G. Miller, Mark A. Neporent, John T. Standley and Lenard Tessler.
We were glad to see that the $541M in operating cash flows during the Q4 2013 period was in line with the $538 used in Q4 2012. SVU generated $534M in free cash flows during the FY 2013 period as declines in its operating cash flows were offset by reduced capital investment expenditures. Of the $534M in FCFs during 2013, $306M was attributed to the New Albertsons Inc operations that SVU sold to Cerberus and $228M was attributed to SVU's ongoing operating activities.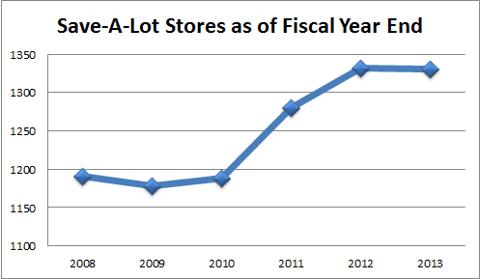 Source: SVU's 2008-2013 Annual Reports
Save-A-Lot's revenue declined by 1.5% as gains from a larger store footprint (on a year-over-year basis) were more than offset by a -2.6% Identical Store Sales decline. Adjusted segment operating income declined by 9.25% due to the negative ID sales performance and price-reduction investments to maintain its competitive position. We think Save-A-Lot's Former President and CEO Santiago Roces retired due to ill health as SVU's new management was sick and tired of hearing why Save-A-Lot's operating income has declined-a-lot in FY 2013. SVU's new CEO Sam Duncan tapped a former retail industry veteran from the Joe Albertson era Albertsons (before Albertsons declined under his successors such as Gary Michael) named Richard Casteel to replace Roces.
SVU's CEO Sam Duncan met with 20 of Save-A-Lot's licensees who collectively owned over 400 stores and they informed Duncan that Save-A-Lot's cost structure had gotten out of the line, which meant the licensees and corporate stores were not as competitive as they should be. Save-A-Lot merchandise mix had strayed from the private label focus that drove compelling price points and brought great value to customers. And as a result, the store growth was simply not happening.
Moving forward, SVU will focus on making Save-A-Lot a low-cost operator, both in its stores and at the headquarters. One of first things the new management did was reduced its inside margin on a number of key items to ensure it was providing the customers with the best value possible while driving home the message of low price. This was partially funded by the elimination of around 100 positions in its St. Louis headquarters, a difficult decision but one that was necessary, as the division had become too top heavy with its expense structure.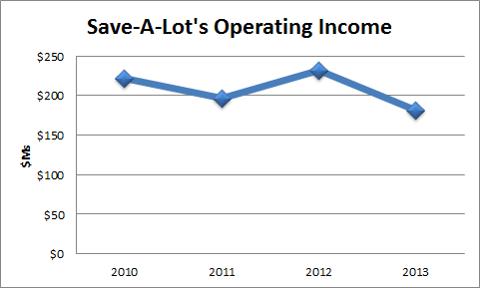 Source: SVU's 2012 Amended Annual Report and SVU's 2013 Annual Report
SVU's Traditional Retail Food business continues to face the most challenges amongst SVU's business units even after SVU sold its New Albertsons Inc store operations (Albertson, Acme, Jewel-Osco, Shaw's and Star Market) to Cerberus. Q4 2013 revenues from this division were $1.09B and represented a 4.4% year-over-year decline versus last year's comparable quarter. This was attributed to negative same-store sales of 4.1% and a lower level of promotional spending. Retail Food operating loss was $238 million, or 21.9 percent of net sales, and included $207 million in pre-tax charges primarily related to non-cash asset impairments. Excluding these charges, retail food operating loss was $31 million, or 2.8 percent of net sales. Last year's retail food operating loss was $90 million, or 7.9 percent of net sales, and included $48 million in charges primarily related to non-cash asset impairments and employee severance. Excluding these charges, last year's retail food operating loss was $42 million, or 3.6 percent of net sales. The improvement in retail food operating loss as a percent of net sales, excluding these charges, was driven by the benefit from the Company's cost cutting initiatives which were partially offset by the deleveraging impact of negative identical store sales.
While Kroger (KR) has seen its ID sales slip from 5% in Q3 2012 to 3% in Q4 2013, Kroger can afford to sacrifice more margin than SVU if it wants to wage a price war. We can't imagine that Kroger enjoys a price war any more than SVU, unless it enjoys the fact that the only way it can grow its EPS is through share repurchases. Maybe Kroger's management enjoys flat operating income growth and using its free cash flows to repurchase shares for solid EPS growth. We reiterate that it sounds like the operating and administrative strategy of Connie Mack, the former Owner and Field Manager of the Philadelphia Athletics baseball team. We expect such a strategy to yield solid rewards for executives (Kroger's Four Highest Paid Executives saw compensation increases of 60%-90% from the 2010 to 2012 calendar years) while forcing Kroger's store level operations employees to make due with scant wage increases.
SVU's new leadership hopes to stabilize and improve the Traditional Retail Food revenues by creating a sales-driven culture that emphasizes and focuses on the following key areas:
Decentralizing operations and business decision making. SVU will empower its banner leadership teams to make merchandising, marketing and operating decisions because they are the ones closest to the customer and they know their markets best.
Pricing.: SVU will focus on the right pricing on the top 50 items in its markets and its banners have all been given roadmaps for 30, 60, 90 and 180 days, following the close of the deal. These roadmaps outline what is expected of them over this timeframe, including guidelines around pricing.
Perishable/Fresh Items: By implementing a broader set of standards around operations and product specifications we believe SVU can better differentiate itself in these departments.
Cost Management and reducing expenses: SVU was able to reduce 1,100 corporate overhead positions within 90 days of the sale of the New Albertsons Inc stores.
SVU's Independent Wholesale Grocery Distribution Business's revenue of $1.83B in Q4 2013 declined by $26M (1.4%) versus Q4 2012 ($1.86B). The division saw its quarterly adjusted operating income decline by 2% ($1M) year-over-year due to increased investments in price competitiveness. SVU's Independent Business's reported results declined by $18M primarily due to $11M in non-cash impairment charges and $6M in increased severance costs. This decline reflects a lower level of new business during the quarter which resulted from a challenging affiliation environment since the Company announced it would review strategic alternatives. Now that SUPERVALU has shed the stores it acquired from Albertsons, SVU's Independent Business is once again SVU's largest business segment as measured by revenues. SVU's new leadership has recognized the work that Janel Haugarth has put in as President of SVU's Independent Business and they have retained her to continue leading the business. SVU's new management visited with its independent retail customer base and they have established a new National Retailer Advisory Group to facilitate feedback and information sharing.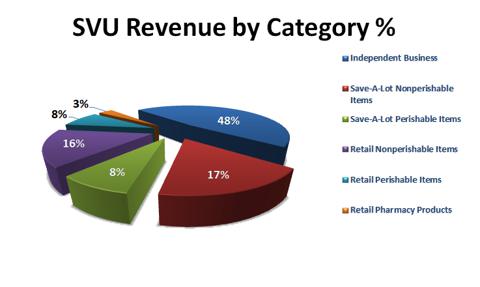 Source: SVU's 2013 Annual Report
We maintain that the company's efforts to improve pricing as well as Cerberus's support will result in market share stabilizing, which means that its competitors can't rely on SVU to continue ceding market share. We can see this as Kroger has seen its identical stores sales growth narrow as well during the most recent quarter and Safeway (SWY) has seen its operating income recede in FY 2012 (-2.69%) and Q1 2013 (-5.27%). Kroger's adjusted EPS grew by 16%, however its adjusted EBITDA only grew by 3.75%. While Kroger and Safeway have more resources to sustain a price war than SVU, we maintain those companies don't want to go through a price war especially when each store is devoting every dollar it can to a share repurchase program to boost EPS. We previously wrote a two part series in which we outlined synergies that would accrue to a grocery store chain if it was to take out SVU in whole or in part.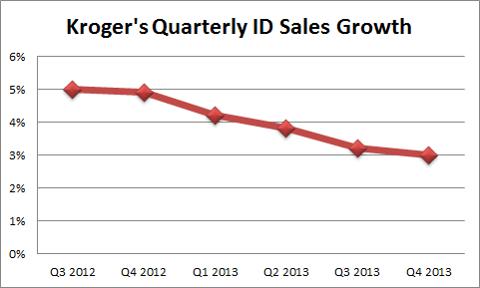 Source: Kroger's last six earnings releases
In conclusion we still believe that SVU's shares are still undervalued. While we were shocked at the regression of the company in 2013, we were able to still realize a 40% total return on our most recent investment in the company because it was able to shed its New Albertsons Inc stores as well as $3.2B in debt that was associated with that awful acquisition. We don't think that SVU is anything like blue-chip grocery retailers Wal-Mart or Kroger. However, we don't think that SVU is like Winn-Dixie, which went bankrupt in 2005. SVU has been more aggressive in reducing its operating expenses and capital expenses and reinvesting those savings in lower prices for its customers. We like the back-to-basics strategy announced by SVU's new management and we like that it has respected investors like Cerberus and Jana Partners backing it. We also believe that SVU's management should retain Goldman Sachs and Greenhill in order to discuss strategic alternatives with its remaining operations because we believe that SVU's remaining assets are still worth more than its $6.53/share price on a sum-of-the-parts enterprise value basis net of its applicable remaining debt and pension liabilities.
Disclosure: I am long SVU. I wrote this article myself, and it expresses my own opinions. I am not receiving compensation for it (other than from Seeking Alpha). I have no business relationship with any company whose stock is mentioned in this article.
Additional disclosure: This article was written by an analyst at Saibus Research. Saibus Research has not received compensation directly or indirectly for expressing the recommendation in this article. We have no business relationship with any company whose stock is mentioned in this article. Under no circumstances must this report be considered an offer to buy, sell, subscribe for or trade securities or other instruments.