By Paul Carton
Jean Crumrine co-wrote this article
The mixed picture we reported back in June has worsened in ChangeWave's July consumer spending survey. And for the first time in four months we're seeing an actual pullback in the 90-day spending outlook going forward.
The ChangeWave survey of 2,681 U.S. consumers, completed July 6th, has also picked up a significant worsening in consumer sentiment and expectations.
But is this new pullback simply a case of summer doldrums and the normal type of bumpiness we also saw coming out of the last recession – or is it the start of a further sustained slowdown?
A Consumer Spending Setback
After three consecutive months of improvements, our July survey has registered a setback in U.S. consumer spending.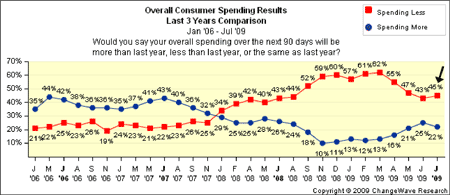 Better than two-in-five U.S. respondents (45%) now say they'll spend less over the next 90 days – 2-points worse than the previous survey in June. Only 22% now say they'll spend more – 3-points worse than previously.
A Mixed Bag Within Spending Categories. While several spending categories have registered a slight pullback, a couple of them have remained steady.
Travel/Vacation has registered the biggest slowdown of any spending category going forward – although this is partially due to seasonal variation.
Consumer Durable Goods for the Home have also fallen 2-points since the previous survey. There's little to cheer about in terms of Consumer Electronics spending as well. While 14% say they'll spend more on electronics over the next 90 days, 37% say less (down 1-point).
Restaurant spending, however, remains unchanged from June, as does Automobile spending.
Consumer Sentiment and Expectations
Consumer expectations have turned significantly more negative this month. Well over a third of respondents (36%) think the overall direction of the U.S. economy is going to worsen over the next 90 days – an 8-point jump since June. Another 22% believe it will improve – a 10-point decline.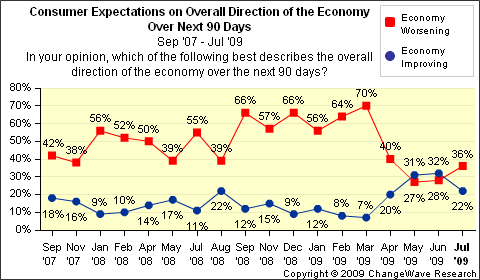 In another example of declining consumer confidence, nearly three-in-ten (29%) say they're Less Confident in the U.S. stock market than they were 90 days ago – a 10-point leap since June. Only 28% say they're More Confident – down a big 16-points from previously.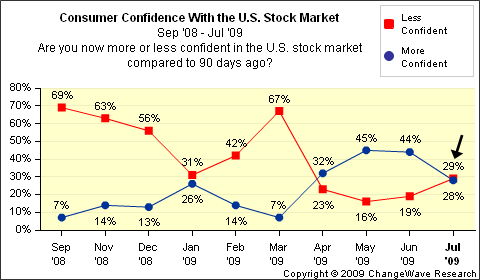 Retail Store Trends
The spending picture among the major retailers remains relatively unchanged from the previous survey, with a couple of notable exceptions. In particular, Target (TGT; up 1-point) has improved slightly compared to our June survey results.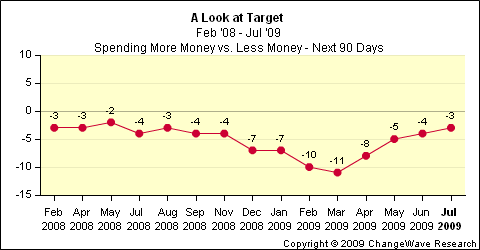 Wal-Mart (NYSE:WMT) (+4; down 2-points), on the other hand, has registered a decline in its growth rate for only the second time since September 2008.
The sluggish market is also having an impact on the giant electronics retailers. Only 37% of respondents now say they'll shop at Best Buy (NYSE:BBY) for home entertainment and computer networking products over the next 90 days – down 3-points since June.
Even Amazon (AMZN; 25%) has dropped 4-points in terms of home entertainment shopping over the past month – but we note that June represented the highest market share level ever recorded for Amazon in this key category.
Bottom Line: The mixed picture we reported last month has continued to worsen among consumers in our July survey. For the first time in four months we're seeing an actual pullback in the 90-day spending outlook going forward. There has also been a worsening of consumer sentiment and expectations.
It's still too early to know whether the current pullback is simply a temporary pause or something of far greater concern – the beginning of a sustained slowdown.
We'll know a lot more after next month's survey, including whether the Back to School shopping season will help jumpstart consumer spending for August.
But the outlook has toughened for the U.S. consumer in July, and the bumps we've picked up this month need to be watched very closely.