I'm no stranger to seeing bankrupt equities rally. I've explained this phenomenon before. However, what's happening today with Orchard Supply (OSH) is different. Orchard filed its Chapter 11 today. In doing so, it also announced that Lowe's Companies (NYSE:LOW) would buy out its assets for $205 million, and also assume its debts to most of its suppliers.
By looking at the most recent Orchard Supply balance sheet, what we see is this: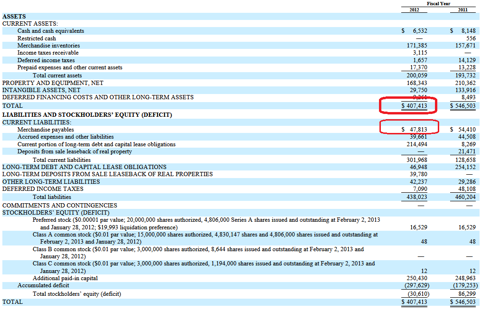 So, LOW is paying $205 million for the assets and also assuming close to $47 million debts to suppliers (these numbers could have varied since then, though). In any case, these two values are well below the $438 million in listed liabilities.
Here, it's important to understand how bankruptcies usually go. If the value of the assets is not enough to pay all the liabilities, then the creditors get to own the equity. So while Orchard's press release on this bankruptcy and sale does not make it clear, it's highly likely that the present equity will, in this process, become worthless.
Confusion
I believe that what happened today was that a lot of traders got confused with the headlines stating LOW would buy OSH. These headlines can be seen here (highlight is mine):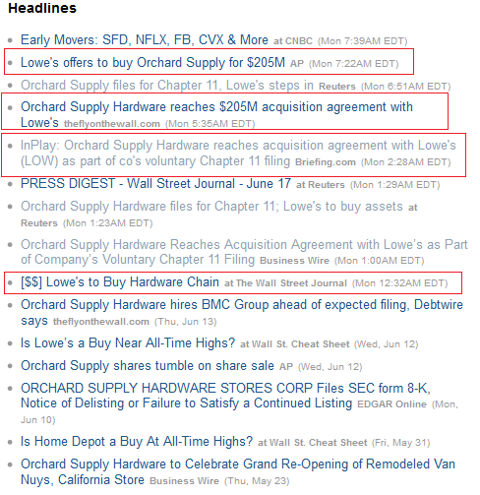 The reaction stems from people not understanding the implications of LOW buying OSH's assets in a bankruptcy, as opposed to buying out OSH outside of a bankruptcy. At the very least this is a huge opportunity for those holding OSH shares to sell.
Conclusion
Due to confusion and inexperience, OSH shares are rallying even while OSH filed for bankruptcy and its shares are likely worthless. This is an opportunity for those holding OSH shares to sell. I won't say it's also an opportunity to short because there are no shares available to borrow - I tried.
Disclosure: I have no positions in any stocks mentioned, and no plans to initiate any positions within the next 72 hours. I wrote this article myself, and it expresses my own opinions. I am not receiving compensation for it (other than from Seeking Alpha). I have no business relationship with any company whose stock is mentioned in this article.