It's just a murmur in the background, but the last two weeks have brought about a significant increase in volume. China's financial sector is facing what could possibly be a significant crisis.
The latest event started with China tightening regulations on cross-border commodity finance, which was inflating trade numbers and served as a conduit for hot money flows. Then came China Everbright's rumored default on an interbank loan. And now short-term interest rates are going through the roof:
Click to enlarge images.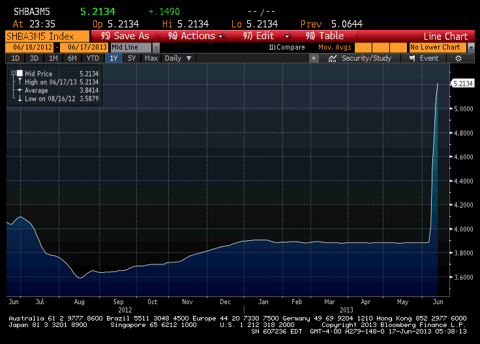 These are all signs of a financial sector in distress. The kind of distress that was not at all unexpected, given how China's shadow banking sector seems to have exploded in size. According to Fitch, about half of the credit is being created by this sector, and a total lack of transparency and guidelines reigns. Indeed, it's even understood that the shadow lending and wealth management sector is being widely used to keep bad loans off the banking sector's balance sheets.
A Way to Hedge
Given this backdrop what can a regular investor do? There is a sectorial ETF which actually captures the evolution of the Chinese financial sector. That would be the Global X China Financials ETF (NYSEARCA:CHIX). This ETF is thus a prime candidate to hedge long exposure elsewhere (by being short CHIX).
Looking into CHIX's main holdings, we can see that they capture China's financial sector in a way that would otherwise be hard or impossible to replicate using quoted Chinese ADRs: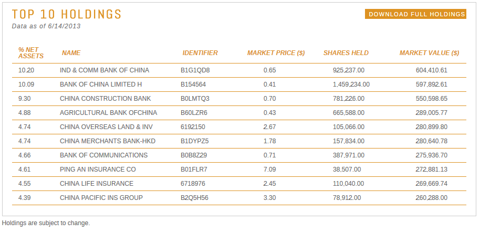 Source: Global X.
Conclusion
In short, the CHIX ETF can be useful to hedge against this developing situation in China's financial sector. CHIX could thus serve as a short hedge for the possibility of this event unfolding, immunizing long positions in other assets which the investor might want to hold from the possibility that this event might hit risk assets in general. This event has some likelihood of unfolding in the short term (i.e., the next few days, weeks, and months) as the market shifts its focus from the Fed meeting this week.
Note: This situation can get out of control easily and have a much wider impact than just on Chinese financial institutions. As a measure of the size of the problem, in the link above Fitch presents the debt-taking in China as exceeding (in relative terms) both the Japanese real estate bubble and the U.S. real estate bubble.
Disclosure: I have no positions in any stocks mentioned, and no plans to initiate any positions within the next 72 hours. I wrote this article myself, and it expresses my own opinions. I am not receiving compensation for it (other than from Seeking Alpha). I have no business relationship with any company whose stock is mentioned in this article.