The first article of the series has introduced the Carbonate Triangle of the renowned Canadian oil sands. The region is the world's third largest oil reserve with its rich carbonate-hosted bitumen deposit located in the northern Alberta's deep underground. Precisely, the Carbonate Triangle is situated between three major bitumen areas, Athabasca, Cold Lake and Peace River.
In today's investment guide on the Carbonate Triangle, I will present a quick recap of the main characteristics of the Peace River area to have a better assessment of its potential. Then, I will introduce a small-cap oil producer involved in that specific play.
So far, I examined the following producers involved in Peace River in past articles:
An analysis of the current operations of the company will be examined with the objective to give the most complete information available to the potential investors before deciding to seize the opportunity that the 54,132 square miles of the Carbonate Triangle has to offer. Let's start by introducing Peace River, the northern's door to the vast wilderness of Alberta.
The Peace River Region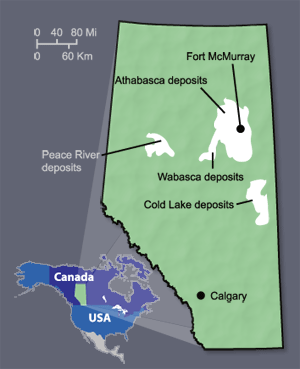 Source: Strata Oil and Gas
According to the September 1999 Bulletin of Canadian Petroleum Geology, exploitable bitumen reserves at Peace River are contained predominantly within the 49-65 feet thick estuarine sands of the Bluesky formation. Where combined with underlying fluviatile sands of the Ostracode Zone, net pay can reach up to 98 feet in thickness. These sands are penetrated at an average depth of 1804 feet and production of the bitumen relies on non conventional recovery methods.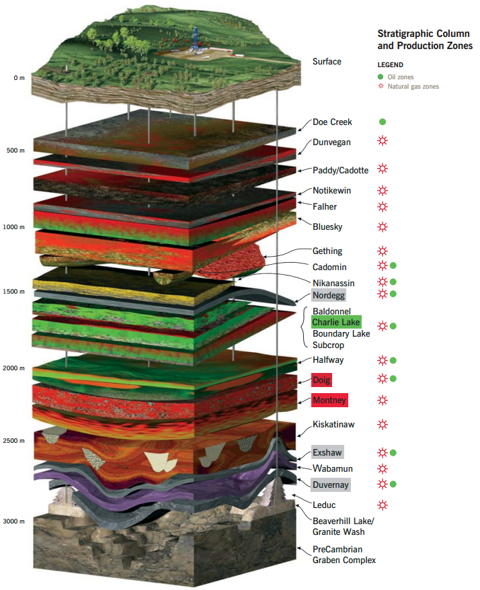 Source: Canadianoilstocks
Heavy oil total reserve in-place is estimated at more than 90 billion barrels, with the potential to gather more than 7 billion barrels of oil with today's technology.
Discovered in the 1950s, the Peace River oil sands deposit is located exclusively within the subsurface, the total area of the deposit spanning about 11,052 sections or 2.37 million hectares. Notably, the Red Earth Highlands effectively separates the Peace River and Wabasca oil sands deposits. Pilot projects initiated by Shell Canada in the 1970s and early 1980s led to commercial production of bitumen in 1986 using CSS and SAGD methods.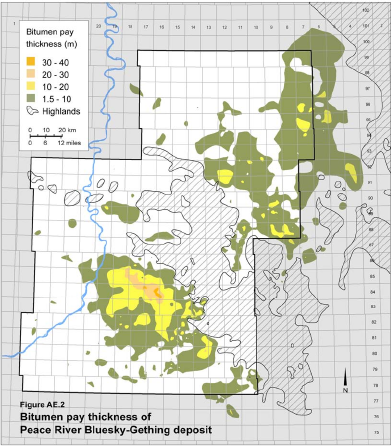 Source: ERCB ST98-2012
Notably, as of January 2011, the operating capacity amongst current existing and proposed bitumen producers, Peace River produced 13,500 barrels per day out of a total of 1,787,300 barrels per day, which accounted for less than 1% of current operations at the time. Now that we have explored Peace River, let me introduce a small-cap junior producer that owns nearly 52,480 acres or approximately 87 sections in the Peace River region.
Strata Oil And Gas (OTCQB:SOIGF)
Strata was incorporated in the U.S. in November 1998 and moved its headquarters to Calgary, Alberta in 2005 and incorporated itself under the Canadian law. In the Peace River region, the majority of Strata's oil lies in the Debolt Carbonate formation. The junior producer holds 82 sections in its Cadotte Central project which is located just north of Shell Canada's Carmon Creek project.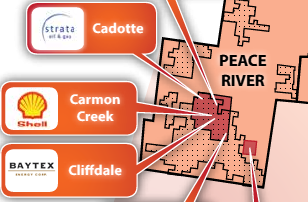 Source: Strata Oil and Gas
During 2006-2007, Strata drilled three wells on this block. In February 2008, the company conducted a pre-feasibility study, prepared by Norwest Questa Engineering Corporation. Norwest used effective original bitumen in place estimates with the HCS (Horizontal Cyclical Steam) for extraction method.
The production schedule was developed over 29 sections, each at one square mile with a pad including 20 wells of 0.87 mile length, with about 1968 feet in the vertical direction and 2625 feet horizontally. The pads were "brought on stream" over a four-year build-up period.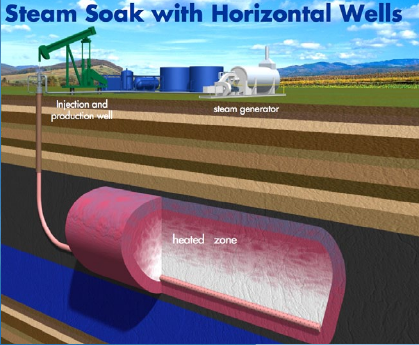 Source: Strata Oil and Gas
The company is progressing forward with its $250 million five-phase capital plan to develop the 52,480 acre holdings as part of the Cadotte project and produce 56,000 barrels per day by 2017. According to the company, 1.99 billion barrels of oil are estimated at this time, trapped in heavy carbonate-hosted bitumen, with an internal rate of return of 28%.
Of this estimation, 517 million barrels would be recoverable with the current technologies. The study estimated the high side net present value at $1.9 billion, a 36% internal rate of return and 855 million recoverable barrels. Furthermore, it has a high probability of exceeding 26% in recovery rate with existing and new technology. The feasibility study used a $75 WTI price per barrel and 2012 prices are forecasted to average $100 per barrel. The picture below shows the targeted area of the Cadotte Central project.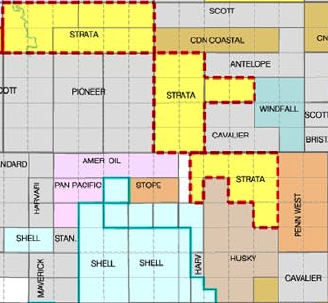 Source: Strata Oil and Gas
Phase one is under way with engineering, exploration and pre-production development of its Cadotte holdings. Phase two, pilot plant application, is scheduled to be completed within the year 2013. Full commercial production is expected by late 2017 or early 2018.
Cadotte West Asset
Besides its main project, Strata is exploring a similar play called Cadotte West. The project is located on 22 sections northwest of Shell's Carmon Creek project and is contiguous to the company's Cadotte main property holdings in Peace River. According to Strata, data from prior years drill logs in the area indicated that Bluesky/Gething, Debolt, and Elkton ore zones were present on the lease. The picture below illustrates the West Cadotte area, in the bottom left.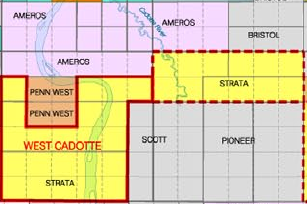 Source: Strata Oil and Gas
On May 28, the company announced the completion of its compliant Technical Resource Evaluation of approximately 14,080 acres or 22 sections of its Cadotte West holdings. This resource evaluation, assessed also by Norwest, added 1.4 billion barrels of estimated oil in place to Strata's present resource base in the Cadotte play, bringing it to a total of 3.4 billion barrels in place.
Highlights of the report confirmed up to 59 feet net thickness in parts of the Bluesky/Gething ore zone and up to 66 feet net thickness of the Debolt ore zone in some sections of Cadotte West.
Therefore, it revealed that extracting and producing oil from bitumen would be economically viable in that particular play. The extracted product anticipated would be diluted bitumen rather than synthetic crude oil. Transportation of bitumen would be possible by trucking or pipeline to Haig Lake terminal for transfer to the Rainbow Pipeline owned by Plains Midstream which connects to the Edmonton refineries.
Strata also have an additional 1,280 acres or 2 sections in the Wabasca region. This region is estimated to contain more than 94 billion barrels of oil according to the Alberta Department of Energy.
Bottom Line
As seen in this article, Strata is well involved in Peace River and being a junior producer, management has decided to focus its strategy on the high-value's upside potential of the carbonate-hosted bitumen. Ron Daems, President of Strata, stated:
The carbonate-hosted bitumen resources of Alberta are the next frontier in the North American oil industry. Like oil sands two decades ago, carbonates represent an enormous and relatively untapped petroleum resource.
With a total of 3.4 billion barrels estimated on its Cadotte Central and Cadotte West projects, I like the tremendous upside of Strata's future in developing the area and it bodes very well for the other leases it owns near Cadotte's play.
Although the growth of a junior producer can have a terrific potential, investors should keep in mind that investing in a small-cap's company stocks is a speculative move, a high-risk high-reward type of investment.
The company has a market cap of $9.46 million and is not yet profitable, the capital being used for exploration and development of ramping-up its first commercial asset with the goal of being profitable and get a good return on its investment. Strata has issued 69,412,043 common shares outstanding at the present time and the management and insiders hold less than 5% of them. To resume Strata's potential, here's the upsides to consider for a potential investment in this junior producer:
A diamond in the rough with tremendous upside potential for growth
Renowned region for oil production since Shell's presence in 1979
3.4 billion barrels estimated represent a great upside
Strong concentration on developing one promising play
High-risk high reward investment with currently very low share value
A still unrecognized and possibly underrated player
Disclosure: I have no positions in any stocks mentioned, and no plans to initiate any positions within the next 72 hours. I wrote this article myself, and it expresses my own opinions. I am not receiving compensation for it (other than from Seeking Alpha). I have no business relationship with any company whose stock is mentioned in this article.