Like many, I have long stayed away from LinkedIn (NYSE:LNKD), believing that the fundamentals and the price were substantially misaligned. After all, the price trades at a whopping 517 times trailing earnings as of Monday's closing. But, since its IPO, the stock enjoyed a strong run higher - and one thing I learned as a young trader is that the market can be wrong longer than you can stay solvent.
That is to say that, until now, shorting LinkedIn would have been a far too risky proposition. However, after taking a closer look, I believe it is finally time for LinkedIn's price to come back to reality.
Year-to-Date Performance
I admit it: I didn't like LNKD at the start of the year when it was at $115. I didn't like it at $130, $150 or $200. But, it hit all those marks and, besides the last, is still trading above them. In fact, for the year, LNKD is trading 55% higher - down from 76% higher at one point in May. The Russell 3000, on the other hand, has steadily climbed to trade just 12% higher than the start of the year.
This growth has given LNKD a market cap of $19.6 billion - larger than some companies in the S&P 500. This growth was driven by substantial upside surprises for many of LNKD's earnings reports. LinkedIn's revenue is $324.7 million, up from $188.5 million a year ago - a staggering 172% increase.
To put this exceptional performance in comparison, Monster Worldwide (NYSE:MWW) had revenues of $212 million last quarter, down 9% from a year earlier. (That's why MWW trades at a 10.6 trailing P/E.)
LinkedIn's exceptional revenue growth is a result of diverse sources of income - from recruiters to advertising to the social network's users themselves. The majority of revenue comes from LinkedIn's talent solutions, while advertising and premium subscriptions account for about a fifth of revenue each.
LinkedIn guided that second quarter revenue would fall between $342-347 million, growth of 52% year-of-year and 6.7% from the prior quarter. But, those expectations were below Wall Street's forecast, who were expecting revenue of $359 million.
That miss caused the stock to fall from $201 to levels near where it trades at present - $175 per share. Since then, the stock has consolidated, trading in a range between $185 and $162.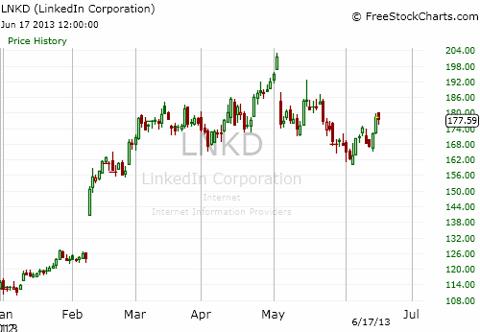 Click to enlarge
$200 Top?
On the Street, analysts are generous with their price targets, expecting the price to soar past this year's highs. Goldman has a $210 target, while Credit Suisse just initiated coverage with a $220 target.
However, the combination of LNKD's "miss" and recent consolidation suggest that LinkedIn has finally lost some of its luster. Additionally, the $200 top from May can work as a top by which to short the stock against, meaning that there is a measurable risk/reward scenario.
Shorting the stock at levels above $180 with a $205 stop (or shorting and buying a $200 call past August earnings for $5.30) offers a prudent risk/reward for what I see as an inevitable fall to $120 - and possibly lower.
LinkedIn has done well thus far to develop and grow new lines of revenue. However, LinkedIn's appeal is with a certain sector of the economy - white-collar workers - that can ultimately only grow so much. That suggests that continued growth in revenue will be hard to come by, even with further international expansion.
Without that level of growth, it will only be a matter of time before LNKD's stock price aligns with a more reasonable valuation. And, that means it has to go lower.
Disclosure: I have no positions in any stocks mentioned, and no plans to initiate any positions within the next 72 hours. I wrote this article myself, and it expresses my own opinions. I am not receiving compensation for it (other than from Seeking Alpha). I have no business relationship with any company whose stock is mentioned in this article.