BlackBerry (NASDAQ:BBRY), the Canadian smartphone maker, has started discounting its top end flagship phones, one week after it said that it would not get into price wars with its competitors. In my last article published a few days ago, I had asserted that BlackBerry would have to lower the prices of its premium Q10 and Z10 smartphones as they did not offer a good value proposition as compared to its competitors.
BlackBerry refrains from discounting wars, but that strategy won't work

BlackBerry has said that it will not get into a discounting war with its competitors. However, you can only go and implement this strategy if you have a unique value proposition. While the BB 10 OS is quite good and BBRY phones are solid products, they don't have a killer feature like older BBRY products (push email). Even the current king of smartphones, Apple (NASDAQ:AAPL), is being forced to discount its smartphones in order to compete. BlackBerry will be forced by the market to lower its prices quite drastically in my view, as the competitor flagships like S4, Sony (NYSE:SNE) Experia Z and Nokia (NYSE:NOK) 920 offer equivalent to better features at a much lower price.

Do you think new handsets will push up market share? And if BlackBerry does not bring handsets in quick succession like Samsung (OTC:SSNLF) does, would you be able to compete at all?

We're not here to ape competition strategy of price drops, or to liquidate old stock or inventory like some companies are doing. India has always been top priority market for BlackBerry globally. Z10 was launched in India within a month of global launch and India will be the second country in Asia Pacific to get the Q10. We're not indulging in price wars with competition or massive cash back offers, but we're offering value. We have ensured that total cost of ownership of a BlackBerry comes down, so we lowered data plan prices from Rs299 to Rs129 a month for 15 circles, for full BlackBerry experience. We've rolled this out with Aircel, Idea and Vodafone. We're in talks with other operators to taking it pan-India. We don't want to set false pretexts by saying that we will be there in the $100 segment. The Q10 (to be launched day after) and Z10 are placed as premium devices in the market for which, we know, that the consumer will pay a premium for the value they offer. We're addressing the customer base that owns a $100 device and is now looking to upgrade to a $300 (approx Rs17,000) smartphone. With the Q5, which will come on the BB10 platform, we're targeting the urban youth.

Source - ET
BlackBerry starts giving a $90 American Express Gift Card with Q10
Now one day after I published this post, BlackBerry has discounted its Q10 smartphone by more than 10% soon after launching the phone for Rs 44,900 (~$850) in India. The company is now giving a Rs. 5,000 (~$90) American Express (NYSE:AXP) gift card with every Q10 purchase. For readers who are not aware of the discounting practices of phones in India, gift cards and cashback on credit cards is the modus operandi that is followed by the top smartphone makers like Apple, Nokia and Samsung. These companies not only offer cashback in partnership with credit card companies and banks, but also offer attractive EMI schemes to lower the cost for consumers. Apple has recently started to give a whopping 36% discount on its cheapest iPhone through exchange policies and cashback. BBRY has followed suite one week after its Indian CEO said no to discounting.
BlackBerry's recently launched Q10 which flaunts the conventional QWERTY keypad is now offered at an exclusive scheme for American Express users. Customers who buy the BlackBerry Q10 smartphone in India using their AE cards will be offered a gift worth Rs 5,000.The company is running this promotional scheme for a limited period of June 12 to July 3 this year and is applicable on online purchases only. Under the scheme the AE card holders will get Rs 5,000 as an AE gift card on purchasing the phone using the card. This Gift Card will be a prepaid card and could be redeemed at most of the places which accept the AE cards in India.

The trend of introducing discount or EMI offers on the purchase of smartphones has recently been seen picking up in the market. While EMI is a popular one, there are others who offer cashback and exchange offers as well. Knowing that these kind of offers do push the sales of the devices, BlackBerry is also hoping to cash on the promotional scheme for the Q10 which otherwise costs Rs 44,990 and is highly criticized for the same.

Source - BGR
Will BlackBerry be able to navigate the current hyper-competition in the Smartphone industry?
The smartphone industry is a massive one, with $350 billion in annual revenues and is growing at a rapid pace despite its already large size. However, new companies have been pouring into the industry, leading to a decline in the overall profits. Even companies with no competencies in the hardware business like Facebook (NASDAQ:FB) and Alibaba have introduced branded smartphones. PC vendors have also made massive investments as they look to survive the decline of the PC industry. BlackBerry used to be a leader of the smartphone industry in 2008, but now it has less than a 5% market share. The increasing competition has forced even the top two players like Apple and Samsung (OTC:SSNLF) to drop prices. Google (NASDAQ:GOOG) has been the chief instigator of the price wars by giving Android for free and selling its hugely successful Nexus 4 phones at a loss. BlackBerry does not have a killer feature which would allow it to keep itself above the price wars. BlackBerry does not have too strong a balance sheet and it has only recently returned to profitability. The company is also a one trick pony with no tablet or PC products. I have been impressed by BBRY's turnaround story, but I think that BBRY will find it tough to survive using its current business model.
Stock Valuation
BlackBerry has a market valuation of ~$7.6 billion and trades at a low valuation with a P/B of 0.8x and P/S of 0.7x. BBRY posted a loss in 2012, so valuing it using the P/E ratio does not make sense. BBRY stock has climbed by ~22% in 2013. I think that BBRY stock is quite undervalued compared to the tangible and intangible assets that the company possesses.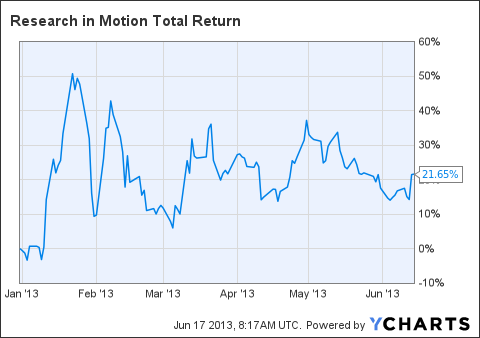 BBRY Total Return Price data by YCharts
Summary
BBRY's stock has gone up quite substantially after the company started executing on its turnaround strategy. BBRY has impressed with its most recent quarterly results, but the company needs to do much more in order to survive. The stock will see a lot of volatility as the market is not entirely convinced that BBRY will manage to remain a viable long term smartphone player. I believe that BBRY will benefit by being acquired by a bigger technology company. The smartphone industry has become super competitive and Android has dramatically lowered the entry barriers. BlackBerry is facing the heat like Apple in maintaining 40-50% gross margins for its smartphones. Cheap ARM based hardware and free Android OS has allowed many small Indian and Chinese companies to come out with amazing products at dirt cheap prices. For example, you can buy a quad core, 1 GW RAM, 5 inch high resolution smartphone with 12 MP camera for less than $200. These kinds of specifications cannot be found in tier one smartphones at even double the price. Top smartphone companies are being forced to lower the prices as their value proposition is being eroded by the cheap Android makers. They cannot charge crazy premiums otherwise they will lose marketshare. Despite the price pressure, I believe that BBRY remains a buy due to its cheap valuation and its attractiveness as a buyout target.
Disclosure: I have no positions in any stocks mentioned, and no plans to initiate any positions within the next 72 hours. I wrote this article myself, and it expresses my own opinions. I am not receiving compensation for it (other than from Seeking Alpha). I have no business relationship with any company whose stock is mentioned in this article.