Company: Esperion Therapeutics, Inc.
Exchange: NASDAQ.
Symbol :ESPR
Industry: Biopharmaceutical (research & development)
The Offer:
Esperion Therapeutics is offering 4,500,000 shares of its common stock. The anticipated initial public offering price per share will be between $13 and $15. The underwriters have a 30-day option to purchase up to an additional 675,000 additional shares of common stock to cover over-allotments.
The company is an ''emerging growth company'' under applicable Securities and Exchange Commission rules and will be subject to reduced public company reporting requirements.
Valuations after current offering:
Shares to be outstanding after offering

14,079,305* shares

Offer price (mid range) per share

$14**

Valuations at $14* per share

$197 million

*without over-allotments.

**The mid-point of the estimated range of the initial public offering price.
Summary:
Esperion Therapeutics is a biopharmaceutical company that focuses on the research, development and commercialization of therapies for the treatment of patients with elevated levels of low-density lipoprotein cholesterol (LDL-C) and other cardiometabolic risk factors.

ETC-1002, its lead product candidate, is a novel, first in class, orally available, once-daily small molecule therapy designed to target known lipid and carbohydrate metabolic pathways to lower levels of LDL-C and to avoid many of the side effects associated with existing LDL-C lowering therapies. To date, it has treated 275 subjects in six completed clinical trials, including three Phase 2a trials. The company owns the exclusive worldwide rights to ETC-1002.

The company's founder, Executive Chairman and Chief Scientific Officer, Roger S. Newton, Ph.D., FAHA, co-discovered the statin marketed as Lipitor (atorvastatin calcium), the most prescribed LDL-C lowering therapy in the world and the best-selling drug in the history of the pharmaceutical industry.
Product Pipeline:
The following table summarizes the current status of its product development pipeline: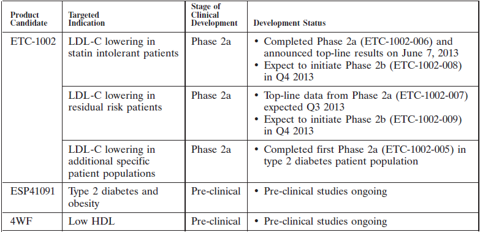 ETC-1002
To date, the company has studied ETC-1002 in six clinical trials. The results of its completed Phase 2a clinical trials are summarized below.

Market Opportunity for ETC-1002
Table below shows various therapies for LDL-C, their effectiveness, and side effects.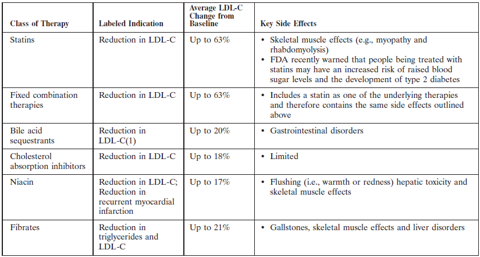 Approximately 30 million patients in the United States use statins to reduce their LDL-C, however as per the estimates more than 2 million U.S. adults have discontinued the statin therapy because of the muscle pain or weakness. The company believes that ETC-1002, if approved, has the potential to become the preferred once-daily, oral therapy for patients who are unable to tolerate the statin therapy.
Available data suggest there are two therapies prescribed most frequently for the statin intolerant patients. Neither of these therapies is as effective at lowering LDL-C levels as the statins. The following table summarizes what the company believes to be the two most prescribed therapies available for the statin intolerant patients in the United States along with their corresponding 2012 sales:

So from the above table the market potential for the ETC-1002 in U.S. is at least $820 million. The size of the statin intolerant market is poised to grow should an effective non-statin therapy become available.
Financial analysis:
The company is a development stage company and does not have any products approved for sale. To date, it has not generated any revenue. It has never been profitable and, from inception to December 31, 2012, its losses from operations have been $38.7 million. Its net losses were approximately $11.7 million and $10.8 million for the years ended December 31, 2012 and 2011, respectively, and $4.2 million and $2.5 million for the three months ended March 31, 2013 and 2012, respectively.
Substantially all of its net losses resulted from costs incurred in connection with research and development programs and from general and administrative costs associated with its operations. The company expects to incur significant expenses and increasing operating losses for the foreseeable future. It expects its expenses to increase in connection with its ongoing activities related to product development.
Key positives and negatives points of the company:
Key positives: (Only if its products got developed as per plan and approved for commercialization)
1. Big addressable market:
If approved, addressable market for its lead product ETC-1002 will be huge (Current U.S. market size of about $820 million)
2. More effective product:
As indicated by the phase-2a trails, its product candidate ETC-1002 if approved will be much more effective than the currently used therapies/products. During clinical trials average reduction in LDL-C by ETC-1002 was at-least 27% whereas currently available competitor products/therapies reduce it by up to 20%.
3. The company owns the exclusive worldwide rights to ETC-1002 and its other product candidates.
Key negatives:
The company does not have any product which has been commercialized till date

Its research and development expenses will increase, as it continue to advance its product candidates through clinical/pre-clinical development.

All of its products are in the development stage and need many regulatory clearances, which can delay the commercialization of its products.

If serious adverse side effects are identified during the development of any of its product candidates, the company may need to abandon the development of that product candidate.

No marketing experience or setup.
Fundamental evaluation: (Barring any unforeseen facts, and circumstances.)
High risk: If due to any reason the company has to abandon the development its prime product candidate ETC-1002; it will be a total loss for the company as well as for the investor.
High return: If the company develops its product ETC-1002 as per the plan.
Table below shows some assumptions of the company's performance if ETC-1002 gets developed as per plan. (These are just the assumptions and the company may perform totally different from these assumptions)
Assumed revenue generation capability of ETC-1002 if get developed as per plan (for U.S. market only; world market size should be much bigger).

Current U.S. market size

$820 million (described above).

The company's share (25%)

$205 million (due to its vastly superior product as compare to its competitor products and limited competition).

Margins 20%

About $40 million (U.S. market only) due to the product exclusivity and superiority.

Present valuations of the company

$197 million.

It will take at least 4 years to develop and commercialize ETC-1002, that too if everything goes well.
Net proceeds:
The company estimates that the proceeds to it from this offering, after deducting estimated underwriting discounts and commissions and offering expenses payable by the company, will be approximately $56.5 million, assuming the shares offered by the company are sold for $14 per share, the midpoint of the price range.
Use of the proceeds:
The company estimates that it will use the net proceeds from this offering as follows:
Approximately $29.0 million to fund development costs associated with clinical studies and related operations of its Phase 2b program of ETC-1002 and for costs associated with its end of Phase 2 meeting with the FDA;

Approximately $12.0 million to fund development costs associated with non-clinical studies and related activities for ETC-1002; and

The remainder for general corporate purposes, including internal development costs, working capital, general administrative costs and the prosecution and maintenance of its intellectual property.
Disclosure: I have no positions in any stocks mentioned, and no plans to initiate any positions within the next 72 hours. I wrote this article myself, and it expresses my own opinions. I am not receiving compensation for it (other than from Seeking Alpha). I have no business relationship with any company whose stock is mentioned in this article.
Disclaimer: Investments in stock markets carry significant risk, stock prices can rise or fall without any understandable or fundamental reasons. Enter only if one has the appetite to take risk and heart to withstand the volatile nature of the stock markets.
This article reflects the personal views of the author about the company and one must read offer prospectus and consult its financial adviser before making any investment.