We published a competitive analysis report last year in which we analyzed and evaluated Rayonier (NYSE:RYN), which was a former subsidiary of the old ITT Corporation against its three largest Timber REIT competitors. We concluded that while Weyerhaeuser (NYSE:WY) was the biggest Timber REIT, Rayonier generates the strongest profit margin of the big four Timber REITs (Rayonier, Weyerhaeuser, Potlatch and Plum Creek). We also find that Rayonier has less downside risk than its peers because of its strong performing Performance Fibers Division, which generated an ample 32.8% operating margin in FY 2012.
Rayonier's Performance Fibers business accounts for nearly 70% of its FY 2012 revenues versus 26% for WY. Rayonier's operating margin of 32.5% for its Performance Fibers division easily exceeds the 12% for WY's Cellulose Fibers unit. That means that even though RYN's Performance Fibers FY 2012 revenue of $1.1B is less than WY's Cellulose Fibers revenue ($1.85B), RYN's Performance Fibers operating income of $359M is 61% higher than WY's $223M in Cellulose Fibers' operating income. We see the same trends continuing in Q1 2013 (RYN Performance Fibers $284M in revenue, $92M in operating income versus WY Cellulose Fibers' $474M in revenue and $31M in operating income. Plum Creek (NYSE:PCL) and Potlatch (NASDAQ:PCH) don't have a specialty fibers business like RYN and WY.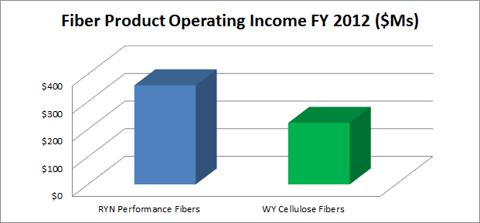 Sources: 2012 Annual Reports for Rayonier and Weyerhaeuser
While Weyerhaeuser's Timberland portfolio of 6.3M acres dwarfs the 2.7M acres of Rayonier, we can see that this segment has seen solid revenue growth but lower margins in FY 2012 versus 2011 for both companies. Rayonier Forest Resources' revenue increased by 7% but its operating income declined by 2% as higher sales volumes was not enough to offset lower prices realized on the sale of its products. Weyerhaeuser Timberland's revenue increased by 4.1% and its operating income (excluding the sale of 82,000 non-strategic timberlands for $152M) declined by 3% as the firm realized a lower price per cubic meter for the sale of its logs in FY 2012 and this was not enough to offset higher sales volumes.
Potlatch Resources' revenues decreased $19.1 million, or 8%, in 2012 from 2011, due to its planned harvest deferral, primarily in Arkansas, partially offset by higher sales prices, primarily in Idaho, due to improving market conditions. Total harvest volume decreased 14% in 2012 from 2011, accounting for a negative $31.2 million of the revenue variance, partially offset by a positive pricing variance of $12.3 million. Plum Creek Resources' revenue and operating income increased by 12% based on its ability to avoid the serious price declines for its timber resources products that RYN, WY and PCH incurred. PCL's operating income also benefited from the fact that its sawlog volumes were at depressed levels last year and because it was able to accelerate harvesting of its pulpwood resources in the Southern US.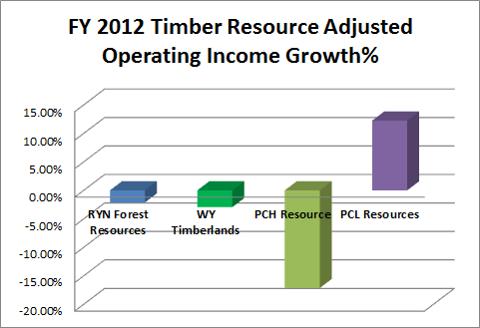 Sources: 2012 Annual Reports for Rayonier, Weyerhaeuser, Potlatch and Plum Creek
In our full, comprehensive research report on Weyerhaeuser, we could see that the real estate segment for these companies does not generate smooth results due to the timing of the closure of real estate sales. We use that perspective when evaluating the results of the real estate businesses of Rayonier and the other timber REITs because these results are heavily influenced by when these deals close and these operations are extremely seasonal. At first glance, we were disappointed to see Rayonier Real Estate's revenues decline by nearly 20% and its operating income decline by 32%. However, we are aware that it represents less than 4% of RYN's consolidated revenues and 7.8% of its operating income.
We were also aware that 2011 results included a 6,300 acre non-strategic sale at $3,995 per acre and a $6 million property tax settlement covering several prior years. The lower 2012 results were partially offset by higher rural HBU volume and prices of ten percent and six percent, respectively. Rayonier Real Estate's revenue excluding this non-recurring, non-strategic sales transaction increased by 25% in 2012 ($57M) versus 2011 ($46M). In Q1 2013, Rayonier Real Estate's revenue doubled due to a sharp increase in the sale of non-strategic timberlands, which was partially offset by a sharp decline in rural real estate sales. This helped the division's revenue increase from $6M in Q1 2012 to $17M in Q1 2013.
Weyerhaeuser Real Estate was able to improve its FY 2012 revenues by 28% and its operating income by 81% due to the sale of single-family home closings and revenue from lot and land sales. Potlatch Real Estate's revenues decreased $11.8 million, expenses decreased $8.5 million and operating income decreased $3.3 million in 2012 compared to 2011, all primarily due to the sale of fewer acres of land in 2012. PCH's HBU and Rural Real Estate land sale growth was more than offset by declines in its non-strategic timberland sales. FY 2011 revenues included $14.3M million in revenues realized in Q2 2011 from the sale of non-strategic timberland and rural real estate assets in Idaho. Plum Creek Real Estate's revenue increased by 17% due to an increase in low margin non-strategic land sales. PCL sold 45% more acres in FY 2012 than in FY 2011 and its operating income declined by 4% because of the reduced operating margin associated with the sale of the low-margin non-strategic land sales.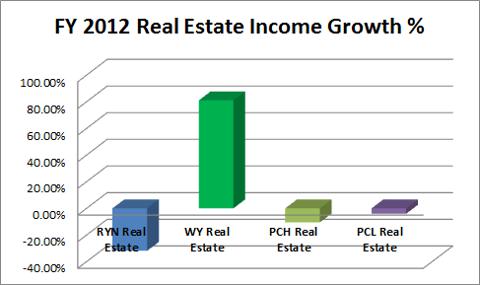 Sources: 2012 Annual Reports for Rayonier, Weyerhaeuser, Potlatch and Plum Creek
Rayonier sold its Wood Products division in Q1 2013 to International Forest Products Limited for $80M plus a working capital adjustment. The sale is consistent with the Company's strategic plan to fully position its manufacturing operations in the specialty chemicals sector. At first, we were concerned that RYN sold the division before the wood products marketplace recovered. Using WY's Wood Products' Q1 2013 results as a proxy, we could see that WY Wood Products enjoyed a surge in revenue in Q1 2013 ($988M) versus Q1 2012 ($634M). However, we acknowledged that Rayonier Wood Products only generated $88M worth of revenue in FY 2012 (5.6% of RYN's consolidated revenues) and did not have the scale that WY Wood Products has. All of the Timber REITs were able to participate in the recovering wood products marketplace and post revenue growth between 18.7% and 34.4%.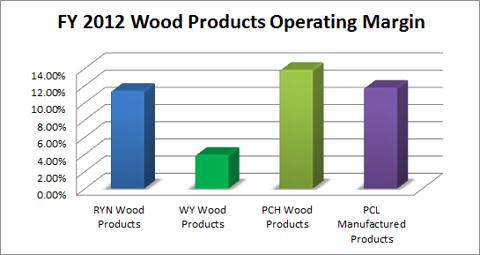 Sources: 2012 Annual Reports for Rayonier, Weyerhaeuser, Potlatch and Plum Creek
We can see that Rayonier has a 3.20% dividend yield and it is the second highest dividend yield of its Timber REIT brethren. Plum Creek has the highest yield (3.60%), Potlatch's yield is 40bp behind Rayonier's and tied with Weyerhaeuser's as WY recently increased its dividend and its share price has softened. As these companies have converted from traditional corporate structures into Real Estate Investment Trusts for tax purposes, these companies are obligated to pay out 90% of the pro forma taxable income generated by the REIT subsidiaries in order to avoid corporate taxes on the REIT subsidiaries. This tax status does not apply to taxable subsidiaries like its Performance Fibers business, its wood products business nor its rural Higher and Better Use properties. Still, we can see that part of the reason why Rayonier pays a generous dividend is because its Performance Fibers business is a strong cash cow.
Rayonier is the only Timber REIT that has an equity/total capital ratio exceeding 50%. That means that it is the only Timber REIT that has its stockholders' equity exceeding its bonded debt. Rayonier's equity represents 56% of its total permanent capital versus 30% at Potlatch, 30% at Plum Creek and 51% at Weyerhaeuser. Rayonier enjoyed the highest profit margins in the industry for FY 2012 at 17.75% versus 5.45% for WY, 8.1% for PCH and 14.9% for PCL and we expect Rayonier to maintain its leading position in FY 2013. Rayonier's industry-high profit margins and industry-low leverage ratio allows it to devote less than 11% of its operating income to interest expenses, versus 30% for Potlatch, 41% for PCL and 47% for WY.
We were surprised that Rayonier had a beta of 0.91 against the S&P 500. We would have expected it be lower because of its solid operating performance and its strong focus on high quality, high margin specialty fiber applications. We were also surprised that Plum Creek's beta was 0.90 and Potlatch's beta was 0.64 because we would have expected those companies to have a higher beta than RYN. However, we're not surprised that WY has the highest beta (1.56). Although we were able to confirm that Rayonier had less systematic risk than the S&P 500 as well as the two major Timber ETF on the market (Guggenheim Timber (NYSEARCA:CUT) and the iShares S&P Global Timber & Forestry Index (NASDAQ:WOOD)), we were expecting the firm to have had a beta than was lower than 0.91 due to its relatively conservative financing structure, strong profit margins and focused business model.
In conclusion, we at Saibus Research maintain that Rayonier is the best-in-breed Timber REIT. We like the fact that its high-performing Performance Fibers division generates such strong operating income margins and that it accounts for 70% of RYN's revenue. We also like the fact that this business generates a high level of consistent and steadily growing revenue and operating income and we believe that this insulates the company from the macroeconomic volatility that the other timber players face. While we believe that WY may offer a higher potential nominal investment return rate than RYN, we also believe it entails more risk due to its heavy dependence on the performance of the housing market. Plum Creek and Potlatch don't have an equivalent specialty fibers business and we find that RYN's performance in its secondary business lines (Real Estate, Timberland Resources and Wood Products are comparable to its Timber REIT peers. We're happy that the pullback in the market has increased the value proposition the Timber REITs offer investors. We believe that Rayonier offers the best risk/return prospects due to the fact it has the lowest forward PE based on 2014 expected EPS, its strong profit margins, conservative financing structure and potential growth from its secondary business lines.
Disclosure: I have no positions in any stocks mentioned, and no plans to initiate any positions within the next 72 hours. I wrote this article myself, and it expresses my own opinions. I am not receiving compensation for it (other than from Seeking Alpha). I have no business relationship with any company whose stock is mentioned in this article.
Additional disclosure: This article was written by an analyst at Saibus Research. Saibus Research has not received compensation directly or indirectly for expressing the recommendation in this article. We have no business relationship with any company whose stock is mentioned in this article. Under no circumstances must this report be considered an offer to buy, sell, subscribe for or trade securities or other instruments.